---
Dance Mogul

Magazine Exclusive…
---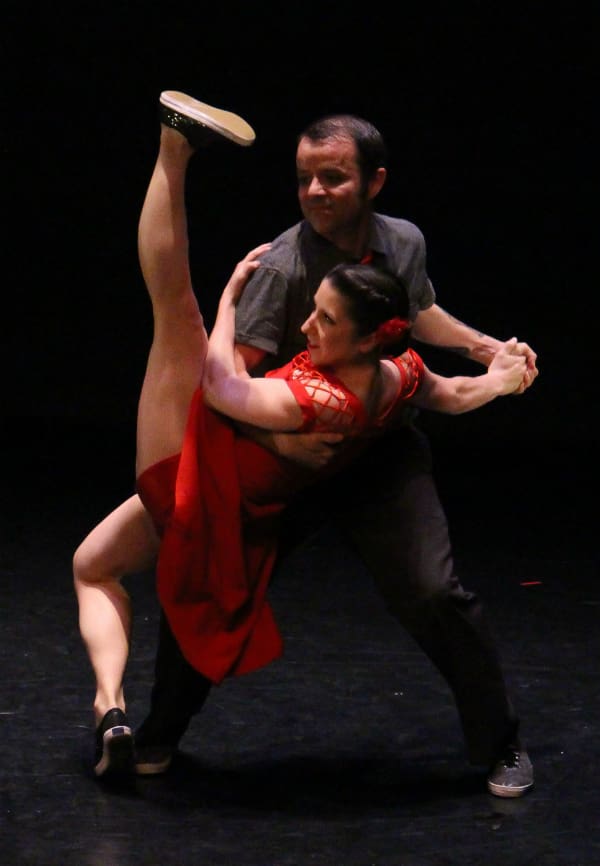 PHOTO CAPTION: Jaime Shannon and Tony Fraser performing their swing number in the 2013 Choreographer's Canvas.
Group Theatre Too Announces 2014 Canvas Choreographers
The Group Theatre Too (GTT) presents its seventh annual
Choreographer's Canvas, a one – night event featuring the works of over fifteen established and emerging choreographers from around the country. The Canvas, headed by GTT Executive Producer Justin Boccitto, will play at the Manhattan Movement and Arts Center Friday, May 2nd and showcase many styles of dance including tap, ballet, jazz, hip-hop, contemporary, theatre dance, aerial and this year belly dancing. For the past 6 years, the Canvas has presented over 75 choreographers, giving an opportunity to over 500 dancers performing to sold-out houses. The event is sponsored by Broadway Dance Center, Capezio, Manhattan Movement and the Society of Directors and Choreographers as well as numerous arts philanthropists. Patrons can become a contributor by visiting the Choreographer's Canvas campaign page on Indiegogo.com. This year the Canvas includes three aerial choreographers (Bobby Hedglin-Taylor with Cleo Carol Knopf, Stephanie Sine, and Jen Gorman) presenting silks, Lyra and Spanish web pieces. Bob Boross will present a new piece in the style of the late Matt Mattox on Sue Samuels' company Jazz Roots, who is also a represented choreographer with her piece "The Swing's The Thing". New to the Canvas is Syncopated City's Michael Jagger and Evita Race as well as K.C. Castellano who has worked on "So You Think You Can Dance". Several guests and full-time faculty members from Broadway Dance Center will present including Bronwen Carson, Calen Kurka, Janine Michelletti, Jerica Niehoff, Crystal Chapman, and Broadway Dance Center's teen company, AIM. Belly dance choreographer, Maki Moves, makes her Canvas debut along with tap choreographer, Ryan Casey and newcomer Chris Kinsey. GTT co-founders, Michael Blevins, and Justin Boccitto will also show work.  The 2014 Choreographer's Canvas performs on Friday, May 2nd 7:30 pm at the Manhattan Movement & Arts Center, 248 West 60th Street between Amsterdam and West End Avenue.
CONTACT:
JUSTIN BOCCITTO
GROUP THEATRE TOO, LLC
Phone: 917-880-7724
Fax: 509-471-6057
FOR IMMEDIATE RELEASE
Purchase tickets by visiting www.choreographerscanvas.com.