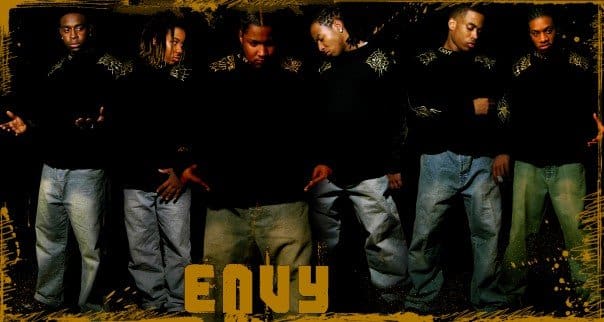 "EnVy was made up of a special group of guys with high ambitions that propelled us to do things first and break down a lot of doors for others to walk through." – Anthony "Solo" Harris
Kamille King: Would you say that the Jersey Club culture is traveling outside of Jersey?
Anthony "Solo" Harris: Definitely, and that's not just because of the internet. That was happening because the DJs and producers were making CDs and doing shows out of town. The Brick City Dancers and EnVy Dance Group did a lot of performing in other states. I'm a part of EnVy; that's why there is no doubt or any guessing when it comes to the statements I make. It's all facts, and it's all documented via video.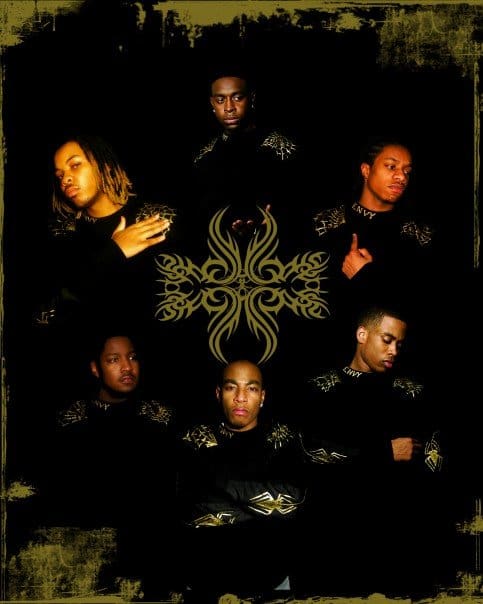 Kamille King: Can you explain what Envy Dance Group meant to the Jersey Club movement?
Anthony "Solo" Harris: Yes! If the Brick City Dancers was the 2nd generation of street dancing in NJ, we were the 3rd generation. We were next up (Jerryl, Anthony, Maurice, Quason, Chris, Ayman, and Zachary) also known as Butta, Solo, Mo Chedda, Swift, Hitman, Ice, and Ziplock collectively made up EnVy Dance Group. We came in 2003. I also want to be clear that collectively what we were doing was not just rooted in Jersey club. What we represented in terms of street dance and early entrepreneurship in the culture weighs a lot more, especially now when you look back at everything that was accomplished. We picked up where the Brick City Dancers left off. We were those new kids that were partying at the parties and at the skating rinks. The skating rink now becomes a big thing. Branch Brook, Skate 22, these are all relevant places where the culture continued to bubble at. The college campuses. Bloomfield College, William Paterson, Montclair, Seton Hall. These are all the places that EnVy was performing at, and people were identifying with what we were doing, just like we identified with what The Brick City Dancers did. It was just a continuation. But it evolved; the dancing evolved, and the music evolved. I'm not saying that we were better; we were just different. That new millennium time was the choreography and technique era. You Got Served came out in 2004, so that inspired a lot of groups and routines, but we were already doing that at a high level. When the movie came out, we were already set to take off and be used by the people because we were polished enough. So, we created different visuals when it came to Jersey Club music. We isolated ourselves so much to it that we started creating our own club music in 2005. We were the first dancers to make 2 full albums: BFAM and Club tracks 2 EnVy. Club tracks 2 EnVy was so popular it was picked up by the legendary Dee Jay Ran, who at the time was the marketing director for Against All Odds clothing store, and he signed us to a marketing and distribution deal that paid us for music, clothing sponsorship, and paid performances around the country for the stores AAO would open up.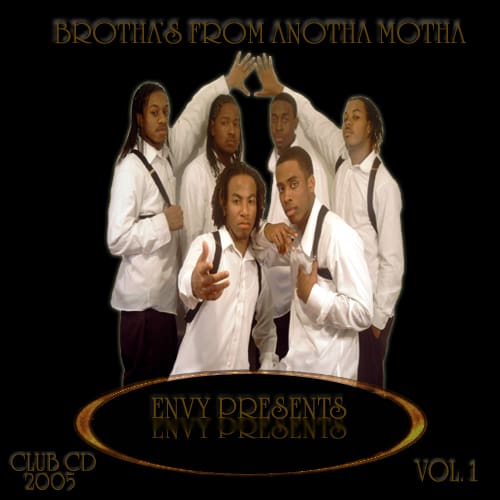 Kamille King: How did you connect with EnVy?
Anthony "Solo" Harris: I was already dancing, doing my own thing, going back and forth to my mom's in Newark while my dad lived in Piscataway. During the summers, I would come to stay with my mom. In the summer of 2001, my best friend Ricardo saw some kids dancing and rushed around the corner to come to get me, so I went and introduced myself, and we all just started dancing. The guys were dancing with a group of girls, and they all called themselves RAW. Most of them were from ARTS High School. Because I was new, I could feel the energy was a little standoffish, like who is this dude, but I really connected with Maurice (MO Chedda.) He seemed happy and appreciative to have another dude around that could dance because they were really doing choreo and commercial style dancing, but Butta, Chedda, and Hitman could really street dance and do all the club dances. After about two days, I had to go back to school in Piscataway, and we lost contact. Fast forward to the fall of 2003, and I now have a website. I was the FIRST DANCER to put Jersey club videos on the internet of myself, my peers, and the pioneers before us by way of urbanvision.net. Mind you, this was in 2002, before YouTube, before social media. Urbanvision.net was created by my father as a way for me to express myself and to have something to focus on because I was being a Dennis the Menace in school. If I would do well in school, my dad would take me to Skate 22 where they would play the local jersey club songs from pioneers like DJ Tameil and the Brick Bandits. He would record me and put me on the website. In 2003, we opened the site up to friends and associates (this is also when AIM was big).
A young man who was going to school in Virginia by the name of Earl contacted me on AIM saying I had to meet his boy Quason (Swift) from West Orange. We exchanged AIM names, and Quason told me that I needed to meet these other guys at Bloomfield College who were really good. I did, and those guys turned out to be Butta, Chedda, and Hitman. The universe brought us together AGAIN. There were a few more dancers that they danced with at the time from East Orange, Juice, Ricky, Gary, Barry, John Bo, who would later start their own group called Infamous Envy. We all were on the Dance DVD Da Sample. This was the beginning of using the internet to connect and market ourselves. The Urbanvision.net was set up like Worldstar where you could see clip after clip of dancers from all over NJ. That spawned a classic dance DVD we produced called DA Sample which featured young kids from all over NJ dancing to Jersey Club music.
The popularity led me and EnVy to become entrepreneurs, throw the biggest dance events in NJ at the time, perform on stages across the country, and appear on television. EnVy was the group that re-energized NJ's street dance culture when the new Millennium hit. They changed the Jersey Club game by creating some of the first dance visuals for Jersey Club music, both past and present. They also created their own brand of club music. EnVy was the first group of street dancers in New Jersey to perform at the Prudential Center in a headliner capacity, perform multiple times on national television, sell out the Legendary Symphony Hall with their annual dance competition "Dance Warz", and most importantly, teach the youth in their community (which they still currently do). A lot of the youth can be seen today dancing and pursuing their dreams to be dancers. They watered the initial seed of the Brick City Dancers, and now that has grown into many NJ dance groups, movements, and initiatives. Now that journey has led me to own Dance Mogul Magazine.
These are the grassroots of the energy you see today. Only a select few know these stories because only a select few have lived it. I also want to take the time to acknowledge the other dance groups that made the whole era fun and worth the experience. We were not the only ones spreading Jersey culture, music, and dance. EnVy was just made up of a special group of guys with high ambitions, and that propelled us to break down a lot of doors and do things first for others to walk through. Special shoutout to Illmatic Force, Da Emperorz, Infamous Envy, BDS, A-GAME, The MISFITZ, NYCE, ADDICTIVE, SKILLZMATIC, LIL EMPZ AND LILMATIC, ROUND 1, and any other groups and individuals that feel they played a part or supported the movement. Thank you, and I sincerely appreciate you.
Kamille King: What do you think about the movement now with the new generation, and what do you feel your role is?
Anthony "Solo" Harris: I feel as a whole and as a culture, we could be a lot further and more progressive, but I know there have been gaps of knowledge and guidance missing within the culture at times. So, I take responsibility for my part in that. As men, sometimes our ego gets the best of us, and our lack of knowledge of self keeps us from connecting with our brothers and sisters. But I also feel there is hope and promise for the new generation and the culture itself. Now you have Big Jersey Club artists like DJ LILMAN, Cookie Kawaii, Uniiqu3, DJ JAYHOOD, R3LL, DJ SLiink, Jersey Gods and others pushing the music on an international level, which is great. But I still think the dancers and the dancing needs to be put at the forefront and treated as the headliners. That's how it's always been, from my era to the era before me. The dancers are the ones that bring the music to life and create the visuals. That is what is getting all the views. People like music, but people love to dance and see dancing. Everyone in the business knows that's why Beyoncé gets on stage with 30 plus dancers at a time. Shoutout to the young people doing their thing: The DoJo, Defiance, Dynamic Dynasty, Team Lilman, YFD, YB, LinkUpTuesdays, and everyone out there having fun staying out of trouble. I feel my role now is just to be a coach and to give wisdom when I can. If people take it, great. If they don't, great. I still make a difference through the dance work that I've put in since 2003, and I also still provide Dance Warz as a platform to grow our local talent and prepare them to manifest their dreams, so I can never be sad or mad about any outcome. I'm always grateful, and I hope that's the biggest lesson all participants in the culture learn: Be humble and be grateful. Everyone has their season, and while seasons change and leaves fall off the tree and branches break, the ROOT of the tree is always going to be there.
*THE ROOT*