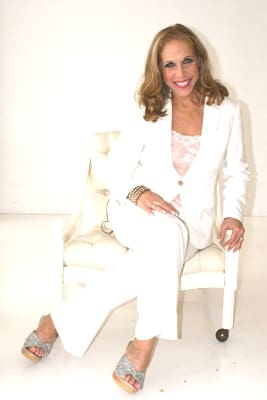 Marina Kamen aka MARINA started her career at The Manhattan School of Music  in opera & violin in 1970 and dance at The American Ballet Theater. In addition to her music & theatrical training Marina is best known for her merger of music & fitness on Television appearing on Shop NBC and National Products in addition to casting/producing with Gaiam, Jackie Chan's CableFlex, QVC & Jillian Michaels.
MARINA has been covered in The LA Times, NY Post, Prevention Magazine, Woman's World and been seen on The Tyra Banks Show, ABCNews, The Discovery health Network, Noggin & PBS. MARINA's voice has been heard on countless commercial products including Verizon with James Earl Jones, Exxon Moblie, Pop Tarts Tourneau & Disney Destinations. Marina has worked with an array of celebrity talent including Liza Minnelli, Patti Labelle, Carnie Wison and has choreographed for Columbia Records, BMG & Atlantic Records and has acted as Spokesperson for The NYC division of The Naras Foundation which Hosts The Grammy Awards.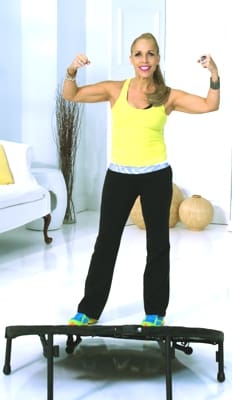 MARINA pioneered the Reality Television industry starting in 1999 appearing on PBS"-In The Mix", Noggin's "A Walk in Her Shoes" The Discovery Health Network "I Lost It" The Tyra Banks Show" in addition to having a Pilot shot of her in NYC back in 1999.  She has co-owned Kamen Entertainment Group since 1987 together with her husband of 28 years, Roy Kamen, which has received 150 Television, Radio, Commercial, Music and Fitness production awards over the past 30 years. Marina's music and voice has been heard on numerous commercials including Verizon, Poptarts, Exxon Mobile, Equinox and Tourneau. She has worked with a multitude of celebrity talent including Liza Minnelli, James Earl Jones, Patti LaBelle, and Carnie Wilson. Marina has also choreographed for companies including Columbia Records, BMG Records, and The Naras Foundation. Marina has been covered in Prevention Magazine, Woman's World, Billboard and The New York Times.  Marina's charting music has been heard in health clubs, retail stores, runways and gyms around the world in addition to being used by various fitness clients including Jazzercise, Dynamix, Jackie Chan's Cabel Flex. MARINA's latest projects have been The Firm Express Get Thin in 30/Gaiam, Jillian Michaels/Gaiam, Ab Shake/Ab Coaster/Tristar Productions, The Rack, Cardio Karate/Urban Group Exercise and Michael's Olajide's Aerobox for All Star/ Script to Screen.
Marina is  a 54 year old mother of 3 children ages 20, 21 & 26 married 30 years to Roy Kamen an award winning recording engineer and she is a Certified Fitness Trainer who has lost 100 pounds! Marina is the recipient of The People's Choice Award for her online catalogue of over 400 original songs, 50 albums and 1,200 Musical Health Workouts which may all be found at www.highenergyfitness.com and on ITunes!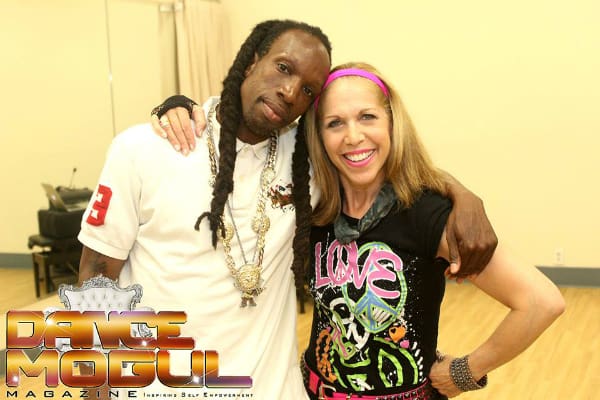 She just completed the assignment to Produce/Cast & Co-Choreograph the Britney Spears' Twister Dance Rave TV Campaign by Hasbro which is coming out this Fall 2013 in a few weeks. Her ability to merge the worlds of Dance-Live Theatrics, Commercial Advertising, Young People & Family Healthy Entertainment is key! Giving opportunities to the next breed of young dancers. Dance Mogul Magazine had the opportunity to go behind the scenes of this Industry Casting Call thanks to Jimmy "Poker" Williams. We witnessed first hand what it takes to go through the casting process, but this particular Casting Call was filled with tons of motivating parents, veteran choreographers such as Bam Bam Valentine, and a supportive casting staff all rooting the participants on, encouraging them to take it to the next level.

Dance Mogul: How did you get started in the industry?
Marina Kamen: I was born in NYC in 1959, started studying violin, piano and voice at The Manhattan School of Music prep division in NYC by the mid 60s. Summers were spent studying music at the respected Interlochen Arts Academy where I played with greats such as Van Cliburn. Attended my first dance class here in NYC in 1964 at the American Ballet Theater and June Tailor Dancers for the legendary Jackie Gleason Show. After years of ballet & Jazz training, I was fortunate enough to start studying with with Jazz dance Master Luigi! This was in the late 70s where the "who's who" of the dance scene were all taking class at the studio on 62nd and Broadway by Lincoln Center including Chita Rivera, Liza Minnelli, Robert Morse and Madonna. In the 80s, Broadway Dance Center with Frank Hatchett emerged where I was lucky to take his first class in addition to studying with JoJo and the late Tony Award winner Chris Chadma this was an iconic time in the dance community.
Dance Mogul:Who were some of your inspirations?
Marina Kamen: Celebrity wise I would have to say, Liza Minnelli, Patti Labelle, Bette Midler, Tina Turner, Martha Wash, Gloria Gaynor, James Earl Jones however our generation of current hot ringers in the dance community inspire me the most such as the well known artists a few friends I have had the pleasure of working with that come to mind are Rogelio Douglas Jr., Jimmy Polka Williams, BamBam AmenRa, QuickStep, Rockafella, Roger G., Cody Green in addition to STOMP cast members here in NYC including John Angeles, Brad Holland also a mention to Miral Kolb who is the creator of Iluminate now on Broadway in NYC and winners of America's Got Talent.
I have also worked in the Fitness & Sports areas and appeared on SHOP NBC Hosting Fitness Products.
In addition to casting dancers.I also cast and work with people to help them lose weight on television and write music in the sports area. My version of Sister Are Doin' it For Themselves" is regularly played at the WNBA. Half Time Dance Shows have been fun over the years where I get to work with fabulous dancers as well.

Below with NJ Wizards BasketBall Team Hip Hop World Class Dancers, TickTock, Jimmy Polka Williams, NYC Rocket Lisa Masuta, and Juilliard Grad Jason Reed from "Reach" PA!

Dance Mogul: Who have been some memorable people to work for and with?
Marina Kamen: Michael Bennett , Marvin Hamlish, Patti Labelle, Frank Hatchett, Madeline Kahn, Luigi, Liza Minnelli, Gloria Gaynor, Martha Wash,R & B award winner Donnel Jones, certainly being able to be in a vocal booth next to James Earl Jones,an honor to say the least.
Dance Mogul: Ive seen your work with children, how did you develop your motivating skills to help empower them?
Marina Kamen: As a mother of 3 now grown children myself in addition to starting dance and music at the age of 4, I have a tremendous sensitivity to how a child responds to direction. Also..in 1994 my eldest son Justin, now an Attorney here in NYC was in the original cast of Alan Menken's "A Christmas Carol" on Broadway here in NYC. This gave me an interesting perspective of being a mother, an artist, a production faulty owner of Kamen Entertainment Group, iNc which housed over 11,000 sq ft in Times Square, a casting Director and then an all of a sudden Stage Mom. Interesting perspective.
As a young person my parents had me in every class from ballet, tap, jazz, point, violin, piano, voice class, orchestra. As a Casting Director, I have worked for 30 years with diverse talent of all ages. Both young & old all share the same feelings wanting to be loved and accepted giving warmth as a Director/ Artist/Producer/Choreographer etc.Who deals with talent I have always found it to be true that the best way to get a great performance out of a person is with love and encouragement. Making them feel Fabulous is key!!!This is what frees the soul and enables them to shine. Young people especially are most vulnerable and thrive on a Mama's touch hence the name Mama MARINA!!!!
Working as an artist in the recording studio, live on stage, on sets for TV & Film .in front and behind the camera gives me a 360 degree view of the biz..also.I have written an Ebook entitled Step on Out! (Confessions of a Food-aHolic!) available on Amazon, iTunes as well as at www.Highenergyfitness.com
I love seeing a young person explode with talent and as a vocalist/writer & dancer myself it inspires me to also keep on Hearing the music, feeling the beat and Never Stop Movin' in my body and in my Life!!!
Dance Mogul: Your family is also well versed in the industry how do you balance family life and work?
Marina Kamen: Having a great partner and husband for 30 years helps greatly especially when he is also your business partner. When you work as a team with a common goal there is understanding on all levels in dealing with raising 3 children and balancing a household filed with life's ups and downs. All of our children over the years growing up have worked at our company Kamen Entertainment Group, Inc. doing everything from answering the telephones to supplying clients with their lunch and booking talent. In addition, our middle son Tyler is a versatile musician who is proficient on protools and is a skilled editor. The youngest, Tess is a Certified Hair Stylist here in NYC working on Fifth ave at a top tier salon as well as on multiple TV productions including Britney Spears' Twister Dance Rave TV spot which I recently finished Producing/Casting & Choreographing here in NYC at the legendary Webster Hall for Hasbro.
Family first! always! At the end of the day all the entertainment industry success means nothing if you have no one to share it with, good & bad at the end of the day.
In The Mix ( PBS Special about young teens auditioning in Dance in NYC 1999)
(Documentary)1998

Dance Mogul: What are some of your upcoming projects?
  Marina Kamen: Recently completed 3 Hasbro TV Commercials coming to Television this Fall 2013 where I Produced/Cast & Choreographed for Bop It Jenga Tetris and Britney Spears' Twister Dance Rave. Hiring 16 main girls on stage at Webster Hall NYC in addition to over 300 extras.Dance Rave baby!!!
 Will be working this Fall with Juilliard Graduate Jason Reed's Company on a Documentary for "Reach" a non-for-profit dance Hip Hop organization helping young people learn leadership skills through the Art of Dance. Also, I will be featured this Fall in First For Women Magazine focusing on my 100 pounds weight loss and my online catalog of 400 Original fitness songs and 1,200 original music workouts which awarded me the first People's Choice Podcast Award back in 2005. My voice also continues to be heard on countless TV commercials including Kellogg's Pop Tarts which has included numerous versions and forges on as one of Kellogg's most successful TV campaigns.
Dance Mogul: Is there anyone you would like to thank for helping you on your journey?
Marina Kamen: My parents always in addition to my brother Paul Chamlin who is a Musical Theater Music Director, pianist & vocalist here in NYC. My husband Roy Kamen who has taught me much of what I know about the recording industry over the past 30 years as we have owned and operated Kamen Entertainment Group, Inc. as a team and a family. Of course, my 3 children Justin age 27, Tyler age 21 & Tess age 20 inspire me daily and help me on my journey to be a better mother, woman, wife and artist.
For more on Marina Kamen check out:
http://www.kamen.com/pages/choreography.php
www.musicalhealthtalk.com
www.Kamen.com
www.HighEnergyFitness.com