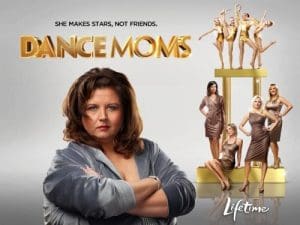 Dance Moms is an American reality television series that debuted on Lifetime on July 13, 2011. Created by Collins Avenue Productions, it is set in Pittsburgh, Pennsylvania at the Abby Lee Dance Company[1] and follows children's early careers in dance show business and their mothers. Dance Moms was renewed for a third season and will begin airing June 2012. A spinoff series set in Miami at Victor Smalley and Angel Armas' Stars Dance Studio premiered on April 3, 2012. Season 3 premiered on Tuesday June 5, 2012.
Cast
Owner
Abby Lee Miller: Owner of her self-named dancing company in Pittsburgh, PA, which she started at age fourteen. She is short-tempered, tough on the kids and the moms, but also extremely hardworking and passionate for her job. She is criticized by all the moms for her alleged favoritism towards Maddie.
Mothers
Melissa Zeigler: Mother of Maddie (Madison) and Mackenzie. She previously worked at the front desk at ALDC to pay for private lessons for Maddie. She is often referred to as a doormat because of her blank reactions to Christi and Kelly's prodding.
Christi Lukasiak: Mother of Chloe. Christi gets into many fights with Abby because she believes Abby is constantly comparing Chloe to Maddie, and because she believes there is favoritism towards Maddie.
Holly Frazier: Mother of Nia. She doesn't get into many fights with Abby because of her patient nature, however, when she does, it is most often about Nia's ethnic roles in dances and Nia's lack of solos and placement in trios. She refuses to see her daughter as a weakling, even though she is not currently at the caliber of Maddie and Chloe.
Kelly Hyland: Mother of Brooke and Paige. Kelly attended ALDC herself as a child. Kelly often remarks how she feels that Abby doesn't pay much attention to her daughters.
Cathy Nesbitt-Stein: Owner of Candy Apple's Dance Center in Ohio and mother of Vivi. Vivi used to attend ALDC in season 1, however quit near the end of Season 1.
Jill Vertes: Mother of Kendall, appeared in Season Two. She is disliked by the other mothers, with the exception of Melissa, because of her non-stop talking about how Kendall never gets special roles in dances or solos. Abby is constantly annoyed by her because of her constant nature, endlessly badgering her about Kendall's placement on the pyramid. She eventually leaves ALDC after Kendall was put of probation again for Jill's outburts.
Leslie Ackerman: Mother of Payton, appeared on the fourth episode of Season Two. She often fights with the mothers even more so than Melissa. Believes her daughter is the best dancer and should be the most publicized.
Dancers
Maddie Ziegler: Daughter of Melissa. She is almost always placed at the top of the pyramid, although she was absent from the top for 6 weeks in season two. She is definitely one of Abby's favorite dancers, and is often given special treatment, to the dismay of the other girls' mothers but to the delight of Melissa.
Mackenzie Ziegler: Daughter of Melissa. She is the youngest dancer in the group, and strives to be as good as her older sister, Maddie. She is usually placed at the bottom of the pyramid; however, there are instances when she was in the middle, and once, on the top.
Chloe Lukasiak: Daughter of Christi. She strives to make the top of the pyramid. Her main competition is almost always Maddie, as she is also one of Abby's best dancers. She is usually placed in the middle of the pyramid, however is sometimes at the top or on the bottom.
Brooke Hyland: Daughter of Kelly. The oldest dancer in the group, Abby expects her to be the role model, although Abby doesn't spent much time with her. Brooke used to be one of Abby's favorites, but as she grew older, Brooke lost interest in dance, and therefore, has a very bored attitude during rehearsal. In Brooke's Turning Point, she quits dance and tries out for cheerleading the week when she is on the top of the pyramid and is the feature dancer in the group dance. But in Brooke's Back, she wants to come back to dance. Abby tells her she can only return to dance if she receives first place in her solo. She receives third; however, Abby still accepts her. Abby acknowledges that Brooke is an extremely talented acrobat, and therefore, she is almost always front and center during acro dances and almost all of her solos are acro. She is often scattered around the pyramid, and doesn't have a certain place that she's always in, such as Maddie, who is always at the top.
Paige Hyland: Daughter of Kelly. Usually placed at the bottom of the pyramid, Paige fights for Abby's attention and always tries her best to be placed higher on the pyramid. There are instances, however, when she is in the middle and once, on the top. Abby has noted that although Paige is usually picked for the trio, she is weak in memorizing dances quickly. Paige is usually in the trio, but sometimes, is replaced by other dancers, such as when Abby is fighting with her mom, Kelly.
Nia Frazier: Daughter of Holly. Although usually a background dancer and placed at or near the bottom of the pyramid, Nia strives to be a feature dancer. Abby doesn't pay much attention to her, and often places her in ethnic roles in group dances, much to Holly's dislike. Nia is rarely in the middle of the pyramid, but in the second season, she finally makes her way to the top. While at the top of the pyramid, she goes head to head against Kendall during her first week at Candy Apple's and Kendall wins.
Kendall Vertes: Daughter of Jill. Attenting ALDC for the first part of Season 2, Kendall was very rarely given special roles or solos. Her mother fought endlessly for special treatment of her daughter, going as far as getting a massage and a bench for Abby. Kendall is good at memorizing dances quickly, however is frequently criticized by Abby for bad posture and is not very good countwise. She was always placed at the bottom of the pyramid. In episode 8 of season 2, as a result of an argument between Jill and Abby, Jill storms out of Abby's dance studio and enrolls Kendall at Candy Apple's Dance center.
Vivi-Anne Stein: Daughter of Cathy. Often referred to as Vivi, she left ALDC near the end of the first season. She was always placed at the bottom of the pyramid. It appears that she does not really enjoy dancing – she only goes to dance classes because her parents promised her a puppy. She says that she would rather play softball than dance. Vivi is often used as a human prop by her mother, Cathy, to bring the age level down. Cathy's dances often involve the older girls dancing and Vivi being off the stage for most of the dance. Vivi now attends Candy Apple's Dance Center.
Other dancers
Dancers that have been in the background or appeared in only a few episodes.
Payton Ackerman: auditioned to replace Vivi-Anne, but was only added in when Brooke briefly quit later in the season. Got kicked off because Abby thought she did not fit in with the group (due to both her height and her attitude towards the other dancers). Appeared in Season 2 episode 4 and danced in the group routine. Was brought back in season 3 to replace Brooke again when she decided to go to a school dance. Payton has been accused of bullying the ALDC dancers and many others in the studio.
Gianna Martello ("Gia"): Abby's assistant. She does much of the choreography when Abby is working with other girls.
Justice: A male Candy Apples dancer, the same age as Vivi-Anne. He has gone head-to-head against Maddie, but has lost.
Taylor: A Candy Apples dancer who was injured late in Season 2 during a dance competition.
Julianna: Maddie's professed "rival" from another studio.
Erica: A Candy Apples dancer who competed against Brooke in season two, episode 2 ("Return of the Candy Apples").
Brandon Pent: ALDC dancer that was in the group number "Snapshot" from Season 1. He used to have a crush on Brooke.