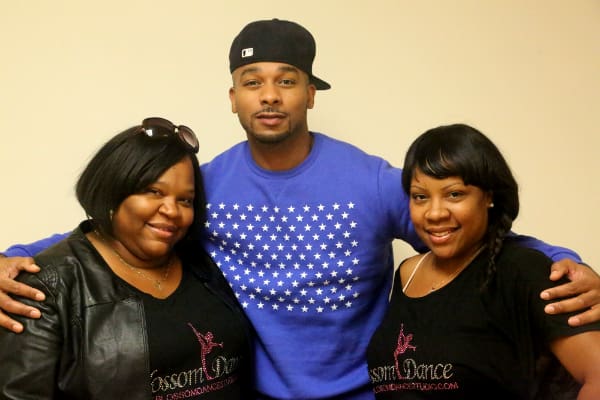 The Founders of Blossom Sisters Foundation and Anthony Burrell
Special thanks to Blossom Sisters Foundation
and Blossom Dance Studio for holding a great community workshop and inviting Dance Mogul Magazine to come cover history for their organization. When opportunity knocks, especially in New Jersey, it is important that we rally behind those in the community on the front line providing arts and education for our youth. Blossom Sisters Foundation, is an organization started in 2008 by two sisters (Tanya and Shama Elliot) dedicated to building and enabling communities to experience the arts who are otherwise not able to afford it.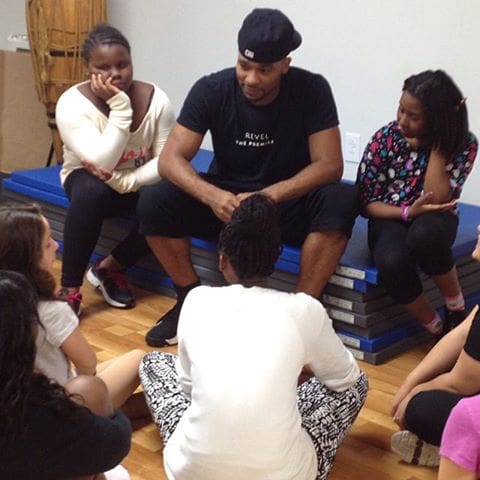 Anthony taking the time to educate the kids who attended his Master Class.
"I grew up in South Philly. To me, that's as hood as it gets. I didn't have some of the opportunities that kids have today. So every chance I get I'm always willing to serve as an example that with discipline, dedication, and determination, success can be attained in whatever it is you choose to do." -Anthony Burrell
A native of Philadelphia, Anthony Burrell began teaching and choreographing at age 14 as a student at Point Breeze Performing Arts Center. Anthony's extraordinary talent was evident even then, earning him an emerging choreographer award, and later resulting in him being appointed resident choreographer for the school. Anthony attended Franklin Learning Center, where he studied with Horton master, Faye Snow. While in high school, he danced professionally with Eleone, KTM Extreme, Danco 2 (the second company of Philadanco), Koresh, and Prism, in addition to studying at the Pennsylvania Ballet and the National School of Ballet in Lima, Peru.
Before entering college, Anthony was a two times local gold medalist, and the1998 national gold medalist for the NAACP ACT-SO competition in the category of dance, as well as a guest artist with the Bermuda Dance Company. During his freshman of college at The University of the Arts, where he attending on a Promising Artist scholarship, Anthony was hand-selected by Judith Jamison to joined Ailey II, the second company of the Alvin Ailey American Dance Theater (AAADT) resulting in him leaving the university. During his time with Ailey II, Anthony taught master classes at universities and other dance institutions across the country.
After a year with Ailey II, he joined Alvin Ailey American Dance Theater and began touring nationally and internationally with the company for five years. During his time with the Alvin Ailey Company, he set choreography on Ailey members and was described reviewer Jennifer Dunning as a "choreographer to watch."After achieving his life-long dream of dancing with Alvin Ailey, Anthony went on to experience Commercial success in LA as a Dancer/Choreographer in the music industry, appearing in countless television programs and Music videos, including Good Morning America and The Oprah Winfrey show.
He became a dancer, choreographer and dance captain for the Industry's Top artist such as Beyonce, Destiny's Child, Rihanna, Katy Perry, Mary J. Blige, Kelly Rowland, and Brandy. He was also featured as a dancer on DVD recordings such as Jay-z's Fade to Black, Destiny's Child's Live in Atlanta, and Beyonce's Live at Wembly Anthony was dance captain and Asst Choreographer on "The Beyonce Experience" World TourAnthony decided to take on acting, and within his first month of training, he was scouted by Hi-Hat to be the featured actor for Mary J. Blige's Heart of the City tour and later toured with her for Mary J. Blige's a second time on her Music Saved My Life tour.
Completing the tour, he went back to perform with the Ailey Company for two more seasons. After his departure from the Ailey Company, he was featured on "So You Think You Can Dance" top 24. On the show, and was noted by judges as "exquisite", and "the best dancer in New York." He later went to Star as 'Hank' in Twyla Tharps Broadway Musical " 1st National tour of "Come Fly Away (CFA) and during the rehearsal period for "CFA" he Co-starred in his first film "The Skinny" as "Kyle" Directed by Patrick Ian Polk. He recently Co-starred as "Dallas" on GLEE, and can also be seen on "Dance Mom" and Abby Lee Ultimate Dance competition.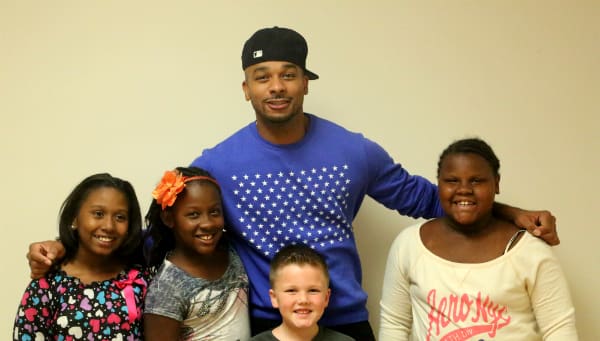 Anthony was full of encouragement from the time he arrived till the time he left.
"We chose Anthony for our kids because his resume speaks for itself. It's important when people spend their hard-earned money on dance that their kids get a high-quality workshop. Who better to help the next generation than someone that is actually working in the industry and can tell them all about it." -Shama Elliot"
" With the arts being taken out of the school systems and rising prices in NYC, it's important that the NJ community recognize and take advantage of programs that are providing free or low-cost services. I wish I had this when I was growing up." -Tanya Elliot