---
Dance Mogul

Magazine Exclusive…

 
---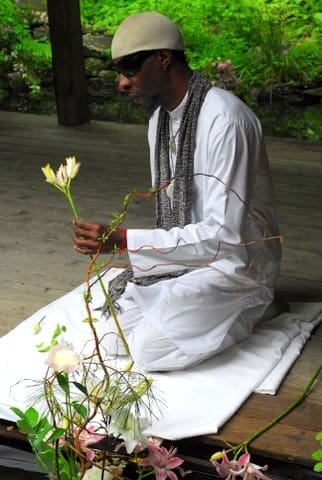 Dance Mogul Magazine is always looking for uniqueness within our culture and shining the light on it. With that being said it brings us great pleasure to introduce to our audience Anthony Ward the Flower Guru. Mr.Ward takes us on his journey through the arts and how he found a passion for flowers. He has been able to take his passion for both and create something that we here at Dance Mogul Magazine have never seen before. With February bringing Valentine's day what better person to feature than the Flower Guru himself.
Dance Mogul: When did you realize you had a passion for the arts?
Anthony Ward: I grew up one of  8 children. I was dancing before I could walk. My mom says maybe in the womb, as I would move a lot when certain music was on. Even as a very young child movement just made me feel at home in my body.
Dance Mogul: Were your parents supportive of you?
Anthony Ward: My parents gave me positive re-enforcement by having me perform for guests even as a very little My dad would say" Come on out here on put on a floor show for us ".
"I have been creating on stage since 2002, Merging Dance and Floral Art to my knowledge nobody else on this planet is doing this. I would love to share it with your readers because I am ready to take it to work with other dancers. I would love to choreograph a piece with a ballet company or create a Cirque du Solei type event.  I am the subject of the documentary   *Dancing With The FLOWERS*  Every time I do an event and I have done them in Paris, and Japan as well people say I have never seen anything like this. I am now working with DJs, and music producers doing their full sets creating 2 or 3 floral sculptures in their hour set."
Dance Mogul: What were your inspirations growing up?
Anthony Ward: I just could not wait for Saturday morning and Soul Train. I was so inspired by all those stylish children just being free in their bodies. It was a rich part of American culture we may never see again I also just loved seeing anything with dancers backing a singer or in a chorus of any kind.  I will never forget the first time I saw Ballet. I was blown away out at the beauty, strength, and grace when Mikhail Barishnikov did 6 pirouettes in the film The Turning Point.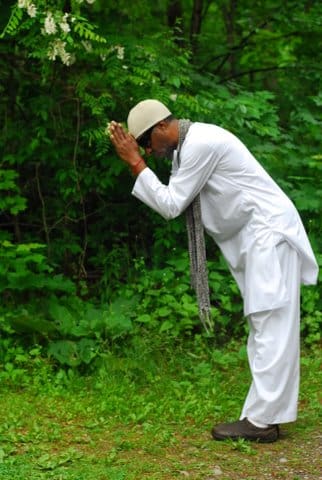 "The first time President Obama was elected I performed with Michael's band at 2 of the Inaugural Balls  *The Peace Ball* hosted by Harry Belefonte. Also *The Green Ball* hosted by Vice President Al Gore. I have also created floral sculptures( as Dr. Angelou told me to call my creations) for many spiritual teachers. I have done my work for Dr. Angelou in her NYC apartment and have created for 5 stages she has spoken on."
"I was also doing another event for His Holiness The Dalai Lama at the same time I have done 12 events for him since 1996.  After that auspicious wedding within a month, I did events for Madonna  a Valentine's Party and the first time she was on stage in 4 years–Her daughter Lola was 4 and  I will never forget after all the police and bodyguards."
 "I did an event for Bette Middler. Who I was so impressed with because she showed up before everyone else in jeans and no makeup and said put me to work, it was for her Charity The New York Restoration Project and I was donating my services. This is something I sometimes do when I work for groups improving life on our beautiful blue planet." Stayed tuned in for the FULL interview in a future issue of  Dance Mogul Magazine.