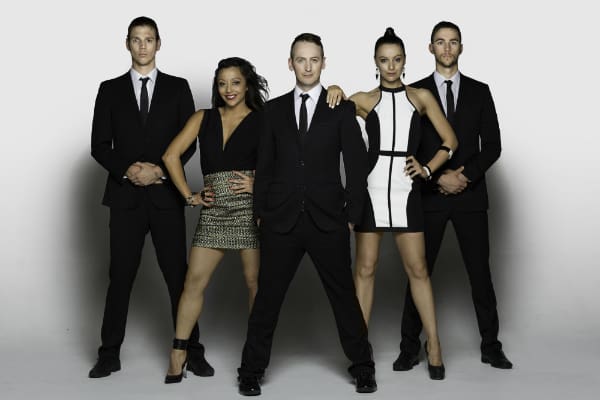 THE TEAM – (Left to Right) JACK MAY, YVETTE LEE, PAUL MALEK, KARA B, ROB MCLEAN.
Choreographers often spend their careers hiding in the dark side stage or behind the camera, but two of Australia's leading choreographers Yvette Lee and Paul Malek are doing just the opposite.
This power duo of dance, whose combined choreographic careers has glittered with credentials such as So You Think You Can Dance, Dancing with the Stars, Rock of Ages, and Hair The Musical, is stepping out from the shadows to host a brand new dance chat show, aptly named DANCE CHAT.
A weekly chat show all about dance, the program feature interviews, entertainment and lifestyle segments, special guest performances and weekly dance news from around the country.
The ever-fierce Yvette Lee, fresh off the set as choreographer for Chris Lilley's TV series Ja'mie, said
she was excited to be invited to join the DANCE CHAT program.
"There was a need for this. There was no concept like this around. We all love to dance, we love talking about it, so it's great to be part of a show dedicated to it" she said.
DANCE CHAT is more than just an online series. It is a 20-minute chat show program designed to inform and inspire.
Broadcasting on YouTube is the new medium accessible to the world.
Prolific dance entrepreneur and contemporary choreographer Paul Malek is enthusiastic about the YouTube channel and says broadcasting through this medium allows honest interaction.
"The show is being aired exclusively on YouTube and we're so excited about that," he said.
"Platforms like YouTube allow artists to engage directly with their audiences. The viewers not only feel part of the show but they can also help shape the content, which is just awesome," he said. 
"The online reaction has been incredible so far and it's only been one week since we launched. Our Facebook Page 

received over 1500 likes in the first twelve hours."
So what can we expect from the first episode?
"The first episode is going to be massive. We have the hugely popular commercial choreographer Marko Panzic joining us on the couch, a special interview with international YouTube sensation Miranda Sings, and a few more surprises up our sleeves." Mr. Malek said.
Premiering on November 18, DANCE CHAT is ready to launch.
And with the much-anticipated return of So You Think You Can Dance Australia, the conversation will be flowing.
Join the conversation
PHOTOGRAPHY CREDITS: Kayzar Bhathawalla – BOOM MEDIA
###