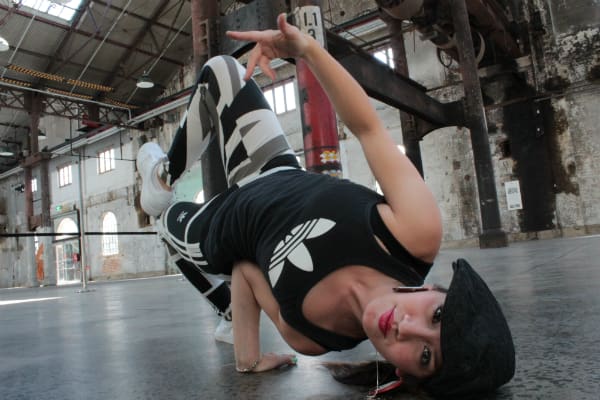 Coming from a classically trained dance background in Phoenix Arizona, Bonita began her professional career performing with and choreographing for the Phoenix Mercury Hip-Hop Squad and the Phoenix Suns Dance Team. Since then she has performed with artists such as Jason Derulo, P. Diddy, Black Eyed Peas, Sean Kingston, Fergie, Jamiroquai, Wyclef Jean, Midnight Red, Stooshe, Bon Qui Qui, Redman, Q-Tip, Eric Sermon, Biz Markie, KRS-ONE, and Doug E. Fresh. Not only has she had the opportunity to perform with such artists, but she has also been featured on Disney's "Shake It Up", Nickelodeon's "Fresh Beat Band", "American Idol" and has worked as an animation dancer on the movie, RIO. Additionally, she has performed in corporate events for NIKE, ADIDAS, Sketchers, Dillard's, Toshiba, Red Bull and many more.
Before moving to Los Angeles to pursue her dance career further, Bonita co-founded and directed Automatic Response, a non-profit dance company, who was featured on the first season of America's Best Dance Crew. During her involvement with Automatic Response, she wrote, directed, produced and performed in several theater productions featuring AR as well as other top names in dance. Through her creativity, drive and positive influence, she helped establish a united dance scene in Phoenix, AZ. Bonita was highly instrumental in forming Phoenix's first Hip-Hop after-school program, All the Right Moves, which designed a curriculum to teach students the four elements of Hip-Hop.
She has been a member of The Legendary Rock Steady Crew since 2006, whom she credits for her Hip-Hop knowledge and education. She has trained closely under many pioneers such as Crazy Legs, Mr. Wiggles, and Pop Master Fabel. She has won a number of national battles, both individually and with her crew, RSC, and can be seen battling all over the world amongst the top B-boys and B-girls of this generation. Bonita has traveled to Mexico and South America as a member of humanitarian teams, volunteering her time to teach, perform and judge. Her belief and commitment to the community and volunteer programs will continue to be a high priority throughout her career.
After moving to LA, she became a member of the Groovaloo's, an LA-based Hip-Hop Company, who was recently featured on Dancing with the Stars. She completed a US tour as well as an Off-Broadway run, performing in their theater production of Groovaloo. Bonita has been teaching professionally for 12 years nationally and internationally. She has traveled to spread her knowledge of Hip-Hop and dance to countries such as Indonesia, Taiwan, Australia, Singapore, London, Japan, Nicaragua, El Salvador, and Mexico. She was recently featured on MTV's: MADE, where she mentored a young girl in her dream of becoming a Hip-Hop dancer. Bonita teaches, choreographs and judges for both Universal Dance Association and USASF.
She is a faculty member for The Groove Expo and Word In Motion, both well-known national dance conventions. She currently teaches and lectures at colleges, universities, community centers, schools and studios all over the world. She is recognized by her fellow dancers for being extremely diverse as a performer and choreographer. She has bridged her classic studio training with the culture of hip-hop to produce her unique and dynamic style. Bonita recently became the newest member of the world-famous female dance group, The BEAT FREAKS, and can also be seen performing with them on a number of upcoming projects. She is very thankful for the opportunities she has been blessed with and will continues to share her philosophy and insight into dance everywhere she goes. Dance Mogul Magazine is honored to uplift another woman in our culture leading the way for the next generation.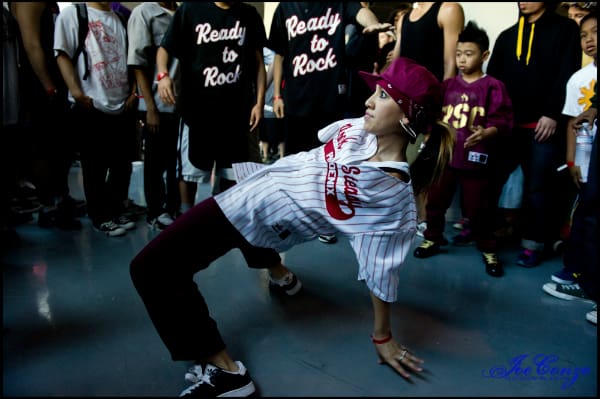 Dance Mogul: At what age did you develop a passion for dance?
Bonita Lovett: I was definitely forced into class in the very beginning, being taken to ballet classes as every young girl is. The more I was exposed to it, the more I learned and the better I got, my passion began to grow. I would say my Sophomore year in HS is when I knew that I wanted to be a dancer. I couldn't see myself spending my time doing anything else even though I had no idea exactly what it meant to be a professional dancer.
Dance Mogul: Who were some of your early inspirations?
Bonita Lovett: I started dancing at the very young age of 3, taking dance classes at a dance studio in my neighborhood. At that time, my inspirations became the older dancers I saw at the studio as well as my family who was always dancing at our house parties, gatherings, and celebrations. I do remember watching dancers like Gregory Hines, Janet Jackson, Michael Jackson and of course the dancers on Soul Train every Saturday morning!
Dance Mogul: Were your parents supportive of your dancing?
Bonita Lovett: My parents have always been extremely supportive of my dancing, which has been an incredible blessing. My parents, as well as my Nana, sacrificed financially to keep me in dance school, allowing me to travel, to compete, to perform and to excel in my art. They have always been my biggest fans and they remain that until this day!
Dance Mogul: How did you develop the discipline to train?
Bonita Lovett: I developed the discipline to train in the dance studio, definitely. I spent hours there every day after school, doing homework, in classes until late hours and waking up to do it all over again. I absolutely loved every minute of it and I didn't want to be anywhere else. When I began training and really coming into my own as a Bgirl, I approached it the same way, because I was determined to get better. We all gotta start somewhere but the worse feeling is being wack! haha So, I had to put in that work and I still do every day 🙂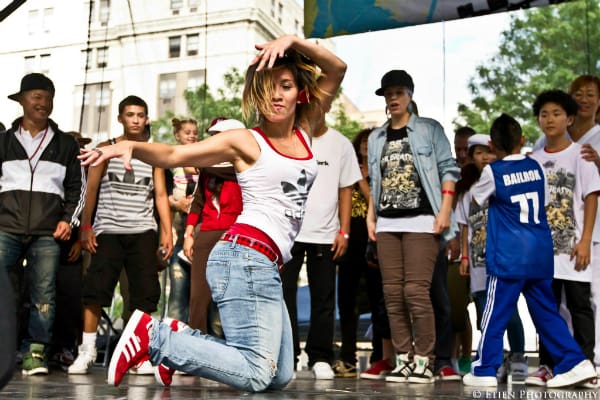 Dance Mogul: Did you go through any hardship wanting to be a female dancer?
Bonita Lovett: I think before I really dove into the Hip-Hop scene, I had never really faced any hardship being a female dancer because the majority of the dancers in the studio world are female. In the Bboy/Bgirl scene, the ratio of Bboys to Bgirls is significantly higher, so we're definitely a minority. I would say the hardship is really just that there are not as many girls to connect with but there is also a big advantage with training alongside the B-Boys and being pushed to unimaginable levels. When crossing over to the mainstream/ commercial scene I would say the biggest hardship is the stigma that females have to be half-naked and use their sexiness to sell anything. This is also challenging, but you have a choice to feed in and compromise or not 🙂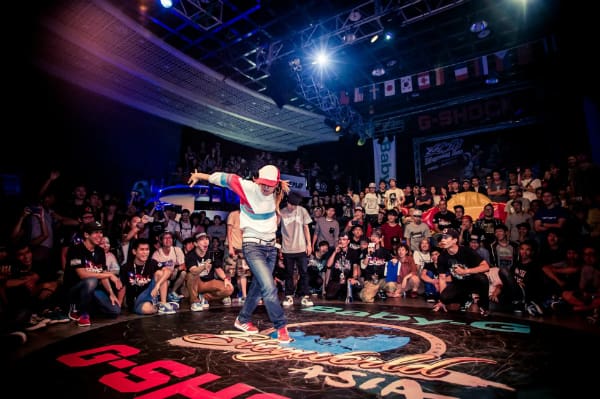 Dance Mogul: What was the Phoenix Suns experience like?
Bonita Lovett: My first professional dance job in AZ was actually dancing for the Phoenix Mercury Hip-Hop Squad, which was very instrumental because I met a lot of freestyle dancers in the scene. I saw dancers Locking, Popping, Breaking, and just bugging out! My coach knew that I had an extensive background in jazz/ ballet and asked me to audition for the Phoenix Suns. I decided to audition and made the team, coming in as the youngest member that year, performing and also choreographing for them. I remember thinking that all the "perks" like nail care, tanning, dental work, hair styling, etc. were so over the top and had nothing to do with the dancing. It really discouraged me and I almost quit. I ended up sticking it out, had a great season, learned a lot and built some great friendships. Funny thing is, my Dad sees me dancing for the Phoenix Suns, as my biggest dance accomplishment to date! lol
Dance Mogul: How were you able to mobilize the dance scene in AZ?
Bonita Lovett: Automatic Response, originally AZ's Finest, was created in 2005 out of a mission to bring together dancers to rock shows and to just have an outlet to perform. In Arizona, so many talented dancers are bred but you have to either move to LA to pursue dance or you become a teacher at a younger age to start making money. The need was so great that we (Ryan Ingram and me) ended up holding an audition and over 100 dancers came out! Since I had come from the studio scene years before (but was now heavily involved in the underground battle scene) I was able to connect with both scenes and I saw the potential to bridge these two worlds together. It was the beginning of merging scenes in AZ from studio dancers, to freestyle dances, from battlers to performers and putting them all on one stage together. The company ended up doing the first season of MTV's America's Best Dance Crew and became a well-known name in the AZ dance community 🙂
Dance Mogul: Tell us about the after school hip hop program?
Bonita Lovett: All the Right Moves, a Hip-Hop after-school program birthed out of the need to have the culture be exposed to kids throughout the Valley. I worked closely with Ryan Ingram, in creating a curriculum that teaches the 4 elements of Hip-Hop. There was a big need and schools from Gilbert to the West Valley adopted it and brought it into their districts. It was incredible to be a part of launching such an instrumental program that is still alive and continues to teach kids about Hip-Hop throughout the Phoenix Area.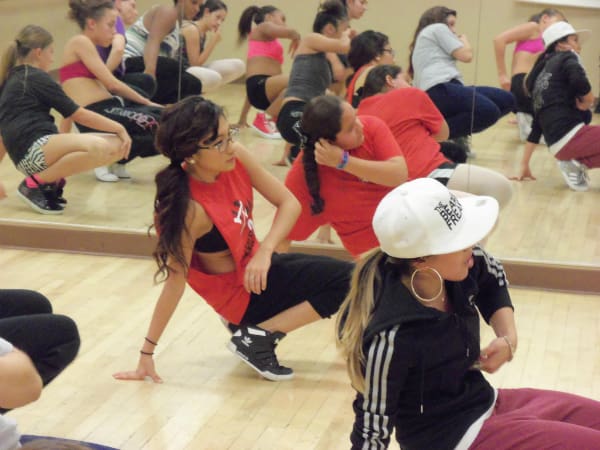 Dance Mogul: Why are you so committed to volunteering in communities?
Bonita Lovett: Well, Hip-Hop is a community movement and I wouldn't be where I'm at without the love and support of my own community, so I feel in my heart that it will always be important to me. I recently taught out at an Arts festival in Surprise, Arizona, called WHAM, that was exposing kids to the Arts. It was fun to be a part of and to help ignite that love into kids that don't even know it's inside them yet. I teach all over the world and I can tell when kids really latch on to it and when they don't or they can't relate. Like I've always said, I would rather there be 10 people in my class that have a true desire to learn instead of 300 students that could care less! My heart is so strong in education and really giving the students something to walk away with not only in dancing but in life, in general.
Dance Mogul: You have had numerous experiences like with the Groovaloos and even on MTV, what have been some of your favorites?
Bonita Lovett: Well, the one that stands out by far is when, The Groovaloos, performed on Dancing with the Stars, shortly after Steelo's recovery from being in the hospital for 6 months. That was such a powerful performance, full of emotion. It was incredible for the world to hear his story and to be able to share the stage with him again. I did enjoy being a coach on MTV's MADE and schooling a young girl into becoming a Bgirl. That was cool for me because I didn't have to fit a character or be something I'm not. I could be myself and I'm glad that came across successfully on the show 🙂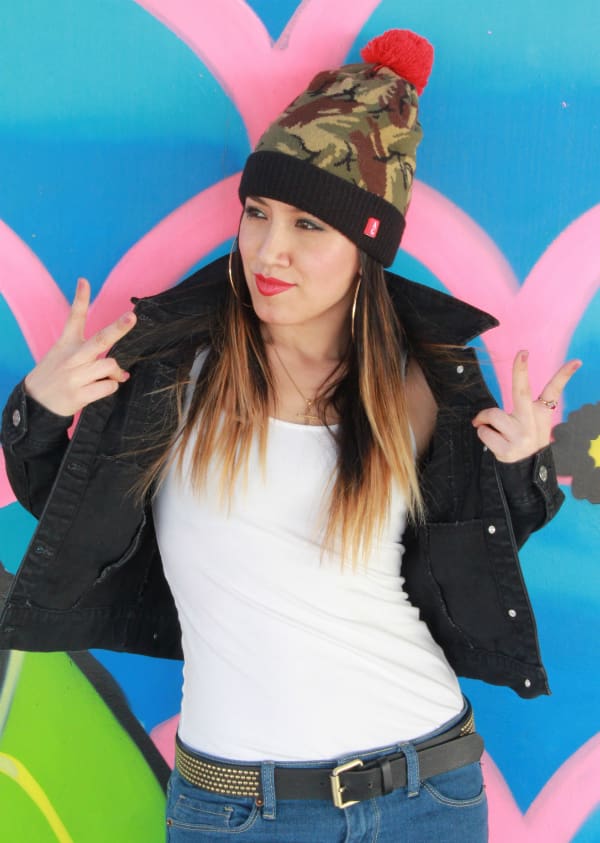 Dance Mogul: Do you feel Dance Mogul Magazine is needed to help shine the light more on the culture and showcase the positive side of it with a unified voice to present to the masses?
Bonita Lovett: Yes, I think what Dance Mogul Magazine is doing is incredible and is so necessary to shine a light on a side that many people don't really know. Thank you for giving us the opportunity to share our voice!
Dance Mogul: In 2006 you became a member of the Legendary Rock Steady Crew, how did that happen and how has RSC helped you grow?
Bonita Lovett: My first memories of RSC live (not on Beat Street) were watching Ervin and T-Rock catching wreck at the Furious Styles Anniversary. I think it was '02 or '03. I met Koolski that year too. Being taught under House and FSC in the beginning, Rock Steady was talked about on a regular basis and understanding how this legendary crew did things. I never thought that was a reality for me just a distant dream. I met Crazy Legs in 2004 and would cross paths with RSC members over the years at jams. In 2005 I was at Mighty 4 in SF and Rock Steady Crew had a tremendous presence. I remember cyphering with them and at that point realizing I wanted to be down. In 2006, Legs put me down in the crew and the journey had just begun. Legs saw my potential and I got schooled left and right. I remember saying to myself, I feel like I just started breaking all over again because there was so much I had to relearn! haha RSC definitely shaped me into the Bgirl everyone sees today.
Dance Mogul: Is there anyone you would like to thank for helping you on your journey?
Bonita Lovett: Oh man..hahaha I'm just gonna list it: Jesus Christ, my mom, Gloria, my dad, Tony, my brother, Anthony, my Nana Belen, my sister, Mindy, my whole family for being my biggest support since I was a girl, Christine Gonzales, my first dance teacher to have a BIG impact on my life, Chris Wakimoto, House & Furious Styles Crew, Rock Steady Crew past, present and future, Crazy Legs for believing in me, Mr. Wiggles, YNOT, Feenx, Bradley, The Groovaloos, Teresa Espinosa, for being an inspiration before she knew it, The Beat Freaks, Steelo & Penni and everyone who has ever taught me something or guided me at some point in my life. That list would really be everyone I've had an encounter with but these people stick out in my mind greatly. Thank you all again and I can never repay you but let you know how grateful I am for your love!
For More on Bonita: www.BonitaLovett.com, https://www.facebook.com/BonitaLovett https://www.facebook.com/BgirlBonita, https://twitter.com/BgirlBonita
http://instagram.com/bgirlbonita
Videos: http://youtu.be/OwpvuPRpyTQ Bgirl Bonita Throw Downs
http://youtu.be/6gfdjoCKaPE Funk'd Up TV Interview
http://youtu.be/niSlPSJ8OFE Dance Reel
http://on.mtv.com/tAiu8U MTV's MADE
http://youtu.be/JncV9ahNZVw Fan Tribute