---
Dance Mogul

Magazine Exclusive… 
---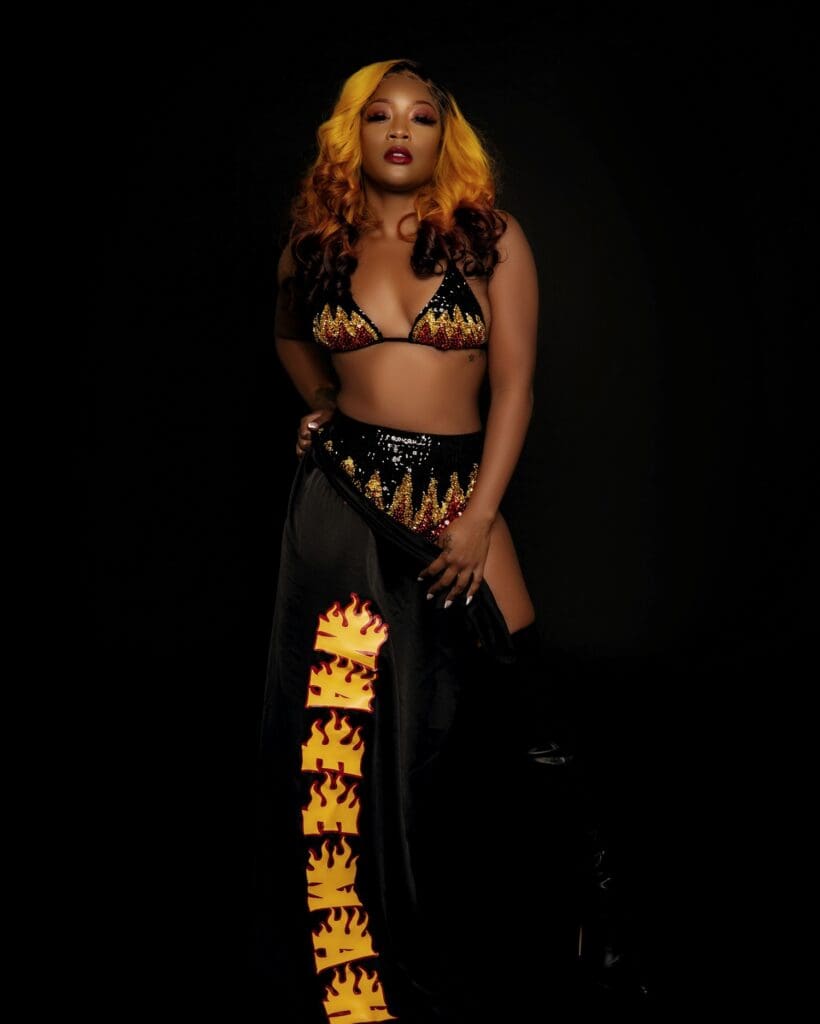 Naeemah's dance journey began in St. Louis at an extracurricular after-school dance program when she was invited to perform at the age of fourteen. Naeemah never knew she had a talent for dance, but it came so naturally! Inspired by that first venture into dancing, she soon began dedicating all her time and energy to her newfound passion, polishing her performance and dancing skills. Soon after, she joined a hip-hop dance group called TROOP ("Total Respect Of Other People"). Malik Sibadili created the group to provide kids with a creative outlet away from the dangers of street life so predominant in the inner city. As a member of TROOP and mentored by Sibidi, Naeemah performed at a number of sports and entertainment events in St. Louis, including the famous Apollo Theater. Even in those initial performances and with limited dance training, Naeemah stood out and captivated the crowd's attention. Realizing that she possessed a natural affinity for dance and was thirsty to explore her talent further, Naeemah enrolled in VPA, a Visual Performing Arts middle and later CVPA high school, where she began her professional training in ballet, jazz, tap, modern dance, and pointe. Naeemah immersed herself completely in this new world of rehearsals, training, and performance and, through her hard work and dedication, earned the "Best Dancer" award both in middle and high school! Hip-hop, however, was always her first love, and she continued to train day and night under the mentorship of Anthony Redd Williams. Williams and Naeemah began holding rehearsals three times a day, starting at 5 pm and often ending well past 1 am.  Although Naeemah had to wake up in just a few hours to go to school every morning, she never felt discouraged or overwhelmed by the routine.  Her dedication soon paid off when she caught the attention of Jamaica Craft.  A well-known choreographer working for a number of successful artists, Craft was at the time looking for a dancer to fill a position dancing for Amerie, who was performing as the opening act on Destiny Child's "FulFill" tour.
Naeemah received a formal request for a one-on-one audition with Jamaica Craft.  Naeemah realized the immense potential of the opportunity to learn choreography in just one day.  Craft was impressed with her ability to absorb and translate the choreo in a limited amount of time, and Naeemah found herself on stage the next day.  That same night she packed her bags and went off on her first tour at just seventeen years old. After her experience on tour, Naeemah soon developed big dreams of working consistently as a professional dancer.  Upon her return, she began to audition and pushed even harder to continue growing in her career. Soon after, she landed the role of Elmo (costume work) on Sesame Live's production "Elmo's Green Thumb," another tour that lasted 11 months. For two and a half years, Naeemah toured with the production, but she knew that she wanted to keep climbing the ladder to success and made the decision to move to Atlanta in search of further career opportunities. Naeemah soon had the chance to put her ballet training to work when she was casted as a featured dancer in the Universal Soul Circus.  Bringing a fresh new style of dancing to the stage, she brought out her pointe shoes and intertwined hip-hop, ballet, and aerialist work in her routine.
While living in Atlanta, Naeemah worked with several successful choreographers, including Jamaica Craft, Akomon Jones, Sean Bankhead, Codie Wiggins, ATLA's KiKi Ely, Sakinah LeStage, and Othan Burnside, among others. She also had the opportunity to perform alongside TLC, Omarion, Usher, Chris Brown, Ciara, Missy Elliot, and Beyonce, to name a few! Always reaching for the next step in her career and working passionately to take her craft to new heights, Naeemah eventually landed her dream job working with and touring alongside Usher on the "URX Experience" tour!
After wrapping up the Usher Urx tour, Naeemah went on to tour the world with the legendary female group TLC. She was also a dancer in the historic Beyonce "Formation" super bowl performance. On her breaks, she puts her energy into acting. She has been featured in Empire, Bolden, the film Honey and the new dance series Step Up Reloaded. With the understanding and realization that dreams can come true when met with dedication, passion, and work ethic Naeemah has begun exploring other avenues of artistic expression.  Music has always been a great love, and Naeemah, AKA "NANA," now finds herself in the recording studio focusing on her latest EP, "The Phoenix"! And has recently opened up for the 2021 Millennium Tour! While in the midst of working as a professional dancer and exploring her own sound.
Naeemah is a true entertainer that's not afraid to shine and work hard to keep growing and perfecting her craft constantly.  A true beast of nature and a natural performer, her main goal remains inspiring others to keep pushing to achieve their dreams no matter the odds.
Click Below to Purchase
Entering twelve years of service, finding new ways to highlight dancers and self-empower them is always important. This was a unique opportunity to collaborate with one of the rising multi-talented dancers in the industry, Naeemah Mccowan. She took Dance Mogul Magazine directly behind the…