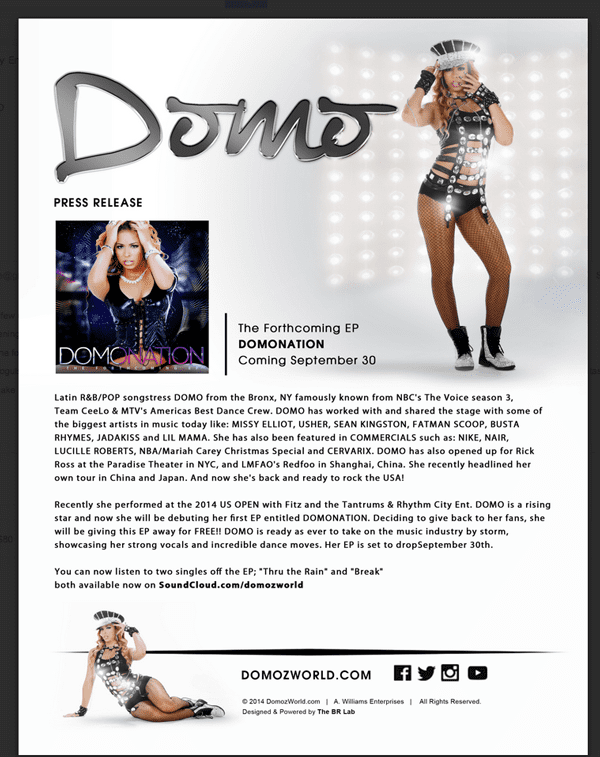 Dance Mogul Magazine has had the pleasure of watching this R&B/POP sensation hit the ground running in her pursuit for greatest. DOMO has paid her dues as a dancer and performing artist, hitting major circuits here in the states and internationally. This is one Queen that is ready to stand tall on her thrown as she prepares to drop her latest body of work. We hope that not only the general public jumps behind her as a support system, but we really hope the dance community does as well. It's not every day that we have the opportunity to bring forth the next J-LO or BETTER. Let's stay inspired and empowered as dancers continue to rise from the background and claim their majestic crowns. We want to thank DOMO, Alonzo and her team for taking the time to inspire self-empowerment during their busy schedules.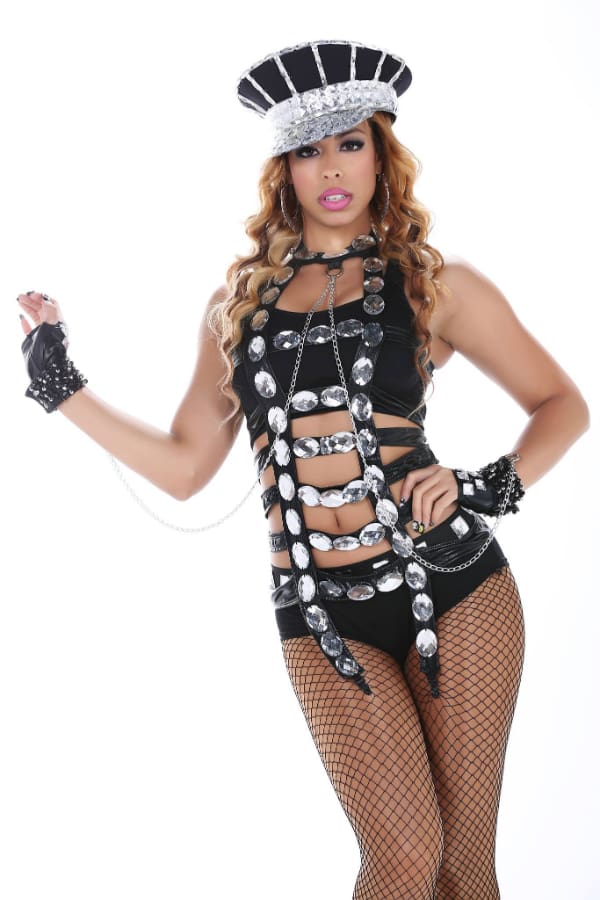 Dance Mogul: How does it feel to go from listening to artist all your life to actually being one and releasing your own EP?
DOMO: It's so exciting because now I know what they feel like when they are working and trying to promote their albums. Finally getting to present it to the world is very nerve-wracking and exciting! You want everyone to see what you've been working so hard on, but at the same time it's like "I hope they like it!".
Dance Mogul: How do you feel you're carving a niche for yourself in the industry at this point?
DOMO: There are so many levels to my craft. For one I am a Latina, there are very few Latinas in the game right now aside from JLO. I also love to entertain, and coming from a dance background gives me the opportunity to express my music both sonically and visually. I love the fact that I can go hard with my dancers and also go hard in the recording studio without sacrificing either talent.
Dance Mogul: I bet growing up looking at Moguls like Diddy and Russell you had no idea the work that went into the success of presenting artists to the world,  how have you balanced all the task?
ALONZO: Growing up I always been a "go-getter" and I knew that it always took dedication, passion and long term commitment to achieve any goal. I never thought it was an easy task I just always kept pushing and grinding. The fact that I wear so many different hats is a task all on its own. My motto is "It only seems impossible until somebody does it!". I always looked at it like, "well if they can do it, so can I". The fact that people like them can continue to work hard and reinvent themselves inspires me to be better at what I do.
DOMO: It's definitely a lot more than meets the eye. People have this misconception of the reality of the music industry and I am so much more aware of the "game" now. So I just keep doing my thing and people are really starting to notice my consistency and dedication. That all it really takes at the end of the day.
Dance Mogul: What do you hope fans take away from the new material and how can other independent artists be inspired by your grind?
DOMO: I hope that people feel good when they hear my music! I want to make people dance and enjoy the feeling that my EP DOMINATION brings. This EP is mostly Pop driven but it has some hard beats that can make your speakers knock! Hopefully, my fans love my sound and can relate to some of the records like "Break" and "Thru the Rain" which are both available now on iTunes and SoundCloud.
ALONZO: I want the fans to be inspired by real music again. I want to bring back that old feeling, like how I felt growing up watching artists that inspired me. I also believe in having a strong team behind you, and understand that "Talent wins games, but teamwork and intelligence wins championships".
OFFICIAL WEBSITE http://domozworld.com
FACEBOOK: http://facebook.com/allaboutdomo
YOUTUBE: http://youtube.com/domozworld19
SOUNDCLOUD: http://soundcloud.com/domozworld
TWITTER / INSTAGRAM: @domozworld