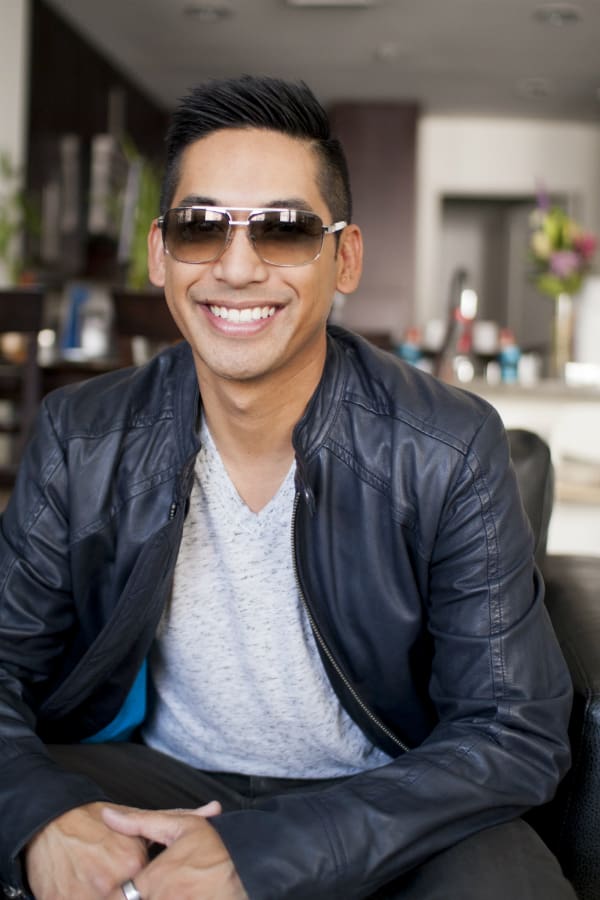 DanceMogulMagazine is honored to present Dr. Arnel Calvario. His commitment to education and the arts speaks for itself. He has a good grasp on purpose which is something that is missing in our society. We understand some people are visual learners, so it brings us great pleasure to show you purpose better than us just telling you.
Dr. Arnel Calvario grew up in the era of the '70s/80's when Hip Hop street dance was born. He has since been passionate about constantly educating himself on the history of Hip Hop dance culture through talking to and working with Hip Hop dance pioneers and progressors in our dance community.  Believing in using his talents & resources to promote community outreach, positivity, "respect for all people," artistic expression, and education, Arnel has dedicated himself to the CA dance scene since his college days. In 1992, he founded UC Irvine's own Kaba Modern (one of the 1st collegiate dance crews in Southern CA).  Arnel created Kaba Modern on the principles of cutting edge artistic expression, personal growth, and a family crew mentality.  To this day, he continues to be the advisor for Kreative Movement, Kaba Modern, and Kaba Modern Legacy and is the manager for the six Kaba Modern dancers from MTV's hit show America's Best Dance Crew, Fanny Pak, the Beat Freaks, and Kinjaz. He formerly danced/choreographed for DVS and Chill Factor and in 1998, also joined Culture Shock® Los Angeles (a non-profit 501(c)3 organization that utilizes Hip Hop dance and music for community outreach events and dance education programs in schools and community centers throughout Southern California).  Arnel also founded an exhibition dance company, Kaba Modern Legacy, in 2002 to commemorate the 10 year anniversary of Kaba Modern. 
In 2003, he became the Executive Company Director for Culture Shock LA and January 2008, Arnel has transitioned to the role of President of the Board of Directors for Culture Shock LA.  In January 2010, Arnel was also appointed President of the International Board of Directors for Culture Shock and became one of the founding directors of the Hip Hop Dance Association.  Arnel continues to teach Locking and urban choreography dance classes for Culture Shock LA and has taught for other dance communities such as Studio 808 and Hypersquad studios in Oahu, HI, DREAM Dance Studio in Vancouver, Culture Shock Oakland, Culture Shock San Diego, Culture Shock Washington D.C., Formality Company Class, Boogiezone.com Community Class in California and New Jersey, Mayvn's Spotlight dance workshop, First Select Workshop in Washington D.C., BoogieZone University 1-4, and BoogieZone Exchange.
He has also judged for various dance events such as Urban Street Jam, Bragging Rights dance competition, Battlefest, World of Dance, Vibe dance competition, Fusion dance competition, Mavyn's In the Spotlight battle, All Cal dance competition, East Coast Dance Competition, GMA's Best Dance Crew Competition, Summer Melee Battle in Maui, HI, Hip Hop South Africa "Dance to Las Vegas" 2009 Competition, Mexicos National Hip Hop Dance Championships, the Beat Down in Toronto, and Looze Control in Sydney, Australia.
Committed to using Hip Hop dance for outreach as well as the promotion and preservation of Hip Hop dance culture, Arnel is proud and grateful to be Board President of Culture Shock L.A. and Culture Shock International.  His dedication to the dance community has been recognized by his One Cypher.com and Jalan Productions community leader award, his Lifetime Achievement Award for the 2008 V.E.N.T. Dance Awards, his Hall of Fame award at Battlefest 2010, his award for "Innovative Leadership" by the National Association of Asian-American Professionals, his induction into the Hall of Fame at the 2011 World of Dance Industry Awards, his televised 2012 Filipino Champion award presented by TFC (the Filipino Channel) and being the recipient of the 2012 Culture Shock International Visionary Leader award.  He has also been featured as a guest writer for the L.A. Times as a critic for America's Best Dance Crew Season 5 and served as Battle Co-coordinator for Hip Hop International's World Battle and Urban Street Jam for the past 3 years.  For more information on Arnel, you can check out www.CultureShockLA.com, www.kmlegacy.com, www.kabamodern.com , www.facebook.com/arnelcalvario or twitter him.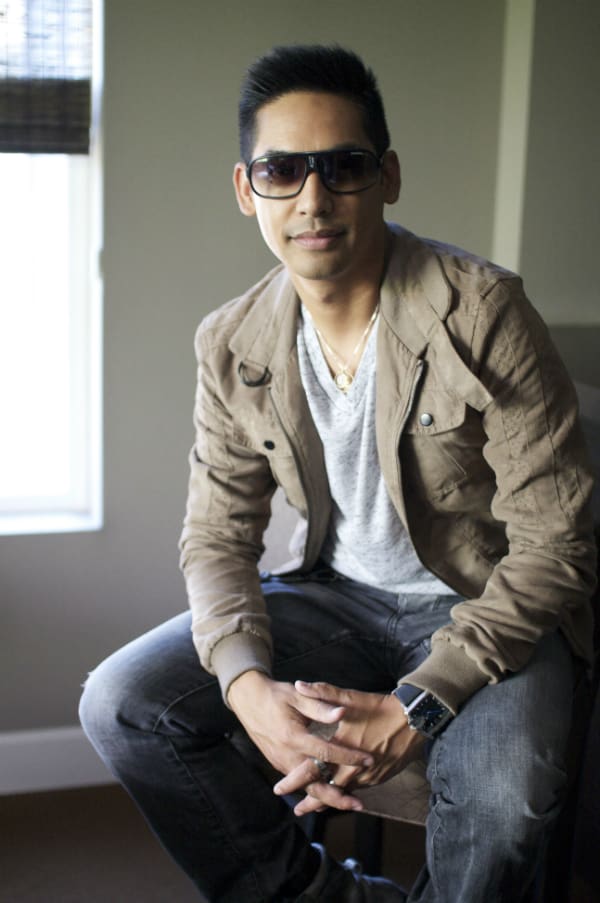 Dance Mogul: Who were some of your early inspirations?
Dr. Arnel Calvario: Rock Steady Crew, Air Force Crew, The Lockers and Medea Sirkas opened my eyes to the rawness and brilliance of Breakin', Lockin' and Poppin' while crews such as Funki Junction (a local crew in Cerritos, CA) and bay area crew Jedi Clan (later known as Mind tricks, a few of their members would later be some of the founding members of the Jabbawockeez) really amazed me with their crew choreography sets. The combination of those artistic influences with the positive messages of artists like KRS-1 inspired me to help start my high school crew PDP and ultimately, Kaba Modern.
Dance Mogul: What was it like watching Hip Hop grow in its early stages from your perspective?
Dr. Arnel Calvario: I grew up in the '70s and '80s, so I was blessed with the opportunity to see some of the funk and street styles emerge and evolve.  I was initially so shy and lacked self-confidence, so I watched from the outside of cipher circles looking in with admiration and excitement over the rawness, hype energy, and power of each style.  People would roll out the linoleum or cardboard and get down on the playground, the park, and even the malls for whatever brief periods they could and we would just gather around those circles to the beat of the ghetto blaster. Each of those dance styles had an essence and a unique expression tied to the social movement that inspired its creation. It was an exciting time for dance and I was in complete awe.
It wasn't until the '80s and 90's in junior and senior high school that I ventured out on the dance floor and got together with friends to dance publicly.  The fusion of my early exposure to funk/street dance with the current party dance styles of that time molded my artistry. Early 1992 shortly after I started as a freshman at UC Irvine, I decided to create a college experience of having a dance family and Kaba Modern was born.  There weren't any other collegiate dance crews we knew of in Southern California, so what we were doing felt fresh, new and exciting for us. Culture Shock San Diego was founded by Angie Bunch as an inspiring professional, non-profit dance company that same year and years later, other groups like Team Millennia, PacModern, CADC, and Formality came onto the Southern CA dance scene as well. The pride and excitement grew and an initial idea internal to UCI evolved into our amazing dance community that has now grown tremendously. I'm truly grateful to have been there to witness countless leaders and visionaries create their own dance families to grow and flourish throughout the west coast.  When online resources such as Boogiezone.com, YouTube, MySpace, and Facebook launched, there was now this global connection between dance communities that has really really taken the dance moves to another level.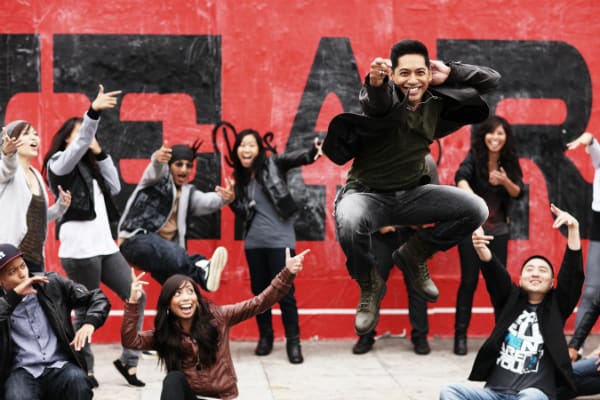 Dance Mogul: Were your parents supportive of your passion for dance?
Dr. Arnel Calvario: When I was in Elementary School, my parents actually involved my younger brother and I in a Filipino cultural dance company with my cousins to ensure we learned about our culture.  When my initial interest in urban dance art forms evolved from admiration to actual training and choreographing in high school, they were ok with it as long as I kept my grades up. In college, they had initial concerns that I was spreading myself too thin with founding/directing Kaba Modern and also dancing/choreographing cultural dances for UC Irvine Kababayan, but once they watched my first dance show at Kababayan's 1992 Pilipino Culture Night (Kaba Modern's debut performance), they witnessed and understood my passion for dance and what it has done for my self-esteem. They have supported ever since and continue to attend and support my shows & dance projects.
Dance Mogul: When did you know that you could become a professional?
Dr. Arnel Calvario: It wasn't actually until after I left the collegiate competition scene and joined Culture Shock Los Angeles in 1998 that I realized I had gained enough leadership experience and dance experience to start choreographing for other groups/artists. Back in the day, BBA (Bobby Ball Agency) was one of the most renowned agencies and I was fortunate to be represented by them.  While the dance industry was fun & exciting at the time, my true love and passion for dance were developed and refined within my work with Culture Shock LA. It was during my years with CSLA especially from 2003-2008, that I discovered that when in collaboration with the right people, dance can be more than just profitable or fun, it can be positively impactful to the greater good, inspiring, meaningful, and truly life-changing.
Dance Mogul: Tell us how you were able to mobilize the youth and create such opportunities like Kaba Mordern?
Dr. Arnel Calvario: Like I mentioned earlier, I was a really shy kid with low self-esteem.  Even when I started dancing and choreographing in high school, I always preferred to be in the back.  I am the oldest of 4 siblings, so growing up, I didn't have an older sibling to mentor me, but when I started at UC Irvine, I found many mentors in the Filipino-American student organization, Kababayan.  It only took 1 person to say they believed in me to give me the courage to step out and create Kaba Modern.  My years at UC Irvine molded me into not only a better dancer but a more effective leader.  Inside, however, I always remember what it is like to have felt awkward and insecure, so I have empathy for anyone who is just starting out.
That is why I am truly committed to paying it forward whenever and however I can to inspire and encourage others to believe in their unique purpose just like someone else did for me. Everyone is truly extraordinary in their own way – we all just need someone sometimes to remind us and encourage us we are worthy of our greatest dreams.  That is one of the blessings of dance…it can strengthen and transform us.  When it comes to mobilizing youth, I always strive to see our dancers as people first in order to tap into how dance can move them forward in life.  Each style of dance has its own unique history and essence, so carefully picking artistry that speaks to the lives and intrinsic motivation of your dancers keeps the art meaningful and authentic.  I also believe in cultivating a family aspect with all the artists I work with, so they not only develop as dancers, but they grow as people together.  Thus, the bond is stronger and much more long-lasting. Lastly, clearly and consistently articulating and living the mission & vision of the collective is really important to keep your group focused and motivated. Shared purpose, good communication, a strong social bond, and a sense of shared artistic pride are all important for cultivating a strong dance group.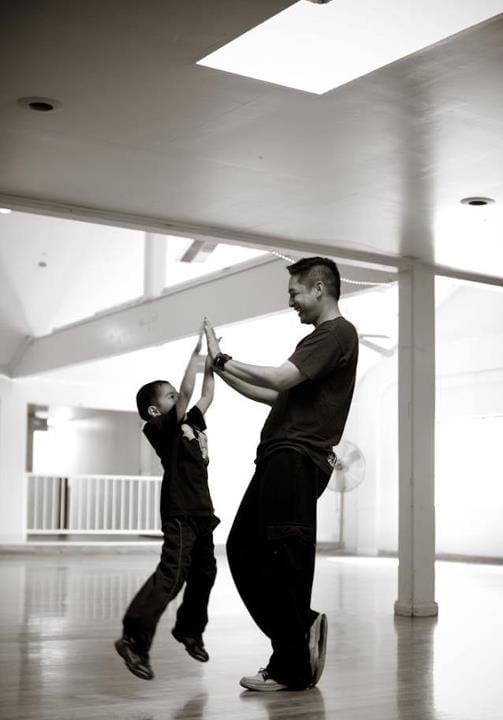 Dance Mogul: You have had numerous opportunities and accomplishments, what have been some of your most memorable?
Dr. Arnel Calvario: There are so many memorable experiences to be grateful for, but these 3 are probably my most proud moments:
1)    My most significant of all memories was when my Culture Shock LA family produced our benefit show The COLOR of WE in 2005 which took stories of real people living with HIV or affected by the loss of a loved one to AIDS shared on a discussion panel and expressed those stories through music & dance. Seeing the tears in the audience's eyes and the standing ovation of the 2000+ audience members, we knew we not only entertained, but we touched the hearts of the audience.  Since then, Culture Shock LA scripts and produces one benefit show each year focused on a social cause to raise money for a related charity. Our unified mission is to always create art with a meaningful purpose & message.
2)    Last year, my Kaba Modern family celebrated our 20 year anniversary and we produced a 3-day event consisting of a showcase, an alumni gala, and a Sunday picnic.  To commemorate 20 years of artistry and family and see hundreds of alumni come together to share how Kaba Modern has influenced their lives was such an unforgettable, proud moment.
3)    In 2007, Kaba Modern and our friends the Jabbaowockeez auditioned for a new show, MTV's America's Best Dance Crew.  Both crews made it on to the show and I felt we helped expand the face of Hip Hop and urban dance to be inclusive of Asian Americans as well.  Since then, I have had the opportunity to work with many of the crews on the show, but specifically, it has been an honor and blessing to work with and travel the globe with Kaba Modern, Fanny Pak, and the Beat Freaks because of the mission each crew represents and the love I have for each of the dancers as people.
Dance Mogul: What has dance taught you as far as discipline, determination, and dedication?
Dr. Arnel Calvario: Dance initially taught me that there is something inside me that deserves to be cultivated, shared, and expressed. Over time, I realized that the only way to reach my full potential was to embrace the fact that:
I will always be a LIFE-LONG LEARNER
Hard work, commitment, good communication, & integrity is the recipe to success
It is important to surround yourself with people you not only love but that you respect and trust
You need to know when it's important to lead and when it is necessary to follow
That no plan is effective without a guiding vision/mission & a strategic plan
And most importantly, that I need to remember to always be grateful and proud of the memories and life lessons I have collected along the way.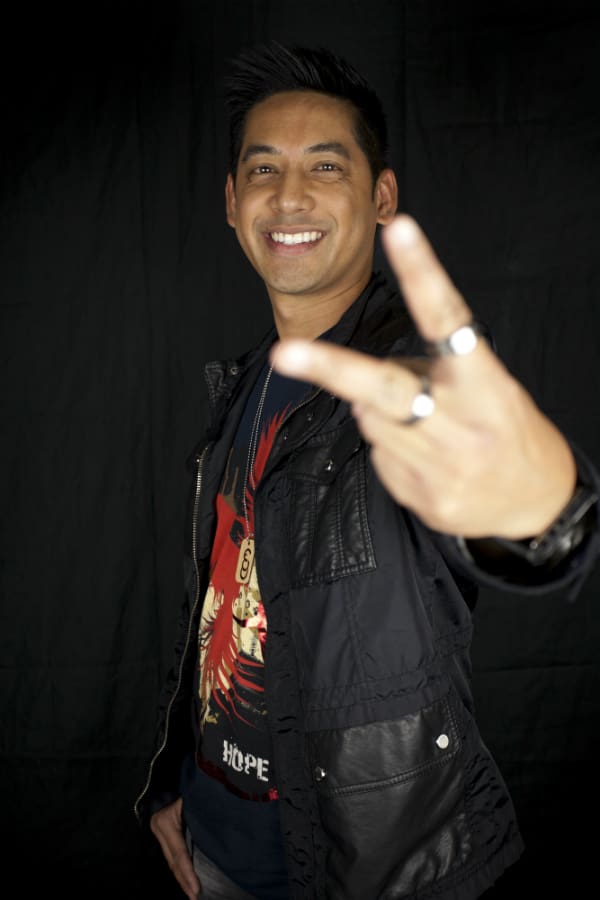 Dance Mogul: What advice would you have for the younger generation of dancers that want to become professionals?
Dr. Arnel Calvario: I would first advise dancers to expose yourself to as many dance styles as possible, so you can discover which art form speaks to who you are right now. Go to jams, battles, dance competitions, workshops, parties, etc… Once you have found your interest, research the HISTORY and VOCAB of the dance style(s) you are interested in, so you know the ESSENCE, feel and groove of that style. Connect with and talk to pioneers of the dance styles you are interested in. It has never been easier to access pioneers and progressors of dance with all of our social media outlets, but those legends will not be here forever. Then, find an instructor and/or dance group that is not only the best artistically, but that is committed and passionate about teaching and inspiring you to grow.  There are a lot of talented dancers/groups, but not all are going to be good teachers skilled at cultivating you into a better dancer. Lastly, be realistic about what you can commit to and focus on.  The more styles you tackle, the more time that will be necessary to study, feel and understand it.  You don't ever want to be a jack of all trades, but a master of none. When you commit to, know and feel the essence of a dance art form and truly become comfortably connected to music, you transform what you are doing from just movement to truly dancing.  In every art form, if you truly understand it and feel it, you should be able to not only do choreography in that style but be free and powerful in free-styling it as well.
My last piece of advice is to know that dance does not have to be an EXCLUSIVE choice.  I have always been interested in both a career as a health professional and as an artist/community leader, so when others told me I had to choose one or the either, I ultimately decided BOTH were the right balance for me.  Thus, I got my doctorate degree in occupational therapy and used my involvement with dance groups such as Kaba Modern / KM Legacy, Culture Shock LA, Chill Factor, and DVS as my life balance to cope with the stresses of school.  It should never be an either/or.  You should find the balance that works best for you.  I would never have been as successful in school without dance and vice versa. Try different things and when you find your authentic passion, create the situation that works best for you whether or not it is traditional or understood by others.
Dance Mogul: What would you like to see improved as far as the dance industry?
Dr. Arnel Calvario: Dance continues to go through cycles of being mainstream & known and then moving back into the underground.  Web and print media, YouTube/ TV/movie projects, workshops, seminars and dance events being produced all need to ensure that education about the history, vocabulary, and essence of dance art forms are known and shared just as much as dance entertainment is, so art forms such as Whackin, Vogueing, House, Breakin, Lockin, Poppin, Krump, etc… are respected, understood and valued in the same light as Ballet, Tap & Jazz.  Dancers and choreographers who have broken through with their celebrity should always utilize their platform on their own social media, during interviews, etc. to share their knowledge and passion for their art form. What is encouraging is that there appears to be more of a bridge or melting pot between street/funk styles and other urban choreography in the industry.  The only thing that is missing in many cases is the knowledge and education about the history of the dance they are already doing and/or their lack of consistency in sharing history when they have the opportunity.
Dance Mogul: How important is it that dancers try to leave legacies instead of bits and pieces of momentary satisfaction?
Dr. Arnel Calvario: History continues to repeat itself with many stories of dancers who rose quickly to fame and quickly faded into obscurity.  Anything is short-lived when its meaning is only material and status-driven. It is more important to create a legacy because the energy you put out into the world, the impact you make on others, and the memorable imprint you place in a community is something that can be eternally passed on. Few will ever remember that video you booked or how much money you earned, but many will remember the impact you made on a person's life or a social movement through your art or your actions.  Commit to doing things with meaning and purpose and the legacy you leave behind will create ripples of meaning and purpose.
Dance Mogul: You have achieved a high level of success with your career. Once you do that, what do you feel other instructors should be doing with their success?
Dr. Arnel Calvario: Someone has or if you are lucky, several people have done something along your path to encourage you to succeed.  In order for our dance community to grow and flourish together, we all should always remember our roots & reach back to the youth behind you. We all should pay it forward and share our accumulated life lessons with others.  While of course, it is amazing when you can share your resources and connections, a genuine sharing of positive encouragement and helpful constructive feedback to others who may need it is just as important and impactful.  What we do now together is an investment for the preservation and growth of our dance culture as a whole.  We should always strengthen our roots as we branch out and evolve.
Dance Mogul: Do you feel a publication like Dance Mogul is needed to connect the Professionals with the next generation to help guide them to their goals and aspirations?
Dr. Arnel Calvario: I do think media outlets such as Dance Mogul is so important because as you share diverse stories, you are creating opportunities for one of these stories to connect with another artist who can be impacted by it.  Just by the questions you are asking me, I can tell that this publication is really aiming to connect and inspire artists. I really appreciate and respect that. The only way for our dance community to grow is to unify, connect, and share with one another. There are enough walls in the world…..we need to create bridges.
Dance Mogul: Is there anyone you would like to thank for helping you on your journey?
Dr. Arnel Calvario: First and foremost, I would have to thank my family and friends I consider family (you know who you are) for not only supporting me, but inspiring and encouraging me to love who I am, to grow constantly, and to pay it forward to the world courageously and faithfully. Much appreciation goes to inspiring leaders and friends such as Tiff Bong, Allison Tanaka, Michelle Castelo, Ira Amilhussin, Dave Magno, Dennis Caindec, Donna Arrogante, Stacey Kuramoto, Maelyn Suba, Kimmy Maniquis, Jose & Daisy Neri, Jon Asperin, Anna Sarao, Angie Bunch, Zoot Velasco, Don "Cambellock" Campbell, Steven "Zulu Gremlin" Roybal, Anthony Thomas, Elm Pizarro, Myron Marten, Alex Cotraviwat, Michael Sam, CK Simmons, Anthony Lee & Mike Son. All of whom have collaborated with me and/or influenced me on some of the most meaningful dance projects/events of my life thus far.  Of course, I thank God for all my most meaningful blessings.
Photography By:  Brian Corpuz, JA TECSON, EARL BUENAOBRA