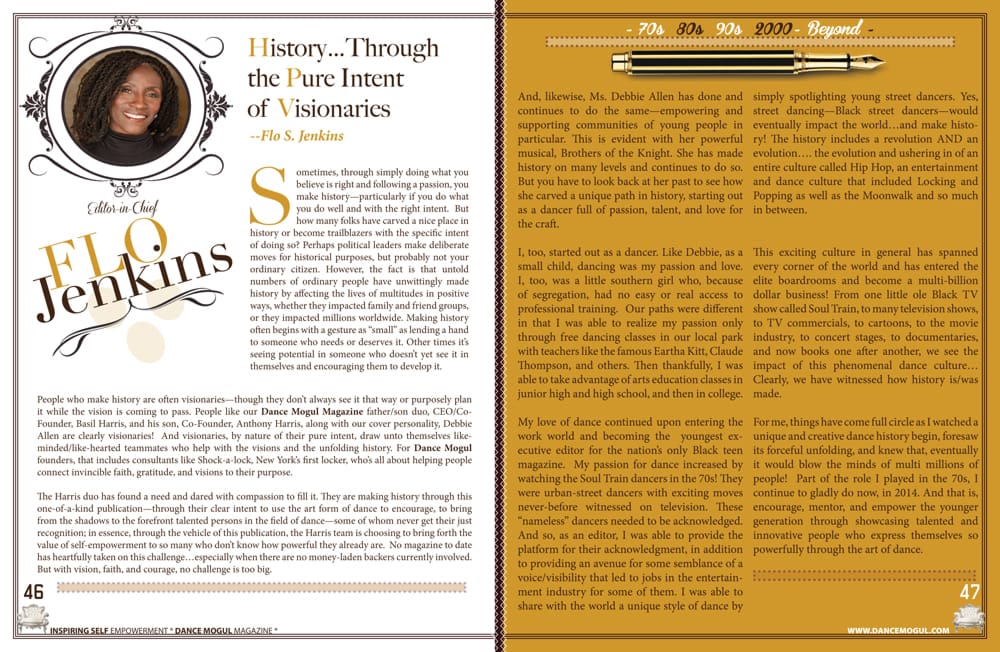 History…Through the Pure Intent of Visionaries

Debbie Allen www.Brothersoftheknight.com
Emmy award winning director, actress, dancer and youth advocate
Exclusive interview by: Flo Jenkins
Download for free: DOWNLOAD FOR FREE
Sometimes, through simply doing what you believe is right and following a passion, you make history—particularly if you do what you do well and with the right intent. But how many folks have carved a nice place in history or become trailblazers with the specific intent of doing so? Perhaps political leaders make deliberate moves for historical purposes, but probably not your ordinary citizen. However, the fact is that untold numbers of ordinary people have unwittingly made history by affecting the lives of multitudes in positive ways, whether they impacted family and friend groups, or they impacted millions worldwide. Making history often begins with a gesture as "small" as lending a hand to someone who needs or deserves it. Other times it's seeing potential in someone who doesn't yet see it in themselves and encouraging them to develop it.
People who make history are often visionaries—though they don't always see it that way or purposely plan it while the vision is coming to pass. People like our Dance Mogul Magazine father/son duo, CEO/Co-Founder, Basil Harris, and his son, Co-Founder, Anthony Harris, along with our cover personality, Debbie Allen are clearly visionaries! And visionaries, by nature of their pure intent, draw unto themselves like-minded/like-hearted teammates who help with the visions and the unfolding history. For Dance Mogul founders, that includes consultants like Shock-a-lock, New York's first locker, who's all about helping people connect invincible faith, gratitude, and visions to their purpose.
The Harris duo has found a need and dared with compassion to fill it. They are making history through this one-of-a-kind publication—through their clear intent to use the art form of dance to encourage, to bring from the shadows to the forefront talented persons in the field of dance—some of whom never get their just recognition; in essence, through the vehicle of this publication, the Harris team is choosing to bring forth the value of self-empowerment to so many who don't know how powerful they already are. No magazine to date has heartfully taken on this challenge…especially when there are no money-laden backers currently involved. But with vision, faith, and courage, no challenge is too big.
And, likewise, Ms. Debbie Allen has done and continues to do the same—empowering and supporting communities of young people in particular. This is evident with her powerful musical, Brothers of the Knight. She has made history on many levels and continues to do so. But you have to look back at her past to see how she carved a unique path in history, starting out as a dancer full of passion, talent, and love for the craft.
I, too, started out as a dancer. Like Debbie, as a small child, dancing was my passion and love. I, too, was a little southern girl who, because of segregation, had no easy or real access to professional training. Our paths were different in that I was able to realize my passion only through free dancing classes in our local park with teachers like the famous Eartha Kitt, Claude Thompson, and others. Then thankfully, I was able to take advantage of arts education classes in junior high and high school, and then in college.
My love of dance continued upon entering the work world and becoming the youngest executive editor for the nation's only Black teen magazine. My passion for dance increased by watching the Soul Train dancers in the 70s! They were urban-street dancers with exciting moves never-before witnessed on television. These "nameless" dancers needed to be acknowledged. And so, as an editor, I was able to provide the platform for their acknowledgment, in addition to providing an avenue for some semblance of a voice/visibility that led to jobs in the entertainment industry for some of them. I was able to share with the world a unique style of dance by simply spotlighting young street dancers. Yes, street dancing—Black street dancers—would eventually impact the world…and make history! The history includes a revolution AND an evolution…. the evolution and ushering in of an entire culture called Hip Hop, an entertainment and dance culture that included Locking and Popping as well as the Moonwalk and so much in between.
This exciting culture, in general, has spanned every corner of the world and has entered the elite boardrooms and become a multi-billion dollar business! From one little ole Black TV show called Soul Train too many television shows to TV commercials, to cartoons, to the movie industry, to concert stages, to documentaries, and now books one after another, we see the impact of this phenomenal dance culture…Clearly, we have witnessed how history is/was made.
For me, things have come full circle as I watched a unique and creative dance history begin, foresaw its forceful unfolding, and knew that, eventually it would blow the minds of multi-millions of people! Part of the role I played in the 70s, I continue to gladly do now, in 2014. And that is, encourage, mentor, and empower the younger generation through showcasing talented and innovative people who express themselves so powerfully through the art of dance.