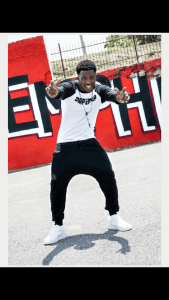 Dance Mogul Magazine is always keeping an eye on the youth around the country as they continue to make something out of nothing during rough times in our country. Dance has always been something the youth could relate to and help express themselves on a daily basis. Dance Mogul Magazine had the chance to catch up with " iHeartMemphis " the creator of the latest dance craze "SnapEmUp". Let's continue to support the youth with positive and creative outlets to occupy their time.
Dance Mogul: Tell us about your movement and the purpose behind it?
iHeartMemphis: It's a dance craze called #SnapEmUp , basically you do whatever moves you want do then pause as if you were taking a picture. Everyone takes pictures, so my purpose is to get everyone hip to a Dance we all can relate to.
Dance Mogul: Who inspires your creativity?
iHeartMemphis: I also do comedy and promote parties, so the feedback from the people I entertain sparks my creativity.
Dance Mogul:  What advice do you have for the next generation that is aspiring to be entertainers?
iHeartMemphis: Think bigger than your surroundings, be different and stand out and most important build a brand that will support you to the fullest.

Dance Mogul: What do you hope to accomplish with your movement before the year is out?
iHeartMemphis: Before the year is out, I want the whole world to pause for the camera as they #SnapEmUp .
Dance Mogul: Is there anyone you would like to thank for helping you so far?
iHeartMemphis: Yes, Memphis for supporting me, my manager miamiMike, Ladia Yates and LYE Academy for always dancing to my music and my.