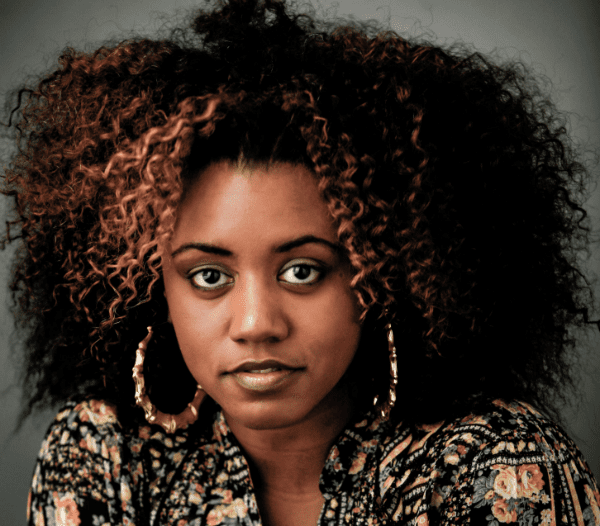 Kara Mack is an African & Afro-diasporic dancer, singer, choreographer, and renaissance woman who has created a new online publication, Africa in America: Music, Dance & Culture Magazine, launching on September 20th. The magazine aims to serve as a primary resource for both professionals and participants in the African Diasporic music, dance, and culture in America. The magazine is dedicated to becoming the voice of a growing community of artists who have had little or no representation in the music and dance fields. it will also focus on arts that address social justice issues, as well as informing readers about community organizing, grant and work opportunities, and other inspirational stories on local and national levels. Dance Mogul Magazine had the honor of catching up with Ms. Mack as she preps to take the world by storm. Be Inspired and Be Empowered
Dance Mogul: What was the inspiration behind For our Boys and also your new publication?
Kara Mack: The inspiration behind "For Our Boys…" first came from understanding that there aren't that many theater performances of African Diasporic Music and Dance in Los Angeles; so I wanted to provide a space to allow up and coming African Diasporic choreographers to be able to present original works.  Since African music and dance have always been political, I just didn't want them to create random pieces, like in other dance showcases; however, I wanted every piece to be dedicated to one theme.  This both challenges the choreographer, and exemplifies to the audience that traditional African music and dance can apply to a contemporary theme.  So what has honestly, brought up so much emotion over the past 2 years are the murders of our African-American boys due to racism.  I have two sons, so it hits very close to home for me.  So as an artist, I wanted to dedicate this to these boys while bringing awareness to a much deeper issue that many people look over in America today.  This is what art does.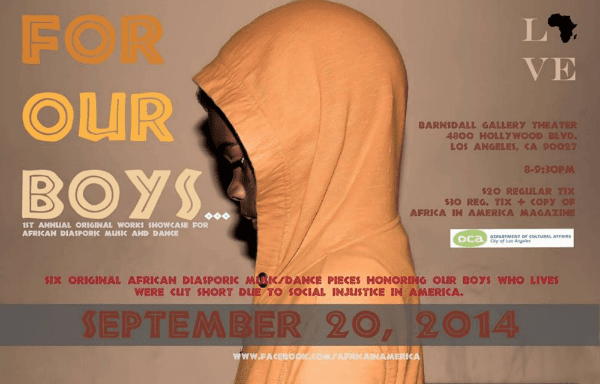 Africa In America:  Music, Dance, and Culture Magazine started from me seeing that there was no resource dedicated to the art participants and professional artists of the African Diasporic music and dance community that's been cultivated here in America.  This community has been built up since the 1960s, so there is so much information nationally that needs to be shared with people here and for those who are visiting; who love the culture just as much as we do.  I wanted to change the worldview of how people think African dancers should look, and even how they view the dance technique.  Many dancers do not look at any style of African dance as a legitimate technique…and that needs to change.  Also, there are many people in Africa who always questioned why I was interested in the music and dance culture, and how did I get to be so good.  Africa In America Magazine is the answer to all of that.  This resource will unite both America and Africa again through music and dance.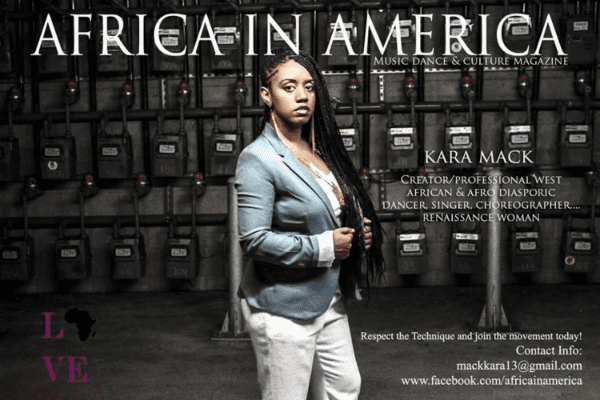 Dance Mogul: Where do you see the future of the arts going as it pertains to minorities owning more businesses that uplift the arts?
Kara Mack: I am very hopeful and optimistic about the future of the arts because there are a remnant of people that not just want, but need to see change.  And they are not trying to go by the rules that are set; they are creating their own paths and making their mark.  That's what matters. It doesn't take a lot of people to change the world. History has shown that.
Dance Mogul: What do you want the public to be able to take away from your new publication?
Kara Mack: Respect.  Respect for the many styles of African music and dance.  Respect for the actual techniques, and understanding that they require as much training as any other European/American style of music and dance.  Respect for the cultures that are represented as we perform and teach these rhythms.  Respect for self and who God created you to be.
Dance Mogul: Is there anyone you want to thank for helping you on your journey this far?
Kara Mack: I would like to first thank God for taking me out of my comfort zone and putting me on a path less traveled.  My sons give me the drive and inspiration to keep going every day.  My parents for being there for me when no one else is…and finally the African music and dance community here in America.  Your strength and passion for the culture are what confirms that this resource is needed and will be received.