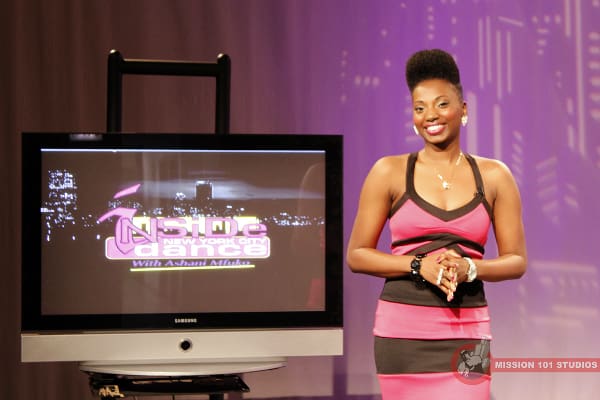 On the set of "Inside New York City Dance" tv show. Photo Credit: Fredy Mfuko
Dance Mogul Magazine is committed to uplifting the women of our culture, so it brings us great pleasure to introduce you to Ashani Mfuko the CEO/President of Kiner Enterprises Inc. A true female Dance Mogul in her own right. It is our hope that dancers can find success and knowledge through her journey.
Dance Mogul: Can you tell us a little about yourself and how you transformed your dance career into a business?
Ashani Mfuko: I've been dancing for over 20 years and teaching dance for the past 10 years. I am trained in ballet, modern, jazz, hip-hop, and African dance. I have a Bachelor of Arts in Dance from Connecticut College and have been serious about pursuing a dance career since about age 12. I always had a passion for dance, but as I got older, I began to read books written by successful entrepreneurs and financial experts, and they changed my life. These books sparked a desire in me for entrepreneurship, and for all of the freedom and opportunities that come along with owning a business. After many years of auditioning, teaching, and pursuing my dance performance career 100% of the time, I realized that I wanted more. I wanted to create more financial stability for myself, and help to create more opportunities and a better quality of life, for other dance artists as well. So I started my company, Kiner Enterprises. My company started out as the first dance teacher staffing company in New York City and then morphed into a full service, social media marketing, branding, and media company. Being a Dancerpreneur as I like to call myself, has been a very exciting, challenging, and rewarding journey. Now, I help other dance artists discover how they can take their gifts, talents, and skills, and transform them into a successful business, generate multiple streams of passive residual income, and build a legacy.
Dance Mogul: What do you feel is missing in the business of dance that doesn't allow the dancers to know how valuable they are?
Ashani Mfuko: I think it's the antiquated, starving artist mentality that keeps dance artists in bondage. Generally speaking, we aren't taught about business principles, marketing, money management, branding, etc., so we lack a lot of the knowledge that is necessary to be successful and financially stable. We focus so much on becoming great dancers that we sacrifice a lot of the other skills and knowledge that are necessary to thrive in this industry for the long term. We also get caught up in the mentality that, being a professional dancer means working for free all the time, which also hurts us. We take our gifts, talents, and skills that should be helping us to make a living, and give them away for free, then complain that we're broke, and struggling financially. Dancers were never meant to be starving artists. I think understanding your intrinsic value as a person is a place to start. God created all of us for a purpose, and our value comes from Him, first and foremost. After that, we need to remember that becoming a professional dancer requires years of extensive training and education, which costs a lot of money. Our specialized training and education also add to our value. Not everyone can do what we do. In the dance business, these messages are not reinforced within our industry, so it allows us to be mistreated and undervalued by those outsides of our industry, who are typically the ones who control the money. I believe that dancers, as a whole, need to start respecting themselves more and not settling for less, or for the status quo. We need to read more, educate ourselves, expand our knowledge, and create opportunities for ourselves, instead of waiting for other people to bring opportunities to us.
Dance Mogul: How can your book help guide them to stability while living out their dreams?
Ashani Mfuko: My e-book, Finance Your Dance: How To Turn Your Passion Into Profit is the quintessential handbook for every dancer, choreographer, dance teacher, dance entrepreneur, or dance organization to learn how to build a brand that is powerful, purposeful, and profitable. In this e-book, I teach dance artists how to establish their unique presence in the marketplace, how to build a tribe of loyal fans and followers, and how to turn their passion for dance into residual income and increased revenue. The Finance Your Dance e-book changes the way you think about life and business as a dance artist. It opens your eyes to potentially lethal thinking habits that prevent you from living your dream and teaches you how to avoid the typical life as a starving artist. I offer solutions to many of the typical problems that dance artists face every day and teach you how to create multiple streams of passive, residual income to create financial stability while pursuing your passion for dance, and building your brand internationally.
Dance Mogul: What advice can you give parents in regard to supporting their children that are pursuing dance professionally?
Ashani Mfuko: I would advise parents to give their children the moral and financial support that they need, especially in the early stages of their professional career and education, while providing them with the tools to succeed on their own. It's important for parents to reinforce to their children that they are valuable, and have a divine purpose for their lives. Aspiring dancers need to have a strong spiritual foundation and be clear about what their morals, standards, and values are, and make sure that they never compromise on those things. Parents should ensure that their children, who are aspiring dancers, are empowered with the tools, knowledge, and habits to avoid going into debt, and encourage them to read about financial management, saving, investing, etc. I think parents should also allow their children to pursue their passion for dance wholeheartedly. Never try to steer them down another career path, just because you don't fully understand how the dance industry works, or because you want your child to work in a more traditional job setting. Parental support is very important for young dancers. Trust that God has your child in His hands and that everything will work out for them in the way that it's supposed to.
Dance Mogul: You are involved in many different aspects of media, what made you get involved in that and do you recognize that it's about time dance and dancers need to be pushed into the limelight?
Ashani Mfuko: I've always loved being in front of the camera, and had a desire to be on television. I would watch shows like Access Hollywood, Extra, and Enews, and take mental notes on how to perform on-air. It looked like so much fun! My first experience working in the media as a host was on my weekly Let's Talk Dance radio show, which I hosted and produced for about 2 years. I interviewed some of the dance industry's most influential dancers, choreographers, and master teachers, and caught the bug for being a live host. Last year, I launched my new dance TV show, Inside New York City Dance, on which I'm the Executive Producer and Host. I continue to interview the best in the dance biz, and also cover live dance performances, red carpet events, and Broadway shows. As you can tell from both my radio show and TV show, I absolutely think that it's time for dancers to be pushed into the limelight. It's time for dancers and choreographers names to be known, along with their faces, and their performance work. It's time for the world to know and recognize how dance transforms the lives of people every day, and how much richness we add to our culture.
Dance Mogul: Do you feel more business seminars for dance need to be held?
Ashani Mfuko: Certainly! I created an online course last year, as part of the Finance Your Dance movement, to empower dance artists with the business, social media marketing, and branding knowledge that they need. I will also be hosting some live Finance Your Dance workshops here in New York City throughout the year. It's time. What we've been doing over the years is not enough. The world is changing, and we have to adapt and evolve as well. We must always be learning in order to stay relevant, and current with the times. I think most of the dance biz seminars are only catered towards dance studio owners, dance teachers, and dance companies, and there's not much out there to provide dance performers, choreographers, and dance entrepreneurs with the tools they need. I hope to change that this year.
Dance Mogul: As an African American female dancer and businesswoman how important is it to you that we continue to uplift the women of the culture and show them as positive role models?
Ashani Mfuko: It's not only important, but it's also imperative! Young women of color need to see women who look like them and come from their neighborhoods, flourishing in their dance careers, and businesses, so that they know that it's possible for them too. I'm committed to being a positive example for young women, whether they're dancers or not so that they see that you can love and honor God, respect your body and yourself, pursue your passion, and still be successful and break down barriers. All things are possible with God, and I want young women of color, and of all races, to be reminded of that anytime they see me. There are many great African-American women in our industry and our world today, who are awesome role models. Michelle Obama comes to mind when I think about this. But there are more, and lots of them in our industry like Judith Jamison, Germaine Goodson, Misty Copeland, Virginia Johnson, Alicia Graf Mack, Renee Robinson, Dormeshia Sumbry-Edwards, Robin Dunn, Michele Byrd-McPhee, and many more.
Dance Mogul: When you first looked around at Dance Mogul Magazine what did you think and how do you feel we can serve the dance culture better?
Ashani Mfuko: When I first checked out your magazine and website, I was very impressed. I love your logo! I also love how positive and diverse the images and messages are in your print magazine, and online. The dance industry needs more of that. I think you can continue to do what you're already doing, and just create more opportunities for the youth to get involved with the magazine through internships and mentoring. I think highlighting dance artists from different genres, and at different stages of their career is always very inspiring as well. Keep up the great work!
Dance Mogul: If you had creative control of Dance Mogul Magazine who are some of the women you would like to see on the cover?
Ashani Mfuko: Everyone that I just mentioned above for sure, as well as Marjory Smarth, Ana Rokafella Garcia, Yasmine Fequiere, and Yvonne Chow, Dana Foglia, and Camille A. Brown.
Dance Mogul: Is there anyone you would like to thank for helping you on your journey?
Ashani Mfuko: First and foremost I would like to thank my Lord and Savior Jesus Christ. Without him, I would not be the person that I am today or have the freedom, confidence, joy, and purpose that guides me every day into a life of significance. I'd like to thank my wonderful husband, my dad, my mom, and my family for their unconditional love, and for always supporting me throughout this crazy journey. I would also like to thank my very first dance teachers, Leslie Irby Cleveland, and Lynn Irby Jackson. They gave me such a great foundation for success as a dance performer, teacher, and mentor. And last but not least, the awesome dance community who I consider to be my extended family. You inspire me, motivate me, and encourage me every day. Many thanks to all of you!
You can keep up with Mrs.Mfuko and Kiner Enterprises at the following sites:
http://facebook.com/AshaniMfukoDance
http://twitter.com/AshaniMfuko
http://youtube.com/AshaniMfukoDance