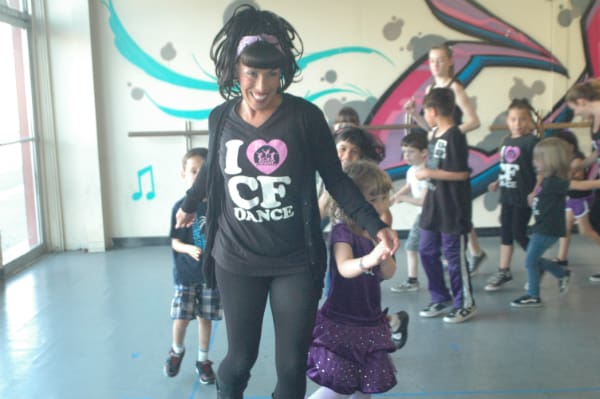 Miss L and ebdn – Jess Block Nerren
 Leanna Forcucci Herron, A prime example of Arts and Education and a shining light of Female Empowerment. Dance Mogul Magazine is honored to present someone who represents what you should be doing once you attain your education, which is help elevate other people. She has perfectly blended education and her knowledge of  Hip – Hop to help inspire the kids around her and help guide them to success. We hope  other dance elders in the industry and community take head to this example and start to embrace the waves of the future, our children.
Leanna Forcucci-Herron is the Co-Owner and Co-Director of CF Dance Academy (rated the #1 Dance Studio for kids in Orange County) and has been teaching dance for over 25 years.  She has taught for several dance studios in Orange County and even worked as the lead ballet teacher for a competing dance troupe in Austin, TX, where she also worked as a professional hip-hop dancer.  Miss Leanna has taught many different dance and movement forms including ballet, tap, jazz, hip-hop, and tumbling.  Her specializations are in hip-hop dance and teaching advanced hip-hop technique to young children.  She currently trains with industry recognized hip-hop choreographers in Los Angeles and tours her CF Dance Academy Hip-Hop Crews, Bring the Noise, K-mot10n 2.0, Pandemonium and Fortissimo throughout Orange, Riverside & LA Counties. These crews that she directs are award winning, have gained professional recognition and have received numerous awards for their crowd pleasing productions. Currently she is director of the largest Hip Hop program in Central and North Orange County and has put CF Dance on the map for hosting professional hip-hop choreographers in master class workshops and weekly classes at the academy. She has her B.A. in Child Development and Family Studies from Cal State Long Beach, where she also attended graduate school to work on her Multiple Subject Teaching Credential.  During the past ten years, Leanna has also directed and taught CF Dance Academy dance programs at preschool and after school programs in cities throughout Orange, Riverside & LA Counties.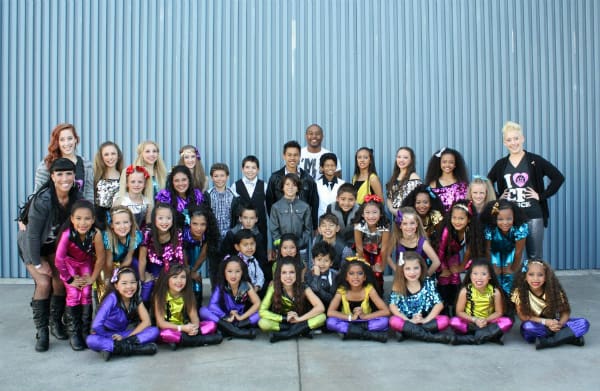 KMO WOD 2013 – Efren Ochoa
Dance Mogul: When did you develop a passion for the arts?
Leanna Forcucci Herron: The "CF" in CF Dance Academy stands for Cathleen Forcucci, my mother and founder of CF Dance.  I would have to say that the arts have always played a role in my life since before I can even remember.  Besides my mother being my first dance instructor, she was always taking us to local concerts for orchestras and small theatre productions of plays and musical.  My passion for the arts was not something that had to be developed, it just always existed as a major part of my life.
Dance Mogul: Were your parents supportive of your dancing?
Leanna Forcucci Herron: Yes.
Dance Mogul: How did you balance pursing higher education with your dance career and how do you use your degree with dancing now?
Leanna Forcucci Herron: Right out of high school, I moved to Austin, TX to teach full time at a large studio.  When I was 21 years old, I moved back to CA and started college.  During my first two years of college I took advantage of taking a lot of dance classes at the Junior College level and concentrated mostly on my ballet & tap training.  I still taught dance for about 8 hours a week at this time.  Once I transferred, I wasn't able to train much during my last two years of college.  I received my degree in 2000- a BA in Child Development and Family Studies.  After graduation, I went into the Multiple Subject Credential Program to become a school teacher, was subbing Elementary School and teaching about 4 hours a week.  In the winter of 2002, my mother's cancer metastasized and I quit work/school to help the family.  She lost her battle with cancer in August of 2003 and at that time my sister and I took over her studio.  When we became the new owners/directors, the studio had 50 students.  We now in our 28th year of operation and have over 900 students in all of our programs.  Most of our students are children, so my degree is very fitting; especially in the way we have designed our dance programs for children that are 3-5 years old.
Mardi Gras with kyle – Hope Forcucci
Dance Mogul: You have managed to stay involved with youth throughout the years assisting them with their passion, why do you feel that is so important and do you feel that more assistance is needed when it comes to helping the youth pursue their passions?
Leanna Forcucci Herron: Working with the youth is everything that I am about.  We strive to always make CF Dance a place where our dancers can feel like it is home.  We have encountered so many situations where dance has become a child's only positive thing in their life and we have the responsibility to ensure that these children are supported.  We give thousands of dollars of scholarships to students and their families every year.  We have multiple outreach programs for at risk youth in the community.  We have also just started a program for special needs dancers.  We know that dance speaks to the heart for so many people and we take our responsibility of being a place where the youth and their families can turn to for support VERY seriously. I know that working with children is calling.  While working with the most talented children is so fun and exciting, the real reward is working with the children that have low self-esteem, body issues, depression, social anxiety, a learning disability, problems at home, etc and helping these dancers grow to have more self confidence and enjoyment of life through dance.
Dance Mogul: You have been blessed to train and work with top choreographers, what have been some of your favorite experiences?
Leanna Forcucci Herron:I LOVE all of the people I have worked with and it has been a blessing to be able to bring these choreographers to my studio multiple times and to see their pride in ownership with our CF Dancers…they always say how they love how CF is a family and they feel the support and encouragement.  As much as I love being able to employ these individuals and bring their talents into my studio, I am also very passionate about going to their classes, events and/or performances to support them and their craft.  They always say how much it means to them that I come out to LA to be a part of their world. My favorite experiences involve conversations with them regarding the way I am training my higher-level hip-hop dancers.  There have been multiple times when I have been told that the care and attention that they are getting in the walls of CF is so special and that these dancers are actually being trained instead of just learning how to do someone else's choreography.  Our mutual support of each other is what it is all about!
Dance Mogul: Why do you feel your teaching skills have been so sought out, is their particular method to how you engage your students?
Leanna Forcucci Herron: My students call me their dance mom.  In the same class/rehearsal I will tell them how much I love them and how awesome they are and then will also be REALLY tough on them, yell at them like a football coach and expect more out of them than anyone else.  I am even like this with my regular weekly students, not just my crew classes.  There is definitely a lot of tough love happening.  You will always here me say something like- "I know you got more in you- you can do this- push yourself harder- I believe in you, so make it happen!"  It is all done out of love because I believe that each child has talent, they just have to find it in themselves.  Parents love this approach…they want to know that their child matters to you and they can see how much individual attention we give to all of our dancers at CF.  I have VERY high expectations of what children can handle.  We have 5 year olds that train for over 12 hours a week…we have 9 year olds training over 20 hours a week.  We have dancers that have grown up in our studio that are 18 years old, training over 10 hours a week, teaching over 8 hours a week and directing and assisting with our crews.  The new parents see our work ethic at CF, but even more importantly, they see the results of our work in how amazing many of our dancers are.
WOD video shoot – Joy Min
Dance Mogul: What have been some of your proudest moments that dance has brought you?
Leanna Forcucci Herron: This is a hard one, but probably seeing my twin daughters, Faith & Hope Forcucci, become amazing dancers and teachers.  To have it happen for 3 generations is awesome.  This year they assisted me with directing K-mot10n and Hope directed Pandemonium Crew herself.  In March Pandemonium took 2nd place at Urban Street Jam pretty good for her being only 18 years old.

Dance Mogul: Do you have any advice for the next generation of dancers?
Leanna Forcucci Herron: TAKE BALLET!!!!!  There are so many dancers, especially in the hip-hop community, that are missing out on technique.  Whenever I have a parent ask me how their child can get better, I have 2 answers: take as many classes as possible and make ballet one of those classes.  Ballet teaches you all about your center and how to control your movement with an inner strength.  It is so hard, but so good for a dancer's body!
Dance Mogul: Do you feel Dance Mogul Magazine is needed to assist the next generation with a platform to showcase their skills and have their voices heard around the world?
Leanna Forcucci Herron: Yes- especially in the holistic way you are covering the areas of the dance world not just focusing on one dance form or what is "popular".  The next generation needs to be schooled about our history across all dance disciplines.

Dance Mogul: Is there anyone you would like to thank for helping you on your journey?
Leanna Forcucci Herron: My twins, my sister, who is also my business partner, and GOD!