StageMe and Dance Mogul Magazine are proud to announce the winner of the Electro Dance Crew Contest.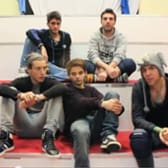 Emerald Clan from Toscana, Italia
In 2008, ElectroDance was a new phenomenon
 and thanks to YouTube it has spread all over the world. 
 They started dancing and learning from the videos,
 but soon they met each other and it became more than a hobby – it became a passion. 
They started practicing also New Style, Popping, Tutting and Locking.
 They are now members of two entertainment companies in their city.
 They work really hard to improve and enjoy preparing new choreography and performances for the people that come to see them.
 They are close as a crew, keep in touch every day and go out together
, almost three times a week.
 Dancing is more than making moves – it has changed them, even in 
their attitude.
 They hope to get better and realize Their dreams.
We caught up with Emerald Clan and here is what they had to say about the opportunity to showcase their talent to the masses.
"We want to say Thank You to StageMe and Dance Mogul 
Magazine for this opportunity. Being watched and
 appreciated is a great satisfaction for a crew/dancer.
 We have reached this new goal is because of you. Thank you so much."
WINNING PERFORMANCE

Check out the other entries: http://www.stageme.com/event/index/209
To keep up with Emerald Clan you can check them out at
www.facebook.com/EmeraldClan
twitter.com/emerald_clan
www.youtube.com/user/EmeraldClanTUBE
JOIN STAGEME NOW FOR MORE GREAT CONTEST