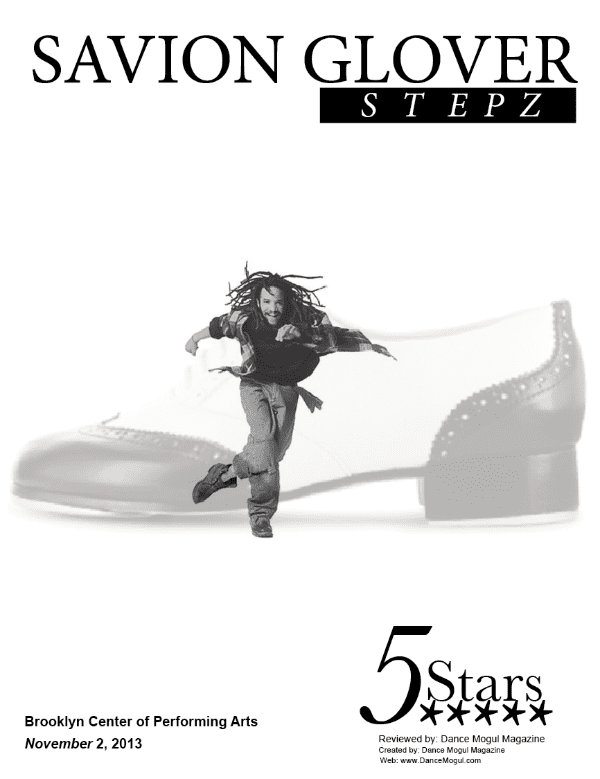 By: Kevin Porter
Dorine Francis
Anthony Harris
Dance Mogul Magazine had the opportunity of having three representatives view STepZ on Nov.2, 2013. The interesting part about that is each individual is from a different generation and has their own account and perspective with dance. While witnessing the performance today, you couldn't help but think about the life and struggles of those that danced to free their souls. It is obvious that Savion and his hoofing partners are continuing to deliver the spirit of the dance.
As we sat and watched Mr. Glover and his amazing cast of hoofers, one thing became clear. "Mr. Glover is the personification of rhythm and rejuvenation!" This unique cast of hoofers, featuring Marshall Davis Jr., and "3 Controversial Women," 3cw, STepZ commanded the audience's attention from beginning to end.
"Expecting just to see some cool tap moves, STepZ surpassed my level of expectation. With a blend of complex movements and traditional treads, every step taken was full of soul and spirit. Savion and his team wowed audience members leading many to dance in their seats. Whether the number called for a solo, trio or quintet, STepZ was absolutely amazing!! As a young woman highly appreciative of the arts, it was very refreshing to see Savion's team consist of three lovely and talented women who matched him step for step. More specifically, these women consisted of three different shapes and sizes. It was a pleasure to watch them move with such grace and execution. Not to mention their keen style. Hats off to STepZ, a show that is bound to be deemed as a highlight in Glover's career. " -Dorine Francis
With a seamless blend of traditional and impressive improvisational rhythms, Savion clearly serves by inspiring artistic self-expression. Now the future of tap is brighter than ever! Additionally impressive was how well all the hoofers worked together from smooth soft moves on the stage to the complicated "stair-stepping," jumps and tapping up and down the staircases. Incredibly entertaining.
Finally, Mr. Glover's tribute to Mr. Bojangles was an honorable number which lets us know he respects the history, present, and future of tap dance. I believe his former mentor, Mr. Gregory Hines and Mr. Bojangles himself would truly be proud.
"As I watched Savion's STepZ tribute to Bill Bojangles Robinson, I could not help but sit back and remember my childhood. When I was a child I would watch Shirley Temple with my grandmother and I remember it like it was yesterday. I remember the taps, the spins and the personality of it all. So to see Savion embody the spirit of Bojangles was not only a sight to see but an experience to feel. It is very important to know where the dance has been, in order to appreciate and comprehend how far the dance has come and where it is going." Special thanks to the Brooklyn Center of Performing Arts for a historical night. – Anthony Harris
Savion continues to demonstrate the spirit of dance in its sacred form. We should all say, "Taps On" to Savion Glover for his great STepZ!
DANCE MOGUL MAGAZINE GIVES THIS SHOW 5 STARS
FOR MORE INFO CONTACT WWW.DANCEMOGUL.COM