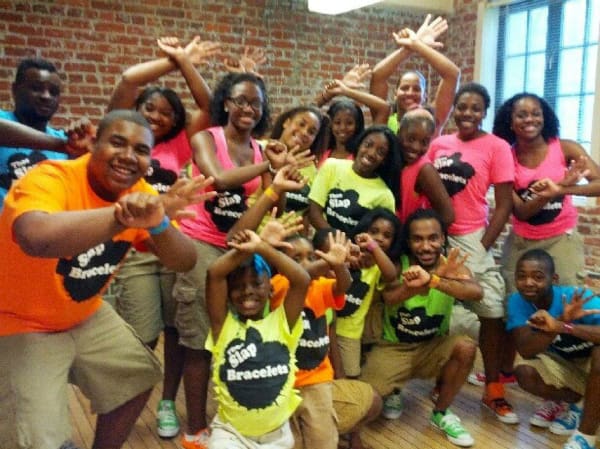 Thee Slap Bracelets Next Generation 2012.
Boston's based Thee Slap Bracelets was established in late June 2009. Coining their name from a fashion fad of the 1990s, the decade in which all the members were born. Thee Slap Bracelets premiered at Jamal Weaver's "welcoming back" party of ABDC's Status Quo on July 3, 2009. Starting with just seven original members soon led onto a legacy of many different talented teen artists from the local Boston area. Winning and traveling to multiple competitions from locally to nationally from Boston's very own East Coast Throwdown 2010 to champions of Prelude New England 2011.
Led by Artistic Director and visionary Khamari Bendolph, who started the team at 16 years old being the youngest person in Boston at the time to have his own successful dance team. He has shown his team everything that he has learned from training in various techniques (ballet, modern, jazz, etc.). After graduating from performing arts high school Bendolph went off to his dream school in 2011, UCLA. He left the team to his younger family members who started dancing because of Bendolph, then coining the name, Thee Slap Bracelets: Next Generation. Bendolph was on America's Got Talent with the Academy of Villains and is still very active in the company.
Thee Slap Bracelets have competed in Chicago, Rhode Island, New York, and have been invited to compete in Hip Hop International in Las Vegas twice. Performing for people such as Governor Deval Patrick, the local community shows for teens, President Barack Obama, and many more. The team's vision is to thread dance and art to inner-city less privileged kids. Thee Slap Bracelets are community teen leaders for an organization Peace Boston dedicated to families who were victims of street violence ran by Cindy Diggs. This partly why Bendolph started the team out of frustration after losing his father and brother in 2004 to street violence. He wanted to develop a team to inspire kids that have had similar tragedies in their lives. The goal of Bendolph's team is to communicate art, specifically dance, as being a filter for frustration after dealing with tragedy.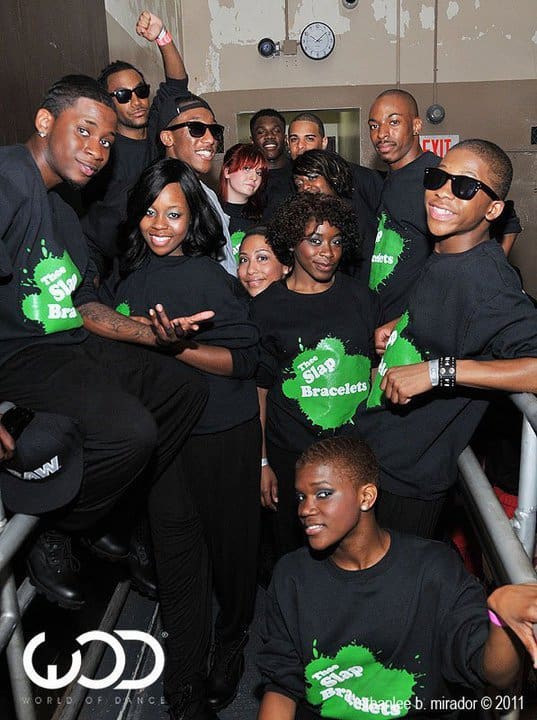 Thee Slap Bracelets at World of Dance New York 2011
This team's performances have led them to be one of the most known, young and dedicated teams in their area. Bendolph and his director's long term goal with Thee Slap Bracelets: Next Generation is to spread dance to youth as a way of expressing yourself and speaking through your body, telling a story, your story. As well as, designing a community fabric from the wide variety of threads in the dance world.
Dance Mogul: What is the atmosphere like for young dancers growing up in Boston?
Khamari: The atmosphere for young dancers growing up in Boston depends on what your focus on dance is and where you train.  I attended a visual and performing arts high school called, Boston Arts Academy. There, I studied and received technical training in Ballet, Modern, Jazz, Tap, West-African, Improvisation, and choreography. My school's atmosphere encouraged its students to ingrain integrity as an artist, scholar, and citizen. The atmosphere for aspiring young artists at BAA was enlightening as well as, challenging for its students throughout all four years in both the arts and academics.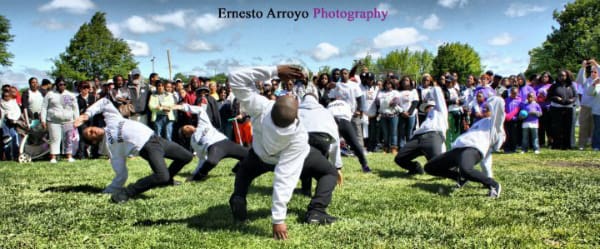 14TH ANNUAL MOTHERS WALK FOR PEACE PERFORMANCE
Throughout my career and training in Boston attending a visual and performing arts, high school was one of the best things that could've happened for me. The best part for me was learning different forms of dance. It's maybe because I came from a hip-hop dance background and only knew hip-hop as dance. I appreciated and took in all I could learn from my teachers and peers about dance and my artistry while being at BAA. I remembered walking in as a freshman knowing I wanted to become a better dancer and work professionally in the dance field someday. It wasn't until I created the vision of starting a competitive team that I realized the atmosphere for young dancers in the community was not as positive and encouraging as BAA's atmosphere. It still amazes me to this day me how unequal the atmosphere of BAA was compared to the atmosphere in the local dance scene.
The local dance scene in Boston did not feel as positive and encouraging all the time. Boston's atmosphere in the local dance scene transitioned from everyone being ambitious and supportive to transparently uninvolved and unsupportive. I was already familiar with the local hip-hop dance scene as I started dancing at a fairly young age. I was about eleven years old when I was asked to audition and join a popular Boston hip-hop dance group called, EnMotion Inc. I was with EnMotion Inc for about five years. Being one of the youngest dancers on an adult team at that time was quite an experience.
Thankfully, my mother Jaye Morris was there every step of the way supporting my career. I am thankful for her. She is truly the reason why I stayed focused on my goals as a young dancer growing up in Boston. She never allowed the negativity of the community to affect my aspirations. Although, I had my mother there by my side that didn't stop me from noticing negativity amongst dancers in the community. As my career moved forward in Boston I became use to how unsupportive dancers and teams were to one another in the community.
When I created the vision to start my own team I anticipated that I would run into negativity in the community. Unfortunately, that was the reality when I did start Slaps. I had to definitely have conversations with other dance directors of other teams if there seemed to be a misunderstanding between our teams. The negativity in the scene was never worth fighting over. Just team's not getting along with each other because they didn't believe they could be successful and friends with their competitors.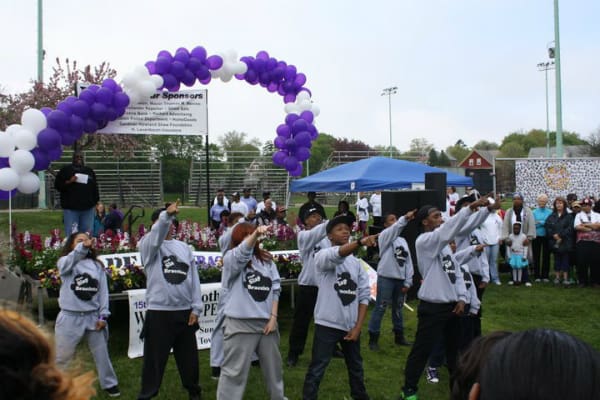 15TH ANNUAL MOTHERS WALK FOR PEACE PERFORMANCE
 At one point, dance teams in Boston were similar to gangs. Everyone traveled in large groups and took pride within their team, which is something I'm all for. I've just seen nonsense as a young dancer from dancers and dance teams literally fighting and/or disputing at community shows. The fighting and disputing were either over "he said, she said," looking at someone on another team the wrong way, or who is better than who. During my dance career in Boston, I came to the realization that you have to cautiously and wisely pick and choose who you surround yourself with. I don't want to talk anymore about the negatives but instead, alert young dancers and artists growing up in Boston to focus on their long-term goals.
Dance Mogul: How important are platforms like Prelude for the youth?
Khamari: Platforms such as, Prelude or World of Dance are events that travel nationally and internationally for freestylers and dance team's throughout states and countries to compete or showcase their work. Platforms like this create a possible life-changing experience for youth. For instance, a quarter of my junior team's most current members have never showcased or competed in Prelude or World of Dance or even attended them. I know how life-changing Prelude and World of Dance was for Slaps and I. We've always seen amazing teams and dancer's at those events that inspired us to be better. For youth in the community to experience and see dance to that caliber is truly a blessing. Events like Prelude or World of Dance opens youth's eyes to see dance on a more entertaining, driven, and professional level. These platforms also encourage youth who don't have supportive families. They get to see dancers who have made dance their careers and are successful. These platforms are very important because the youth in the community barely get the chance to experience shows that can take their minds away from everything else negatively affecting their lives.
<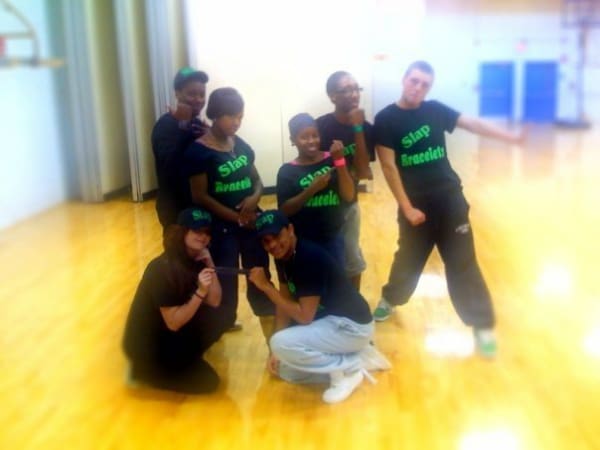 Slap Bracelets 1st Auditions Oct 2009 Original 7 members
Dance Mogul: How did you garner the vision to start the group and keep it going for a new generation of dancers.
Khamari: I started Slaps because EnMotion Inc was ending by my sophomore year in high school. I knew I did not want to stop dancing so I started thinking of the possibilities of starting my own team. Four of my closest friends of EnMotion Inc wanted to also continue pursuing careers in dance. So one night at my house we all just started with the vision of us having our own group. Then, we were coming up with potential names and after trials, I randomly thought about slap bracelets. The name "Slap Bracelets" came from the fact that all the members had been born in the '90s. Slap bracelets were a fashion fad of the early '90s between high school kids nationwide. I realized that I liked that name because it sounded youthful and corky.
I expressed to my mom that I wanted to start my own team. She seemed iffy about it because she knew I was young and just speaking off the top of my head. I had to convince her that I sat down and thought about all the things that were going to come with having my own team, good and bad. She warned me that if she didn't see that I could handle having a team with school then she would stop the team. I knew that I could do it as long as I had my mom's support. I gathered the first potentials of Thee Slap Bracelets. My four closest friends of EnMotion Inc Miguel, Cameron, Trina, and Jatrissa. I knew I wanted another girl on the team. So it happened that my best friend Charae who was a part of an all-girl team called Nova was coming to an end as well. It took about three weeks of consulting with all the potentials. They all said yes to starting this new journey with me so I got straight to work.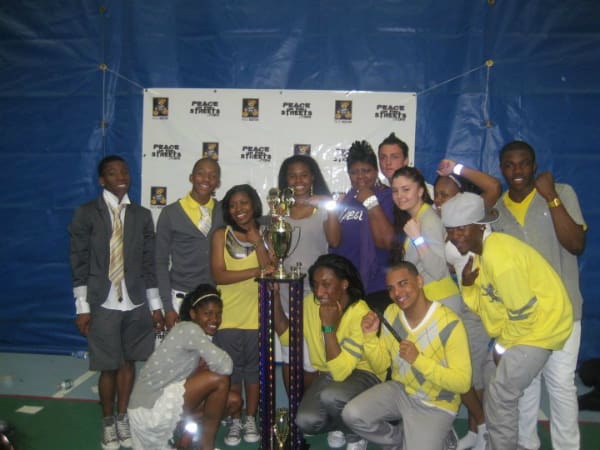 1st Place Champions Beantwon Bounce 2010
 My mom became my team's manager after EnMotion Inc ended. She and I helped each other develop my vision for the group. During this trial period of the team, my mom and I both networked and got the group various types of shows to perform at. I just wanted to get our name out there as quickly as possible. After six months of being together and gaining about seven new members, we competed in our first competition. We competed against other community teams and took first place at Origination's East Coast Throwdown in 2010. This was the moment that I knew my team was destined for success if we kept working hard. Following the East Coast Throwdown, the team started receiving more and more opportunities to perform.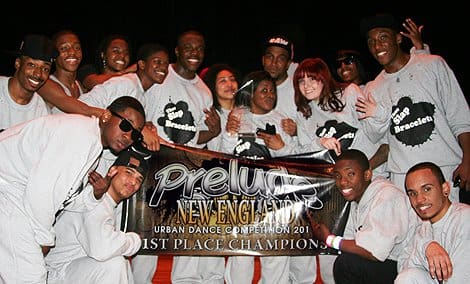 Thee Slap Bracelets at Prelude New England 2011
By 2011 half of my team including myself left off to college. I already prepared my team and myself for the day I was moving to California to attend UCLA as a Dance Major. I ended up leaving the team to two of my dancers who both wanted to take over the role of director. Soon after I left a lot of the older members who did stay around ended up leaving. The team was slowly shifting to a younger generation. From there I chose to create a junior team. I thought it would be smarter to add next generation to the name. As most of the dancers that were coming to train were mostly under 16. I am glad that I switched my team from a competitive adult team to a competitive junior team. It gave the group a whole new feel and look encouraging and giving younger dancer's opportunity to train and perform.
Dance Mogul: Tell us about your experience with AOV on AGT?
Khamari: The experience of being a part of a major show like America's Got Talent was such a blessing and a surreal feeling. I came back to the bay from UCLA during my freshman year desiring better training. As soon as I got home I looked for classes. I saw AOV was hosting a workshop and went to take Ellen Kim's class. I got picked for select and later recruited by Pharside to join AOV. Shortly, after joining and training with Academy of Villains the Directors, Christopher Jennings (Pharside) and Krystal Meraz asked me to come with them to represent Academy of Villains on America's Got Talent. I was beyond excited and took the offer as most people would. We were asked to join "The Snapple Youtube Challenge" of season 7. We were scouted to be on the show because of our 2nd place performance from a dance competition called Body Rock. The producers got in touch with Pharside and Krystal and asked if we would join the mid-season of the show. We then trained for the gig and the show flew out 30 dancers chosen from villains from San Francisco, CA to Newark, New Jersey.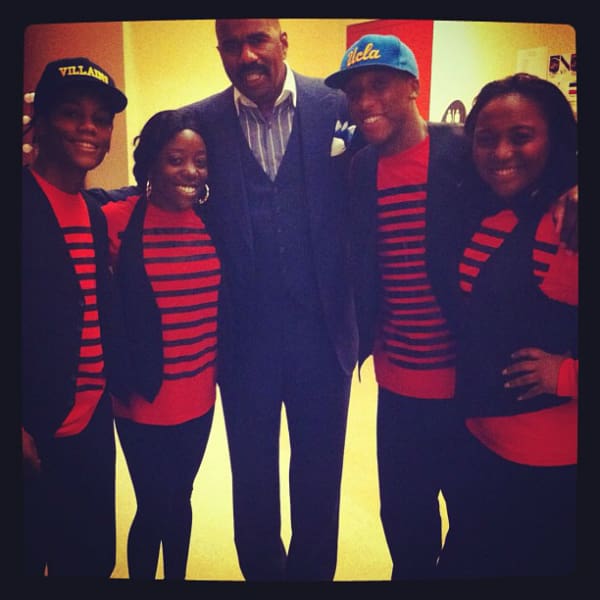 Academy of Villains and Steve Harvey at AGT
This was a lot of the villains including my first time on national television. Being on national television has changed my perspective of professionalism in the entertainment world as a performing artist. Since we were the biggest team of the season we always made sure we were respectful and ready to work. This was way bigger than winning a trophy and title at a dance competition. We were fighting for a chance to have our show in Vegas.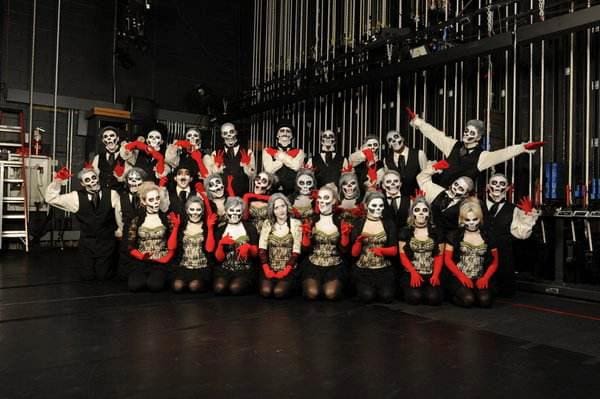 Academy of Villains on America's Got Talent
My favorite part about AGT was meeting the celebrity judges and listening to Howie Mandel and Sharon Osbourne's feedback on our performances. Howie Mandel said, "You, without a doubt are my favorite dance troupe I've ever seen on America's Got Talent." I valued their critiques and opinions as they've witnessed thousands of dance teams live prior to watching us. During the semi-finals, a few villains and I snuck out the holding room to meet Steve Harvey. Mr. Harvey was a special guest of the semi-finals shows that night. When I first encountered  Mr. Harvey he automatically recognized me and the other few villains because of our costumes. He told us that he saw Vegas written all over us and would pay to see watch a show like ours. That night AOV got eliminated from the competition. Mr. Harvey saw our whole team backstage after the results and told us,  "You guys speak Vegas! I'll tell you, I ain't never win a competition a day in my life, and I'm still a boss." Despite the outcome, we were very thankful for the opportunity to be seen on such a larger scale than we were used to. America's Got Talent was an opportunity that I will forever be thankful for.

Dance Mogul:  In what ways are you currently helping the community with dance?
Khamari: I'm not currently active in the dance community of Boston as I wish to be. I used to dedicate time for Slaps and me to go out to community center's like The Boys & Girls Club to reach out to the youth through showcasing and teaching dance to them. I am hoping to start a program catered to helping two to three kids from my junior team in Boston experience how rigorous the dance world in California is. Actually, this past summer my mom and I invited two of my family members who are the newest directors of my youth team, SBNG to California for two months to train. I got my two kids to be a part of the Academy of Villains junior team, Young Skull Club. I knew to join YSC that my kids would grow in a way that they never thought they could. I also made them go take beginner's ballet classes at Alonzo King's Lines Ballet. It was also a chance for me to physically teach them choreography.
I can tell you from first-hand experience that it is a hard task teaching choreography by Skype. I've done it for a year and a half now (not the most convenient thing). I got the chance to teach month's worth of ideas and choreography to them while in California. I've seen so much growth in my girls by the end of their journey. Not just physical growth through dance but, mental growth. They made new friends along the way as well. I've seen major growth from both of them since they left back for Boston. I wish I had sufficient funds to be able to house and provide this opportunity to more kids. The goal of this program for me is to help financially unstable youth interested in dance train and create better networks between young dancers and professional choreographer's from the East to the West. This is ideally how I want to give back to the youth in Boston. The program is also great for the youth in the community. As they would have the chance to get away from all the street violence that occurs during the summer.
Dance Mogul: What advice do you have for other young groups that are active in the dance community?
Khamari: My best advice that I can give other young groups that are active in the dance community is to never allow yourself to settle for less. We are all capable of greatness whether we travel individually or in the groups. I can also give advice on networking. Networking with new people is never a bad thing. You never know if someone is looking for dancers or artists for an event. It's a smart thing for the director's of teams to keep networking in mind. I learned easily how to network by just practicing it. I would talk to and introduce myself to as many new dancers at shows and possible at times. I loved to network when Slaps had the opportunity to travel out of state. As a young group if you want to gain fans and followers who believe in you then you have to network to get more performance opportunities. Know that it does not happen overnight.
Dance Mogul: Do you think there should be more youth inspired events pertaining to dance?
Khamari: Absolutely. Youth inspired events dedicated to dance barely happen in the community as often as they should. Back when I physically directed Slaps we were one of the main teams that would perform for community shows and volunteer. If there were more events for the youth pertaining to dance and art then it will stop a number of killings between teens in our local community.
Dance Mogul: How do you feel about the arts programs being cut and taken out of school systems across the nation?
Khamari: It saddens me honestly. I feel kids especially inner-city ones, need art programs to teach them another form of discipline and skill. Creating programs that cater to displaying art to youth on multiple mediums helps the youth. They have the chance to explore and grow in the limitless creative possibilities of what art can be. I would love to start an arts program for school systems that teaches kids multiple forms of art (dance, music, theater, visual art) and the importance of art.
Dance Mogul: Is there anyone you would like to thank for helping the group while on their journey?
Khamari: I have a list of people that I would like to thank for helping out Slaps: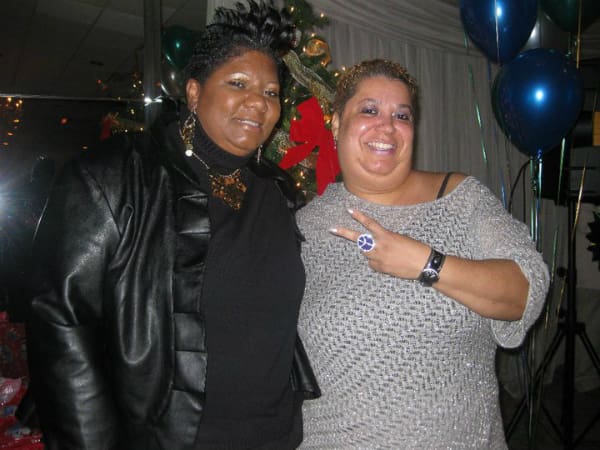 TSB's Manager Jaye Morris and Peace Boston President Cindy Diggs
My mother, Jaye Morris (Manager)
Cindy Diggs (President-Peace Boston)
Sophia Hynes-Cardwell (Director of Stajez Dance Company/Boys&Girls Club)
Tina Cherry (Louis D. Brown Institute)
Anthony Robinson (Big Tyme Productions)
Jahquel Christmas (security guard)
Governor Deval Patrick
Katherine Patrick
Ms. Meme (The Boston Foundation)
Deborah Schuler (YWCA-Cambridge)
Chevous Boston<
Sky & Bre (Beantown Bounce
The Grover Cleveland Community Center
The Mildred Avenue Community Center
Artist For Humanity
My family who supported us from day one (you know who you are
James Aslop (Beyonce's "Run The World" choreographer
Adlai Rashad Grayson (MIT Ridonkolous/Footwork
Tony Calub (President of Prelude Dance
Myron Marten (President of World of Dance
TSB Alumni