Vlado Footwear x EC Twins x Finish Line – LED Pack (Atlas/Lyte) Release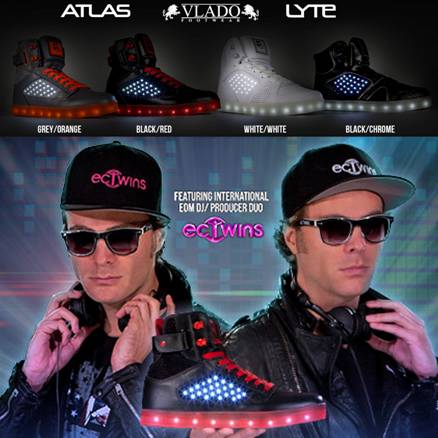 June 26, 2013 – Los Angeles, CA – Vlado Footwear has taken its love of music and sneaker fashion to the next level with the development of the LED Pack to drop exclusively in Finish Line retail stores mid-July. The LED Pack consists of two styles – Atlas (available in Gray/Orange and Black/Red) and Lyte (available in White/White and Black/Chrome).
As the self-proclaimed hottest sneaker pack to resonate with the music and nightlife scene this summer, 
Vlado Footwear
 celebrates its presence by collaborating with international EDM DJ/Producer Duo, 
EC Twins
 (
www.ectwinsmusic.com
) to create the 
#LEDPack Fan Experience
. As the official brand ambassadors of the 
LED Pack
, the 
EC Twins
 will participate in several experiences to excite music and sneaker fans such as giving away a FREE download of their new track "Hot Summer Nights" by EC Twins/Lea Luna/Nejat Barton (courtesy of Black Hole Recordings) with the purchase of any 
LED Pack
 style (a music download card will be packaged in each shoe box).
The 
Lyte
 style (White/White and Black/Chrome) is featured in the new music video for the song "Hot Summer Nights" which releases July 1
st
 on Black Hole Recordings and clips of the music video is also featured in the 
LED Pack
 web commercial hosted on 
Vlado Footwear's
 YouTube page (
http://youtu.be/UNsk-VEdi0Y
).
The LED Pack features a bold silhouette to compliment the lifestyle of today's edgy yet stylish sneaker-and-music-head. While the sneakers can be worn as the pinnacle of any hip daytime or nightlife streetwear wardrobe, LED lights embedded in the upper and cupsole bring the sneaker to life. When wearing a pair of Atlas or Lyte sneakers, today's sneaker-and-music-head is empowered with a statement piece for any high energy social setting. They'll make a pronounced statement of innovation and fun when they activate the LED lights to one of three "on-modes".
The Ltye (White/White and Black/Chrome) upper is made of leather and the outsole of transparent rubber. A fabric sockliner accents the color of the outsole. The Atlas (Gray/Orange and Black/Red) upper is made of leather and suede and the outsole of transparent rubber. A fabric sockliner accents the color of the outsole.
The LED Pack is as comfortable as it is stylish. The collection features Vlado Footwear's signature Eversole insole. The insole is made of polyurethane material which maintains density and cushion properties for the life of the shoe. It is designed with ventilation and air holes to circulate air as you walk and virtually eliminates the shock of your body weight on your feet. Eversole is slightly extended to the heel cup to add support and balance.
The LED lights embedded in each style are powered by a USB-chargeable battery pack enclosed in a zipper pocket in the upper tongue. The footwear is packaged with a magnet LED activator in keychain form which one uses to activate the LED lights to any of the three "on-modes" (Strobe, Solid, Moving).
LED Pack – Atlas (Black/Red and Gray/Orange)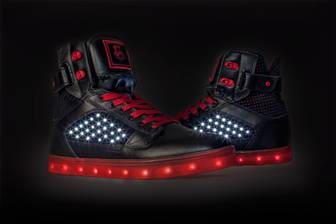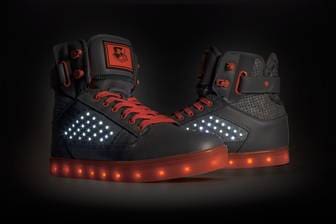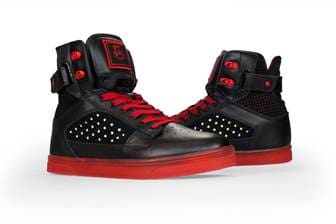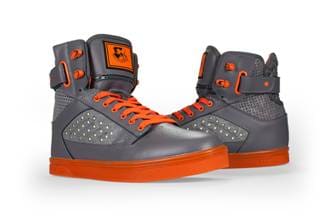 LED Pack – Lyte (Black/Chrome and White/White)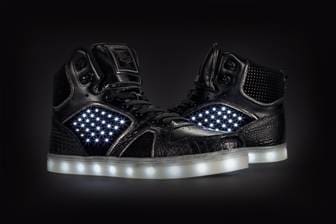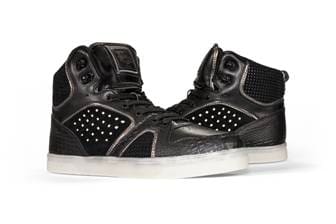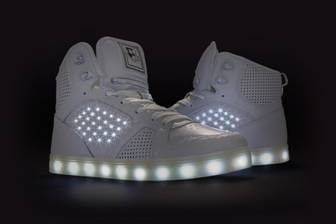 ###
About Vlado Footwear
Founded in 2003, Vlado Footwear started with a handful of classic styles for men, called Luxury Kicks. Our brand achieved instant success by obtaining placement in several publications, Footwear Plus, The Source, XXL, Antenna and landing on the cover of Footwear News, who proclaimed Vlado Footwear as a brand to watch.
Celebrities soon flocked to Vlado, Snoop Dogg, Oscar-winner Jamie Foxx, Chris Brown, Ne-Yo, Bobby V., Midnight RED, Justin Beiber, the cast of the CW's The Vampire Diaries and several others. Vlado footwear quickly became the choice of fashion stylists and wardrobe departments for TV shows like America's Best Dance Crew, American Idol, So You Think You Can Dance, Nickelodeon's Gigantic, Disney's Shake It Up and the Grammys.
Since its inception, Vlado Footwear has always stuck to our credo of producing innovative items using avant-garde materials. The innovation of new production techniques and development and resourcing of new materials has separated us from the competition. Following this recipe and the desire to stay ahead of the trends has lead to the development of a new women's collection. We are now in development of an accompanying apparel line, further establishing Vlado as a lifestyle brand.
From bold vision to exceptional reality, Vlado Footwear maintains its underground cult status by continuing to produce highly sought-after athletic footwear, known for performance and style. Celebrating our 10th year, Vlado promises more exciting things to come from the brand that has excited everyone from day one. We continue to be the brand that fits into the lifestyles of individuals with fashion forward minds.