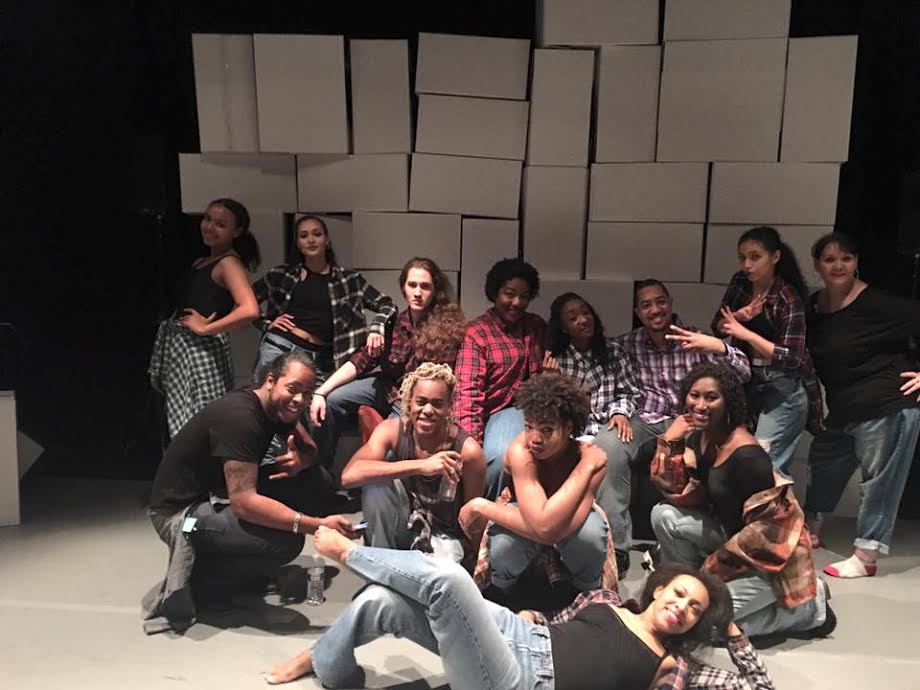 Dance Mogul:  What was the purpose of this year's production?
Quincy: This year's production was inspired by the disconnect between the majority of the population and artists.  This disconnect often results in outcast in an artist because they seem "weird;" rather than embracing them as a beautiful anomaly. This production is all about the inner workings(soul, spirit, and body) of an artist, being a black young man, being different and most of all encouraging others to find and follow their passion. For a long time in my life, I felt as if I was a mistake. Society did not get me, my so-called friends did not understand but most of all the church shunned me because they did not want to understand who God created me to be. I garnished all these feeling and emotions and dealt with them the best way I knew how. My turning point was when I saw the same sadness in the children, youth and even adults that I taught and/or performed with. I knew it was time to talk about it. So I Am!
Dance Mogul: What were some behind the scenes prep that it took to get it done?
Quincy: Behind the scenes, prep was challenging to say the least at times but, what made the whole experience fun and really exciting where the artist themselves. Everyone pitched in and did more than the average performer. The artists worked around the clock on choreography, costumes, marketing, music, etc. Because we are not currently funded by anyone the work falls hard on us at times which pushes us to wear many hats to get our productions off the ground. The cast is scattered throughout New York and New Jersey so when we needed more practice and couldn't get studio time we met in each other's basements, backyards, living rooms, and even the parks. This process made us very strong but most of all it created a family bonding us together which is what you see on stage.
I tell people all the time, the stage is just 75% of the show that you see. The real show happens during the actual work process leading up the opening night. The blood sweat and tears that happen before then is a spiritual purge of the artist getting ready to take on a moment in time that they themselves can touch an audience member.
"Artistica 7 celebrates creativity while honoring the Arts." -Dance Mogul Magazine
Artistica 7 Promo from A Quincy Project on Vimeo.
Dance Mogul: What do you hope the audience takes away from this production?
Quincy: With this production, and all the others that I dream up; I thrive on creating things that take the audience on an emotional human journey. As humans, we live in our own worlds and fail to step outside ourselves (the six-block radius) and see someone else's world just for a moment. If I can get the viewing public to question, think and see outside their personal space than my job is done. I can care less about accolades of how amazing the music, costumes, and dancing were in the production. The greatest accolade for myself is knowing that the production makes a person think days, months and years after that initial night of viewing. When every audience member can walk away and remember that we all have a purpose on this earth, whether big or small; then my job as a creator and performer is complete.
Dance Mogul: What else do you have planned for 2016?
Quincy: 2016 is a huge coming out year for myself and company. We will take Artistica 7 on tour and bring back 2 original productions to the stage. (Lift Him Up) which takes place in the late 80's/early 90's and (SpellBound) our beloved Christmas production which hasn't been seen in 2 years. Both are very exciting and big. Besides the stage work, we will be transitioning more to film to garnish more of the online social world. I will be personally spending more time in the recording studio working on some new tracks and creating for others. But this is just the beginning for us as a unit.
Dance Mogul: Is there anyone you would like to thank?

Quincy: I would love to first thank God, my creator, with Him I would not be. I am fearfully and wonderfully made…and for that, I owe Him all of me.  My parents and sisters have been my driving force. The Artistica cast and team, by far the greatest people I have had the honor in serving and performing with, you guys have stolen my heart.  All of my dance, vocal, acting and life coaches I thank you. You believing in me was more than enough but you always gave more.  For those people in the church who always spoke life into my dreams showing me to focus on the creator and not the man who stands in judgment at a pulpit of hate, I THANK YOU for being the real church.  For the people who sit in the back and snicker and talk when they see a young black man trying to do something positive. I thank you!! I pray one day you will take time to find your purpose because when you do that is when you will truly find happiness. THANK YOU ALL for your love, hate, support or lack thereof. It's all good by me! Thank you for making me stronger, wiser and better than the status quo. I Have Nothing But Love in my heart!