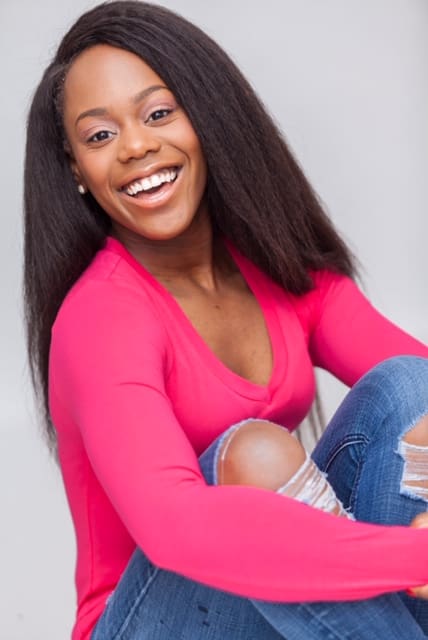 Dance Mogul: How did the B2K Tour opportunity come about?
Evangeline: lol. The experience was really crazy. That day I had auditioned for another opportunity that I didn't get, I was at home eating some ice cream trying to cheer myself up and I received a message from the production team when I did a job for Ginuwine. I knew it had to be important because I don't usually get messages from people I don't talk to on the regular. He said he said had been keeping up with my IG and supporting. He asked if I wanted to audition to go on tour but I would need to pick up choreo fast. So I did and two days later I quit my job and here I am.
Dance Mogul: Now that you're on tour is it everything you thought it would be or more?
Evangeline: Most definitely more, it's been amazing. We love the fans and the fans love us just as much as they love the guys. NY was a little rough though lol. The ladies didn't like us up there with "their men" lol. But overall it has been great. The after show experiences have been great, the fans tell us how much they enjoy us and they follow us on social media and they send pics, videos and leave encouraging comments. That's the main reason I came to commercial dance from concert dance. The opportunity to affect more people.
Dance Mogul: How are you balancing your mental and physical health?
Evangeline: With all the traveling it has been difficult but I've been trying to make conscious decisions like choosing salmon over a burger, healthy shakes and taking my vitamins. I'm also very big on time management, so when we have downtime I try to get as much sleep as possible but it's hard because I love going to all the new environments and seeing the scenery. I also grew up in the church so I also take time to nurture my spirit by watching the music I listen to and keep in contact with my friends and family, that helps me balance out my mental space.
Dance Mogul: What advice do you have for young dancers that wish to achieve dancing on tour and then once they achieve it how do they maintain themselves professionally to springboard into other opportunities?
Evangeline: Keep training!!! Even if you're not booking. People are always watching, just like people can see that you're not booking they can see that you're not training. I take class like I'm performing and so I have a different mindset each time I go in. A different aspect of myself I want to work on. I take class just as serious as I take a show. You have to already be in that mindset to be ready to perform so when the opportunity does come you can capitalize off of it. Once you're on tour, don't get comfortable and get a big head. Meet the fans, pay attention to their reactions and always respect the production crew, you never know who you will be working with again. Stay hungry and always show everyone the best version of you.