fulani

---
Dance Mogul

Magazine Exclusive… 
---
---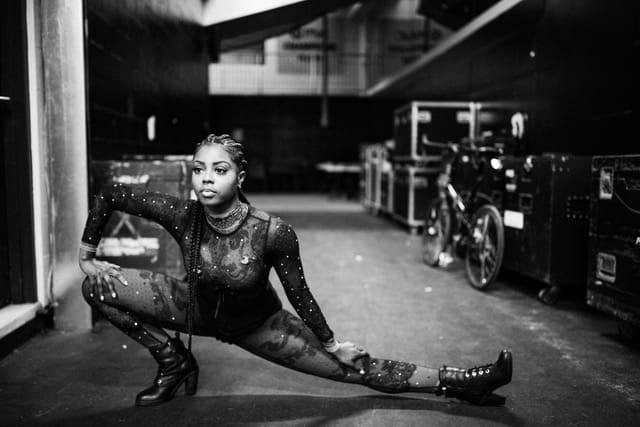 Dance Mogul: What inspired you to start dancing?
Fulani B: Dancing has always come naturally to me. I truly believe I was put on earth to entertain. Since I was able to walk that's probably all I did was dance around my house with my older sister Shani. I used to make her teach me dance routines. I would watch and record award shows just to see the dancers. Now, I don't think I wanted to be like them I just knew I was fascinated by their movement.
Dance Mogul: What was it like developing your craft at DADA?
Fulani B: DADA was life-changing! I'm the dancer I am today because of Debbie Allen. I like to call myself an OG DADA student because I began training there when it first opened in '01 at the Culver City, CA location. I was 11yrs old in the 6th grade and one day my mother decided to take me to a dance audition (I think she heard about it on the local radio station KJLH) I had no former dance training and didn't know what to expect. Thankfully, I got accepted and trained there until I graduated from high school. DADA was my home away from home. I trained 6 days out of the week, maybe even 7 if we were preparing for a show. I studied all forms of dance. And I mean everything! (Modern, Dunham, Salsa, Tap, Flamenco, HipHop, Jazz, pas de deux, Pointe, and Ballet) Ballet class was a major key. I had to take a ballet class every single day. Having good technique was the foundation in being able to do all other genres. That stuck with me forever. The faculty was top of the line and they worked us hard. Each year I improved as a dancer and I saw my peers improving as well. It was a beautiful learning environment. We were all young, and we just loved to dance, loved learning from the best, and growing at our craft; that's exactly what DADA offered us.
Dance Mogul: What was it like training at Alvin Ailey? What made you want to train? What did you understand about it that you knew that's what you needed to do to be successful?
Fulani B: I had a Modern instructor at DADA by the name of Steven Smith who was an Ailey Company Member Alumni. While at DADA we learned some of Ailey's Repertoire pieces in his class. I admired the company's work, and at the time I thought eventually I wanted to be in the company myself. I was 13yrs old when I auditioned and got accepted into Ailey's summer intensive.  My parents couldn't afford to send me to NY for the summer and pay the full tuition. I hustled and raised my money with the help of my parents and community by dancing at local churches and other local events to afford the expensive summer. I made it happen and was able to spend summer '03 in New York. So, going to the intensive only felt like the right thing to do. I wanted to learn from the best, I wanted to train with whoever I thought was going to make me excel as a dancer. Ailey was a completely different vibe from Debbie Allen. At Ailey, we pretty much just did Ballet, Pointe, and Modern. I remember one of my ballet instructors was extremely hard on me, I felt like anytime she gave a correction it was an attack rather than me accepting it as a critique to make me better. Later, I learned that she genuinely saw something in me and just wanted me to push myself harder.
Dance Mogul: What hardships did you encounter pursuing your passion?
Fulani B: Straight out of high school I booked a Radio Disney Tour with Keke Palmer and that tour went on for almost a year and a half. After that tour, I experienced an illness that had me away from the dance world for about two years. When my health finally got back to 100% and I went back to auditioning it was rough.
There was a point in my career where I would go on auditions after audition and never book a job. Or I'll even get booked or put on avail for a job but later released from the job. I was terrified. It was quite a depressing time in my life. I had no job, no money, and didn't understand why I wasn't booking any jobs when I had the talent. I knew my talent was too good to get stuck having a 9-5 and not being happy or able to live out my life purpose. But I never gave up on myself. I kept auditioning and kept receiving No's till I finally got a YES. I was extremely, hopeful, and determined.
Dance Mogul: What would you tell your younger self, based on your experiences now?Fulani B: I would pat younger Fulani on the back. She was a dreamer and knew that whatever hardships she faced would soon come to pass. I'm proud of my younger self. It's funny when I find myself in an unfavorable situation, I ask myself" What would younger Fulani do?" When I first signed with Bloc Talent agency I was a 17 yr old girl with nothing to lose. I would walk into auditions with zero expectations just knowing that I was there to dance, and dance was all I knew so I did it well. My first couple of auditions I ever went on I booked the jobs.
If my younger self would've known what I know now there wouldn't be any growth. I grew to learn that all my hardships were blessings in disguise. I had a better understanding of life in general and knew whatever was destined for me to book will be for me. All the years of No's taught me I wasn't fully ready and capable of handling the job at the time and I needed more time to physically and mentally prepare myself.
Dance Mogul: What have been some of your favorite moments your career choices have brought?
Fulani B: Traveling the world and being introduced to different cultures and backgrounds will forever be a perk of my career. Traveling never gets old and seeing the reaction of the audiences in different countries is just awesome. Everyone reacts different but it's beautiful to know you're making someone's entire year by sharing your gift with them.
Dance Mogul: What is like to perform on 2017 Grammy's?
Fulani B: When I got the email that I booked the 2017 Grammy's I felt like I just hit the lottery. I sat still for a minute and just prayed. It was definitely a dream come true. The Grammys was magical, every moment of it from rehearsals to the performance. It was a totally different energy than any award show I've ever done. I learned a lot from being in the mix of greats. Still very humbled by the experience.
Dance Mogul: What's next for you in 2017?
Fulani B: 2017 I am looking forward to creating my own dance program to give back to the youth. I am limitless, all is possible. I have a lot of big goals roaming in my mind on daily. But, I also love living in the present moment and accepting the unknown, knowing that something amazingly big and better is going to happen in my life and it always does.
Dance Mogul: Do you have any advice for the next generation of dancers?
Fulani B: Never Let Go of Hope, Never Quit dreaming, and Never Let Love Depart from Your Life, when I say (Love) I mean the higher power. Because the "Best is yet to come" if you have faith and believe it.
Dance Mogul: Is there anyone you would like to thank for helping you on your journey?
Fulani B: Much love to my creator, my parents (Nassoma and Rashid Bahati), and family. Debbie Allen dance academy, Bloc LA, all choreographers who believed in my talent and given me a chance to live out my dreams. Forever Thankful for Fatima Robinson, Jaquel Knight, Frank Gatson, and Chris Grant, and to anyone else who has contributed big or small to my journey. I love you all.
>>>>>>>>>>>>>>>>>>>>>>>>>>>>>>>>>>>>>>>>>>>>>>>>>>>>>>>>>>