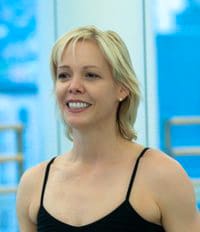 Dance Mogul Magazine is honored to present Kat Wildish, a great source of encouragement and information for the next generation of dancers. Kat fully understands the purpose of dance and the importance of passing down information to insure the success of others. Her selflessness has lead to an amazing journey through dance, we hope her journey can inspire others to live through acts of giving.
Kat Wildish grew up in Tampa, Florida, but she shot from the beach to the ballet big time at the age of 15, when she toured the southern United States as a member of Ballet Gala, on stage with such superstars as Rudolf Nureyev, Margot Fonteyn, Cynthia Gregory, and Fernando Bujones. She received further training—on a two-year full scholarship from the Ford Foundation—at the nation's premier dance academy, the School of American Ballet.
Kat is one of those rare ballerinas who has appeared with both New York City Ballet and American Ballet Theatre. She performed with NYCB in 1981, dancing works by legendary choreographer/founder George Balanchine, who hand-picked her to perform in one of his last works, Adagio Lamentoso. In ABT (1986), then under artistic director Mikhail Baryshnikov, she performed in more traditional ballets like The Sleeping Beauty (in his version for ABT, Sir Kenneth MacMillan created the role of the "knitting lady" for Kat; Julie Kent was one of her assistants!). Kat has also been a guest artist with such companies as Zurich Ballet, Metropolitan Opera Ballet, The Eglevsky Ballet (then directed by Edward Villella), Bernhard Ballet, Connecticut Ballet, Fokine Ballet, the American Dance Machine, Dances Patrelle, and Louisville Ballet. Until she retired from the stage in 2007 she danced the Sugar Plum Fairy in annual Nutcrackers in the New York area.
Kat is unusual in that she didn't take up teaching after retirement but began giving classes while still a student herself: Her first was at age 15, and in her class was future Joffrey ballerina and Tony-winning dancer Elizabeth Parkinson of Twyla Tharp's Movin' Out. Thus, she combines years of practical in-studio experience with decades of systematic training. She was schooled in all of ballet's great pedagogical traditions: Vaganova technique at Milan's La Scala under the direction of Rudolf Nureyev, and studies with her personal coach, former Kirov ballerina Kaleria Fedicheva; Cechetti tutelage from her mentor and friend Dick Andros; and Balanchine style from her time at SAB. Throughout her career Kat worked closely with such dance-world luminaries as SAB's Alexandra Danilova, Suki Schorer, Stanley Williams, and Andrei Kramarevsky; choreographers Sir Kenneth MacMillan and Glen Tetley; and Ballet Russe de Monte Carlo veterans Nicholas Orloff and Anna Youskevitch, wife of danseur Igor Youskevitch. And with a repertoire ranging from Petitpa to Bournonville to modern masters like Balanchine and Cranko, she is conversant with a whole spectrum of choreographic styles.
More recently, Kat participated in American Ballet Theatre's project of establishing uniform country-wide standards of instruction (for details see abt.org/education/certifiedteachers.asp), and she is now an ABT® Certified Teacher of Primary through Level 7 (the highest) of the ABT® National Training Curriculum. She has also trained and mentored other teachers, notably for the Dance Educators of America and as a member of the U.S. Faculty of Education of the United Kingdom's Royal Academy of Dance (for more information, write: [email protected]).
Kat is a radiant and popular presence on the New York City studio scene: She was scholarship director and manager at Steps, a longtime teacher at the Broadway Dance Center, and currently serves on the faculty of the Alvin Ailey Extension Program, one of the country's top dance-education centers. Her approach to teaching is both witty and rigorous, creating a noncompetitive, nonjudgmental atmosphere that is encouraging to beginners and professionals alike. At the barre Kat pays special attention to placement, injury prevention—important for adult students—and careful, anatomically sound work. Yet her classes are also eminently "danceable," emphasizing musicality, harmony, line, and stage presence.
At The Ailey Extension she not only teaches multilevel adult ballet and pointe classes—12 per week—but produces and directs several sold-out student dance showcases each year. These "Performing in NY Showcases" include stagings of classical repertoire for her own students and performances by other groups in a variety of genres, from hip-hop to modern to tap. She teaches privately as well, and has coached dancers for major ballet competitions such as the Youth America Grand Prix. And while Kat is usually to be found on her home ground, she gives a number of elite workshops nationwide and around the world: in Germany, Switzerland, Japan, and, most recently, Italy.
Kat has been cited in the media as a master teacher, notably in the New York Times article, "See You at the Barre" by Daniel C. Wakin (March 23, 2007), and in issues of Dance Teacher and Pointe magazines. She has also created her own online ballet community: maintaining this web site; producing an engaging, informative monthly newsletter; and keeping in touch with students and colleagues through Facebook.
To study with Kat is to be the beneficiary of superlative technical training, a lifetime of accumulated ballet lore, and a generous, elegant spirit. She prepares her students not only to dance beautifully, but to live with grace.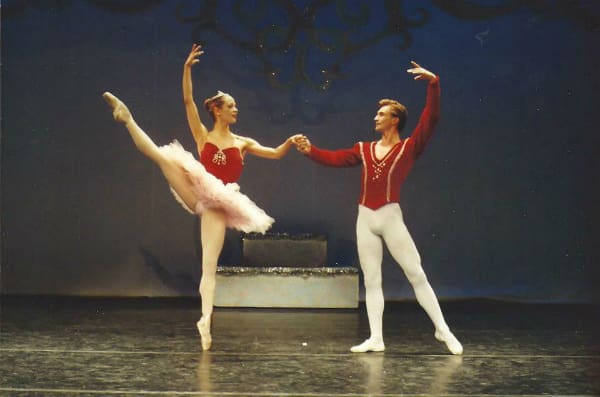 Kat & Slawomir Wolzniac Photo Credit: A .Coopchik.
Dance Mogul: At what age did you develop a passion for the arts?
Kat Wildish: The winter of 8 yrs old when we took a school trip to see the ballet "little Match Girl" in Tampa Florida. The lead dancer inspired me so very much, she is beautiful. Later in my life I was teaching a course to teachers and she was introduced to me. What a great experience as she inspired my whole career with her dancing. We still stay in touch with face book.
Dance Mogul: Who were some of your early inspirations?
Kat Wildish: Jinkey Barker (see above), my main ballet teacher Anzia Arsenault, Margot Fonteyn,Gelsey Kirkland,Merle Park, Lynn Seymour ,Violette Verdy,  Allegra Kent, Antoinette Sibley  .
Dance Mogul:  Were your parents supportive of your passion for dance?
Kat Wildish: My dad was, he didn't really know much about ballet he played the piano for a living.
Dance Mogul:  When did you know that you could become a professional?
Kat Wildish: When I was promoted to principal dancer in my home town, Tampa at 13 yrs old! It was a freak promotion as the lead dancer had a medical problem and I really was the only one who knew the parts.
Dance Mogul:  How did you develop your work ethic?
Kat Wildish: Practiced more. I really wasn't naturally talented, I worked in the back of the room and learned everything (even the men's parts- they are great fun), and everybody's parts so when anyone was absent I hoped to stand in for them, the more you do the more experience you have doing it.
Dance Mogul: You have had numerous opportunities and accomplishments, what have been some of your most memorable?
Kat Wildish: Being accepted into the School of American ballet then later being chosen by Mr.  Balanchine to perform in one of his last ballets Adagio Lamentoso with new York City ballet; Also to be chosen by Mikhail  Baryshnikov to join ABT 1986!!
Dance Mogul: Why is it important to give back to the dance community while still achieving success?
Kat Wildish: It's so important to inspire others to pursue their dreams no matter what age they are, and to make and offer up opportunities for others to express themselves the very best they can, that way we grow a knowledgeable, more educated , refined  dance community & audience, who really appreciate the work that goes into creating something very special.
Dance Mogul:  What advice would you have for the younger generation of dancers that want to become professionals?
Kat Wildish: Learn everything about dance, not just one genre, allow yourself to become more than you could even dream. Ask for advice from those who have gone before, they have knowledge you cannot even imagine. Take notes, books and books full of notes, choreography, favorite class combos, corrections you can look at those notes and use them to continue to grow and also to inspire others.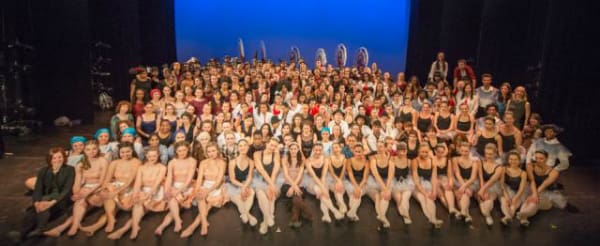 Cast of March 2013Photo Credit: A .Coopchik.
Dance Mogul:  How do you get the younger generation to understand that the discipline in dance is the same discipline that needs to be executed in an educational setting?
Kat Wildish: The time you set aside for studying/being in the studio is important time no fooling around. We can fool around outside of class, but in class, take notes so that when it's time for the big test or performance you can go over your notes and make sure all the details have been covered. Don't think you will remember everything, do it, write it down, read it, see it dream that you are doing it and then you can get it done because it's in you deep!!!
Dance Mogul:  How important is it that dancers try to leave legacies instead of bits and pieces of momentary satisfaction?
Kat Wildish: Dance is one of the great all time and oldest art forms (music, Literature & dance). Each generation is the custodian of passing on the knowledge to the next. It should be the responsibility of anyone who is knowledgeable about dance, who is able to keep this living art alive to give this gift.  Many of the things we experience through dance cannot be written and it's a treasure that only dancers can really pass to another dancer.
Dance Mogul:  What are you currently doing now to elevate the craft?
Kat Wildish: I teach classical ballet to adults here in NYC and around the country & the world in open classes, reparatory workshops, master classes, individual private coaching conventions and the like .I retired from the stage Dec 2007 as the 'sugar plum fairy" and now travel a lot worldwide. To teach and develop an appreciation for the art of classical ballet. Three times per year Kat Wildish Presents: Performing in NYC weekend of  three sold out performances, to allow dancers & choreographers of all ages and all genre's to pursue their performing education/presentations  On stage in NYC. We have Ballet, jazz, tap, Hip-hop, Horten,ballroom, swing, salsa and many many more dance groups on each  program. www.katwildishshowcase.com .also Ballet 4 Adults,  http://ballet4adults.com/ a certification program for teachers to teach adults. You can find me teaching ballet at the Ailey Extension in NY http://www.alvinailey.org/ailey-extension/faculty/kat-wildish Also summer dance programs (children & adults) in Italy https://www.facebook.com/events/108058099364212/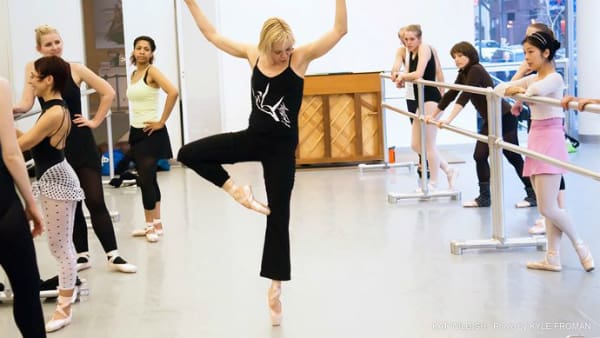 Kat teaching Pointe class Photo Credit: Kyle Froman
Dance Mogul: Do you feel a publication like Dance Mogul is needed to connect the Professionals with the next generation to help guide them to their goals and aspirations?
Kat Wildish: Dance Mogul can help connect the generations to respect the past and carry good values into the future with class and aplomb (complete and confident composure or self-assurance: poise)
Dance Mogul:  Is there anyone you would like to thank for helping you on your journey?
Kat Wildish: Jinkey Barker (see above) again my first inspiration. Professor Dick Andros, he pulled me back from a deep slump in my career. He said come back for you, forget the others and what they do or say come back and dance for you, because you are a dancer.RIP Mr. A!!!