Victor Gonzalez, from Rosemead CA, started dancing at the age of 14 years old. Now a 22-year-old professional Hip Hop Dancer Instructor and Choreographer as well as a businessman running a dance program for kids. Victor started dancing in 2004 for a small organization called "Rosemead Elite". In 2006 he joined Jayvee Dance Center's Youth team "Teen Groove" under the direction of Nick and Anna Golla, then in 2007 the team turned over to CJ "2AUCE" Edwards former Member of ABDC's Heavy Impact. After turning 18 Victor Joined "Main Ingredient" which was an adult competing team under the same direction of Mr. CJ "2AUCE" Edwards. Victor then joined CJ "2AUCE" Edwards as co-director of all Jayvee's Youth teams for two seasons to expand his experience not just as a dancer but as a leader. Victor started teaching Hip Hop at the age of 16 for a local community center in Rosemead Ca. Then at the age of 18 became a full-time Instructor and Choreographer for Jayvee Dance Center teaching all ages from 4 to adult.
Now In 2012, Victor is currently teaching regularly in Torrance Ca at one of the biggest dance studios "Boogiezone Utopia", and has taught Hip Hop for different dance teams, studios, local High Schools, Colleges as well as in Tucson Arizona and assisted well known Choreographer Mr. Elm Pizarro in Tokyo Japan. Victor has also directed both Boogiezone's Youth Team "Offspring" and Adult Exhibition Team "Breed" and is now the process of turning his kid's dance program "Get Down District" into a running dance studio in Rosemead Ca. As A Dancer and Choreographer and Leader Victor is showcasing his talent and sharing with thousands of people the love he has for dance. We are honored that Victor took the time to tell us about his journey and his future aspirations. We hope that the youth can find themselves their journey and be inspired to keep achieving.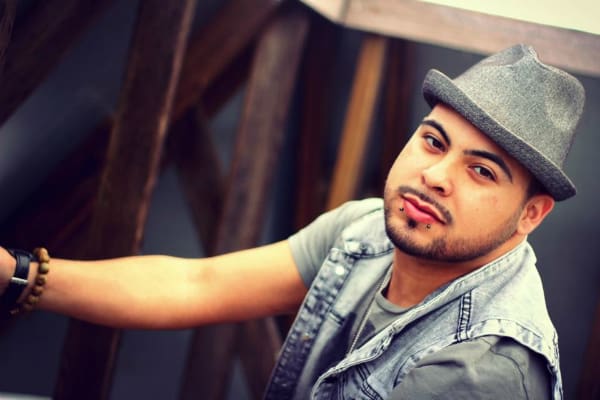 Dance Mogul: You told us you were inspired by the movie "You Got Served", what was it about the movie exactly that inspired you?
Victor Gonzalez: Grew up In a household that didn't really know about the dance entertainment scene just knew about sports and boys played sports not dance. So I grew up playing sports but loved dancing and would make my cousins perform with me for family get-togethers and when the movie came out in 2004 it showcased males doing the whole dancing stuff and opened my eyes with such great passion and dreams and I knew I had to do it! So with my parents seeing males dance, they allowed me to try out a dance class and after that, I never stopped!
Dance Mogul: How did that inspiration turn into a career?
Victor Gonzalez: After a few classes I was asked by a nonprofit city organization to perform for the first time at a high school assembly and being only 14 and in middle school, I thought it was the coolest thing! And I know this may sound so typical, but after hitting that stage I knew it was what I was born to do and never stopped performing. Soon I started teaching and now I'm blessed to say that's all I do.
Dance Mogul: Were your parents supportive of your dancing?
Victor Gonzalez: I can say my parents have always been supportive as far as letting me do it, but it did take a while for my mom to accept it she was always the one that would say "if you want to dance you have to play sports! If you don't play sports you can't dance!" Lol and wanted me to become a school teacher and have that Typical "Professional Career"  and my dad always loved it. So that was kind of the opposite, but after seeing my talent and love for it and being able to travel and see the world with it. They've been by my side all the way!
Dance Mogul:  Was there anyone that mentored you and help guide your career?
Victor Gonzalez: Growing up as a dancer and training to become a professional it was definitely Mr. CJ Edwards former ABDC Contestant with Heavy Impact. I trained under him at the age 16 until I was 20 and he really taught me everything I know and prepared me for the worse and really pushed me to my limits and showed me that it's all hard work and nothing is given easily and as far as a businessman and professional working choreographer dancer, instructor and leader I would have to say is Mr. Elm Pizarro creator of boogie zone. Watching him work from behind the scenes and knowing how much hard work it took him to get where he has really opened my eyes. And to have him around for advice and as a mentor, till this day I'm very honored! He has always helped guide me to take those chances and always remind me that it's going to be okay, he has shown me that it takes more than talent to be a leader, dancer and a choreographer. And that nothing is better than to be happy and love what you're doing!
Dance Mogul:  What are some of your favorite dance experiences?
Victor Gonzalez: I would have to say being a part of  Disneyland high school musical parade, dancing for Geffin Recording artist Prima J, and being able to see and dance in Tokyo Japan and in the tropical land of Hawaii! And also creating "Get Down District" and giving an opportunity to kids and young adults and being able to show them that anything is possible.
Dance Mogul:  How did the opportunity to work for BoogieZone Utopia come about?
Victor Gonzalez: After being a part of boogie zone two years prior to the studio opening elm gave me the chance to teach boogie zone and saw some of my class choreography and when the studio opened in 2012 he offered me a spot as an instructor.
Dance Mogul:  What do you hope to accomplish in the future?
Victor Gonzalez: Well in the future I hope to have finally made my dance program "Get Down District" into a running dance studio in Rosemead Ca. I hope to accomplish my dreams and goals as a choreographer and dancer! Working with Artist and all that fun commercial work!
Dance Mogul:  What advice would you have for young up and coming dancers?
Victor Gonzalez: I would say just never listen to the negative just listen to your heart. Surround yourself with positivity and people who are just as goal-oriented as yourself and keep fighting it's a hard struggle but if you work now then later the work is gone! And your living the life you've always wanted!
Dance Mogul:  Do you think that Dance Mogul Magazine is needed for the dance industry?
Victor Gonzalez: Yes most definitely I think it's a good look for dance in general and a good way to express and share the amazing talent of dance that is all over the world!!
Dance Mogul: Is there anyone you want to thank for helping you on your journey?
Victor Gonzalez: I would like to thank my mom, dad and friends for always being there for me! Especially Boogiezone and Mr Elm Pizarro, Get Down District and my business partner Jackie Holzinger, The amazing Maker Empire Created by the talented Beau Founier and to everyone that I've worked with and shown me the reality of this amazing/hard situation we call dance!