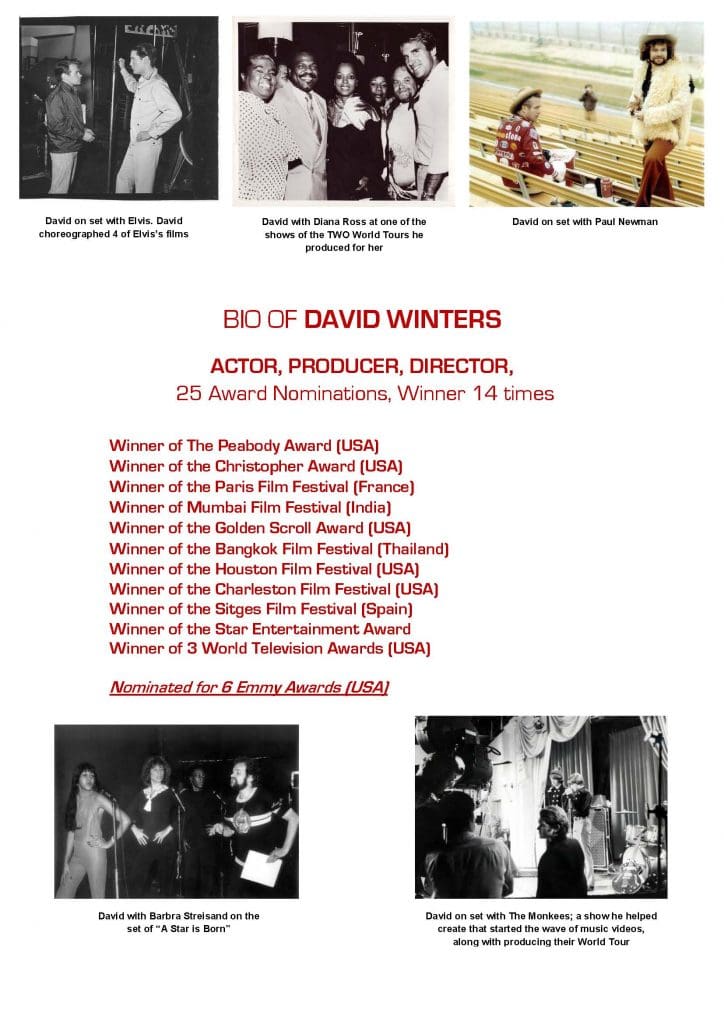 David Currently Co-Stars in "TEDDY BEAR" A film that won the BEST DIRECTOR AWARD at Sundance Film Festival 2012.
"TEDDY BEAR" and "DRAGONWOLF", another film he co-stars in, will both be released in cinemas in 2012.
He is in pre-production with his next film "EAST SIDE STORY" in which he stars, directs, and produces. It shoots on June 4th, 2012.
To date, David Winters has produced and distributed 48 films domestically and internationally, and ALL 48 films have MADE A PROFIT for a 100% SUCCESS RATE!
BIOGRAPHY OF DAVID WINTERS
Born in the UK, David became a child singer, dancer, and actor, when his family moved to the USA, and he appeared in 150 TV shows and 12 Broadway shows from age 13 to 16. At 17 David was the very young Baby John, in the original Broadway show "WEST SIDE STORY". He was A-Rab in the film version of "WEST SIDE STORY", that won 10 Academy Awards and established David as a teenage star.
David teamed up with Paul Simon (Simon and Garfunkle) in a singing duo "David Winters and the West Siders". David and Paul wrote the songs with David singing lead. These records can still be bought today on the internet. Just after "WEST SIDE STORY" David opened up a dancing school and taught many stars such as Ann-Margret, Raquel Welch, Richard Chamberlain, etc. He became Elvis Presley's personal choreographer and at a very, very young age he choreographed four Elvis Presley films including "VIVA LAS VEGAS". He also choreographed 5 films with Ann-Margret and the highly acclaimed "A STAR IS BORN" starring Barbra Streisand. David appeared as a guest star and choreographed the "Nancy Sinatra Special" with Frank Sinatra, Nancy Sinatra, Sammy Davis Jr., and Dean Martin for which he received his first Emmy nomination for excellence in television. The Academy of Television Arts and Sciences wanted to acknowledge David's contribution for Nancy's show but had no category for "Outstanding Choreography", so they created one and put David into it for "Outstanding Achievement in Television". Next year the Academy also wanted to nominate David for an Emmy for his TV Special "The Ann Margret Show". So they created an "Outstanding Choreography" category and nominated David. One of David's proudest achievements in his entire life is that because of him, there was an Emmy category created for Excellence in Dance on TV that still exists today. Emmy Award for "Outstanding Achievement in Choreography". David then guest starred and choreographed "Grace Kelly's Monaco" with Her Serene Highness Princess Grace Kelly. He choreographed the first Rock TV series "Shindig", and was choreographer/dancer/singer on "Hullabaloo" the Rock/Roll series where he created the worldwide dance craze, "The Jerk".
David staged and directed 2nd Unit on the film "The Island of Doctor Moreau" starring Burt Lancaster and Michael York. David then set his sights on directing and producing. His first directing assignment was the 2 year Emmy Winning TV series "THE MONKEES" where he actually created what we now call music videos. He also created, staged and produced the Monkees World Tour. The opening act for the Monkees was a young man then unknown to the world, by the name of Jimi Hendrix.
David has Produced/Directed over 80 features and over 200 TV shows and films that include:
ONCE UPON A WHEEL Feature Film starring Paul Newman
DOCTOR JEKYLL AND MR. HYDE Film starring Kirk Douglas
RAQUEL Special stars Raquel Welch, Bob Hope, John Wayne
THE LONDON BRIDGE SPECIAL, TV Special stars Tom Jones
"ANN-MARGRET SHOW" TV Special Ann-Margret, Lucille Ball
ROLLING ON THE RIVER, 2-year series starring Kenny Rogers
"TIMEX ALL-STAR SWING FESTIVAL" TV Special starring Duke Ellington, Count Basie, Ella Fitzgerald, and Benny Goodman.
"STORY THEATRE" Alan Alda, Valerie Harper,
Winner of 3 Tony Awards and 2 L.A. Drama Critic's Awards
He teamed up with Diana Ross and Created, Produced, Directed, and Choreographed two "Diana Ross World Tours", culminating with a command performance for President Ronald Reagan at the famed New York City's Metropolitan Opera House. He also did 2 "Diana Ross" TV Specials where he choreographed Michael Jackson who was a guest star. From that day forward David and Michael became close friends until Michael's death. Next, he Created, Directed and Choreographed the Alice Cooper Rock and Roll Spectacular World Tour "WELCOME TO MY NIGHTMARE". The show's huge success inspired him to make a film of it, and to release it in 1,000 cinemas in the USA through his own Company. Something no one else has ever done to this day. David then Co-Starred, Directed, Produced and Co-Wrote the motion picture "FANATIC". For this film, he won the Paris Film Festival Award, the Los Angeles Golden Scroll Awards, the Sitges Film Festival Award, and a nomination by the Hollywood Academy of Sci-Fi, Fantasy and Horror as the Best Film Of The Year, but lost out to Mel Gibson's "The Road Warrior". Mr. Winters partnered with Universal/MCA and GUBER/PETERS to produce the esoteric video, "YOGA MOVES", and with his friend Hugh Hefner / Playboy Magazine for the video "GIRLS OF ROCK AND ROLL" which become the long-running Las Vegas show. David then directed "THRASHIN". A modern West Side Story on skateboards. He asked the investors 2 separate times to let him cast an unknown at the time, Johnny Depp, to star in the film, but they refused saying "this kid will never make it". So he found another unknown young actor Josh Brolin and cast him as the lead. Last year Josh Brolin was nominated for the Academy Award, as Best Supporting Actor for his performance with Sean Penn in "MILK".
He was also the star of the 2008 Academy Award Winning film "NO COUNTRY FOR OLD MEN" and Oliver Stone's Wall Street 2. David's soundtrack of "THRASHIN" introduced Meatloaf, The Bangles, The Red Hot Chili Peppers and All The Fine Young Cannibals. They all went on to have No. 1 hits worldwide. "THRASHIN" is the favorite cult film for skateboarders today. Because of the Johnny Depp incident, David decided not to make any more films that he did not totally control himself. In the next 8 years, David produced, directed, financed, and distributed 48 films through his own companies West Side Studios and A.I.P. ALL 48 films were profitable!!!! "NIGHT TRAP" won the first prize "Gold Award" at the Houston World Fest International Film Festival. The film stars Robert Davi, Michael Ironside, and Margaret Avery, Academy Award nominee for the Steven Spielberg film "The Color Purple". "GOOD COP BAD COP" stars Pamela Anderson, David Keith, Stacy Keach, won a Bronze award at The Charleston Film Festival. "FIREHEAD" stars three-time Academy Award nominee and winner Martin Landau and Christopher Plummer "RAW NERVE" stars Glenn Ford and Tracy Lords "CENTER OF THE WEB" stars Tony Curtis, and Robert Davi "DOUBLE THREAT" stars Golden Globe Winner and Academy Award nominee Sally Kirkland. "THE DANGEROUS" stars John Savage, Elliot Gould, Joel Grey, a total of 3 Academy Award nominations and 1 Oscar winner. David then created a USA theatrical division called West Side Studios to play his films in cinemas. He also opened A.I.P. Home Video, and released 2 titles a month on video for 6 years. In Romania, he filmed the pilot "Star School", a musical TV series which won First Prize at the prestigious Montreaux TV Festival.
In 1998 he founded Equator Films, a UK Production/Distribution Company that he listed on the London Stock Exchange in 1999. Later, Equator purchased Handmade Films, the most prestigious UK Production/Distribution Company for 14.5 million UK pounds, and changed the Company's name to Handmade Films PLC. Handmade's "PLANET 51" written by Joe Stillman ("SHREK", "SHREK II"), was sold to SONY for all USA rights, who released it in 3,000 cinemas. It stars Dwayne "The Rock" Johnson, Jessica Biel, John Cleese, and Gary Oldman. It has grossed over $60 million. George Harrison of The Beatles fame created Handmade. The company boasts a Theatrical Star-Studded library of over 100 films, that includes award winners "Time Bandits", "The Long Good Friday", "Runaway Train", "Mona Lisa" and stars Sean Connery, Pierce Brosnan, Denzel Washington, Jodie Foster, Madonna, Michael Caine, Sean Penn, Bob Hoskins, Pamela Anderson, Julie Walters, Helen Mirren, Gary Oldman, John Cleese Dwayne "The Rock" Johnson, , David Carradine, etc.
David directed and produced "Welcome 2 Ibiza" a comedy action adventure starring Gary Busey (Gary was nominated for the Academy Award for best actor for "The Buddy Holly Story"). David won Best Picture Audience Award at The Bangkok Film Festival. He then produced an Epic Adventure film "THE KING MAKER" in Thailand. It stars Gary Stretch, Cleitus in Oliver Stone's "ALEXANDER", and nominated for a U.K. AWARD for "DEAD MAN'S SHOES". Gary is the ex WBC Light Welterweight World Boxing Champion. Also starring in the film is John Rhys-Davies, star of all 3 "Lord Of The Rings" films, and "Indiana Jones". All U.S.A. rights to "THE KING MAKER" were purchased by SONY STUDIOS, and UNIVERSAL bought foreign territories. With CHINA FILM, in China, it had a very long theatrical run. The film played theatrically in Thailand, where it received 4 Thai Academy Award nominations and won The Star Entertainment Award. It won the Silver Ten Award as Outstanding Film at the Film Festival in Mumbai, India. In Russia, it sold over 175,000 DVDs. It is the only Thai Film ever bought by a Major Hollywood Studio, and sold in 36 countries, making it the most successful Film ever made in the history of Thai Cinema. Mr. Winters has 3rd billing in the film "HANUMAN THE WHITE MONKEY WARRIOR", that played in cinemas in 2010.
David is very proud and honored to be the narrator of The King of Thailand's personal project "THE ROYAL PROJECT". He can be seen on Hallmark's TV Channel in the TV mini series "BLACKBEARD" where he is featured as Silas Barber. David appears as himself in the Universal Studios, Ron Howard and Brian Grazer's (Academy Award for Best film and Director for "A Beautiful Mind", "The Da Vinci Code"), film "Inside Deep Throat", about what made it the most successful film in the history of cinema. He and the infamous star of this film Linda Lovelace lived together for over 2 years in a highly publicized romance. Mr. Winters sees a great future in the USA/European/Asian entertainment industry and spends a great deal of his time traveling between these continents. Although he holds both U.S.A. and British citizenship, he proclaims to be a citizen of the world.
Please see www.davidwinters.net a Tribute Site, created by some of his fans. There are many pages on David on Wikipedia and the IMDB website. Please see a few reviews below and the next page: Just A Few of David Winter's Reviews "THE KING MAKER" "The King Maker" looks like it cost 100 million to make. The scope of The King Maker is epic like "Lawrence of Arabia" or "Ben Hur" every scene is awesome and beautiful
Congratulations Mr. Winters and Thank You ." Tom Ferrini CPE"
"HANUMAN THE WHITE MONKEY WARRIOR". A foreign kingpin, played with Brando-channeling relish by Hollywood's David Winters, is a standout in the film Cinema Ratty "RAQUEL" Starring Raquel Welch, Tom Jones The genius of David Winters as producer-director-choreographer is apparent in every part of this hour special.